At the buzzer: Wisconsin 74, Indiana 69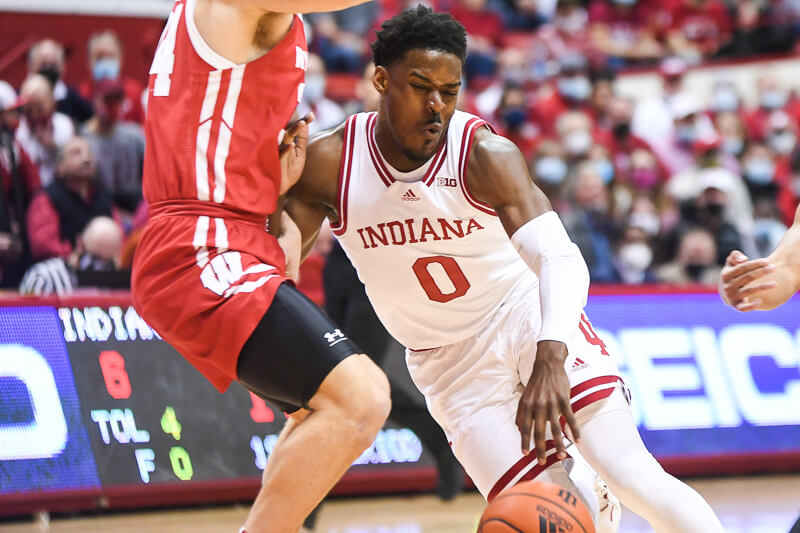 Quick thoughts on a 74-69 loss to Wisconsin:
How it happened: Indiana came out with energy on Tuesday in Assembly Hall. The Hoosiers found Trayce Jackson-Davis and Race Thompson early and the duo scored the first 13 points for a 13-8 lead over the Badgers by the 14:20 mark of the first half. Indiana built a seven-point lead at 26-19 by the 5:33 mark, but the offense stalled late in the half and Johnny Davis heated up. The Wisconsin All-America candidate scored the final five points of the half for the Badgers for a 32-31 lead at intermission. Indiana didn't score in the final 3:03 of the half and managed only .84 points per possession in the first 20 minutes on 37.1 percent shooting.
The second half began with an offensive flurry. The Badgers and Hoosiers combined for 23 points in the first 4:11 of the half and were tied at 43 at the under 16 media timeout. Indiana was 5-of-6 from the field in that span, including 2-of-2 on 3s. Indiana stretched the lead to 50-43 by the 14:01 mark on a Xavier Johnson layup as Wisconsin went 3:37 without a field goal. The Hoosiers led 54-47 with 11:24 to play, but Wisconsin answered with five straight to get within two at the 10:01 mark.
By the under eight media timeout, Indiana led 56-54, but the Hoosiers hadn't scored in 2:23. Brad Davison tied the game at 56 on a pair of free throws with 7:11 to play. Indiana responded with a Race Thompson bucket and a pair of free throws from Jackson-Davis to claim a four-point lead with 6:13 to play. Davison got Wisconsin within one on a 3-pointer with 5:34 to play, but Parker Stewart answered with a 3-pointer of his own with 5:11 to play. Indiana took that four-point lead to the under four media timeout.
Jackson-Davis split a pair of free throws to give Indiana a five-point advantage with 3:52 to play. Davis got Wisconsin within three on a layup with 3:35 to play and then two with a free throw with 3:04 to go. Jackson-Davis split a pair of free throws with 2:31 to play to put Indiana up 67-64, but Davis answered with a jumper to make it 67-66 at the 2:22 mark. Johnson's layup with 1:50 to go pushed it back to three at 69-66. Davis answered with two free throws with 1:40 to play to make it 69-68. Davis then gave Wisconsin the lead at 71-69 on a 3-point play with 1:01 to play. Trey Galloway missed a 3-pointer with 38 seconds to go, but Steven Crowl traveled after grabbing the rebound and IU called a timeout with 34.8 seconds to play. Johnson missed a 3-pointer on the ensuing possession and Indiana had to foul. Davis hit one of two free throws with 19.5 seconds to go and Indiana took a timeout. Parker Stewart missed a 3-pointer with just over seven seconds to play as IU lost its fourth straight game.
Standout performer: Jackson-Davis led Indiana with 30 points, eight rebounds, six assists and three blocked shots in 34 minutes.
Statistics that stand out: Wisconsin finished the game on an 8-0 run and Indiana missed nine of its last 10 shots.
Final IU individual statistics:

Final tempo-free statistics: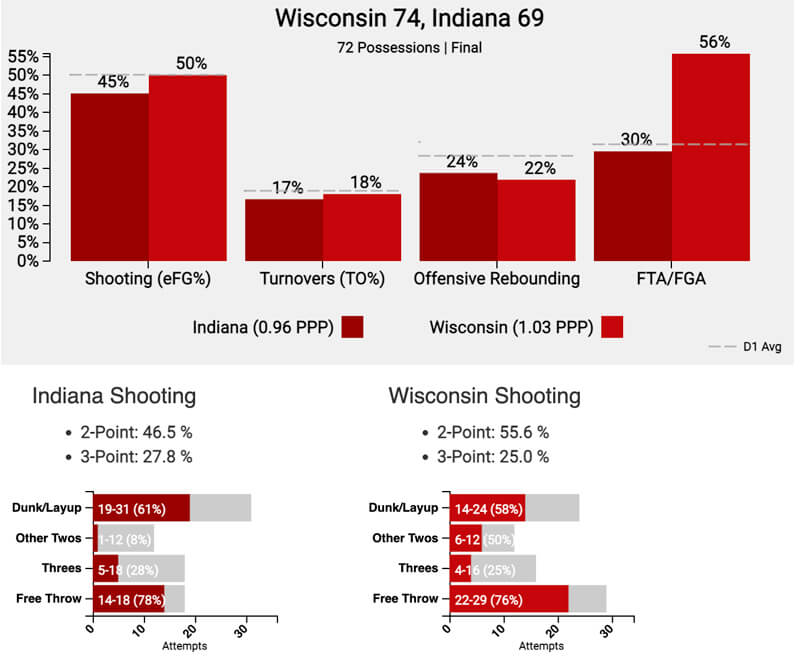 Assembly Call postgame show:
Filed to: Wisconsin Badgers