6-Banner Sunday: Indiana suffers 17-point home loss to Illinois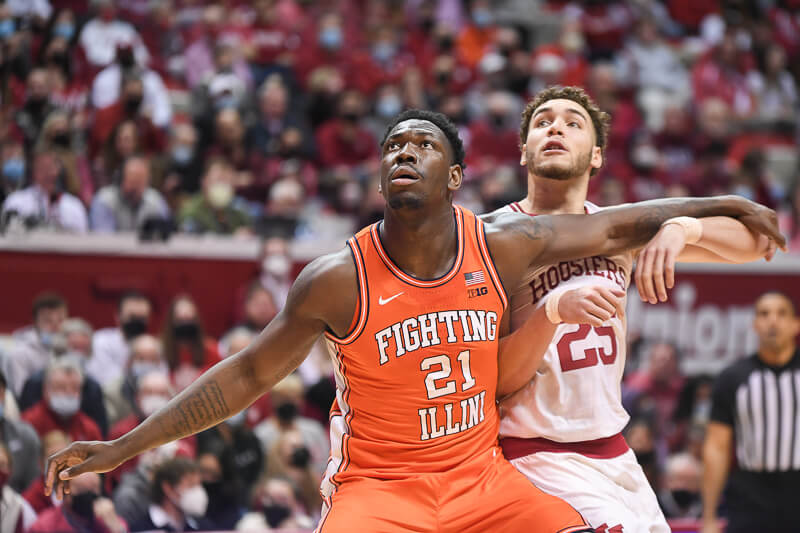 6-Banner Sunday is Inside the Hall's weekly newsletter in partnership with The Assembly Call. More than 9,000 Indiana fans receive the newsletter each week. In addition to appearing each week on the site, you can also opt to receive 6-Banner Sunday by email. A form to subscribe via email is available at the bottom of this week's 6-Banner Sunday.
Welcome to another edition of 6-Banner Sunday, a joint production between The Assembly Call and Inside the Hall where we highlight the five most essential IU basketball stories of the past week, plus take a look at how the other IU sports programs are doing.
IU only played one game this week and it was against a ranked Illinois team. After a strong first half, the Hoosiers faded in the final 20 minutes in a disappointing loss. After the game Assembly Call had its annual meetup to interact with fans. Off the court, AC Radio, Podcast On The Brink, and Mike Woodson had their weekly shows and Andy Bottoms had his weekly Bracketology. Will will as always conclude with a look at how other Indiana sports are doing.
In brief news Inside The Hall had their usual Big Ten Power Rankings this week, as well as a highlight video of 2023 IU recruiting target Miro Little. Also, Trayce Jackson-Davis was named to the late season Wooden Award watch list and the Karl Malone Watch List.
• Hoosiers fall to Illinois
• Annual Assembly Call meetup commences after Illinois game
• AC Radio and Podcast on the Brink
• Mike Woodson Radio Show
• Andy Bottoms' Bracketology
• Hoosier Roundup
Banner #1 – Hoosiers fall to Illinois
IU had a very tall task against an Illini team that is leading the Big Ten and is a terrible matchup for the Hoosiers. Illinois is one of the few teams that can take away IU star center Trayce Jackson-Davis one-on-one with their own elite big man in Kofi Cockburn. Despite this, the Hoosiers were strong in a back and forth first half and led 36-34. However, the last 20 minutes showed why the Illini are one of the elite squads in the country as they pulled away for a 74-57 victory.
IU is now 16-6 on the year and 7-5 in the Big Ten. A big change off the court that occurred for yesterday's game was the immediate retirement of longtime public address announcer Chuck Crabb. He was replaced today and for the rest of the year on an interim basis by IU Senior Associate AD For Strategic Communications Jeremy Gray.
After the contest both Mike Woodson and Brad Underwood spoke, Jamie Owens had a photo gallery, Alex Bozich penned Five Takeaways, Ryan Corazza had a Minute After, and Grace Ybarra and Tyler Tachman had columns.
The Hoosiers are next in action on Tuesday at 9 pm on BTN against Northwestern. Despite this being a road game, IU always has plenty of support in a split crowd in Evanston with many alum residing in the Chicago area.
Banner #2 – Annual Assembly Call meetup commences after Illinois game
Despite the loss, Assembly Call got together for its annual meetup at a packed Switchyard Brewing Company in Bloomington. The event also featured IU players for the first time as Anthony Leal, Khristian Lander, and Jordan Geronimo made an appearance. Also, money was raised for Mother Hubbard's Cupboard and a raffle of Hoosier memorabilia took place.
The live postgame show from the event can be heard here. A few pictures from the event can be viewed here, here, here, and here.
Banner #3 – AC Radio and Podcast on the Brink
Besides the meetup, Assembly Call also had their normal radio show this week, as well as Doing The Work Postgame Shows after the IU Women's team lost to Michigan and beat Minnesota.
Also, Inside The Hall's Podcast On The Brink had Ky McKeon of Three Man Weave to preview the Hoosiers game against Illinois.
Banner #4 – Mike Woodson Radio Show
The final show to take place this week was with IU head coach Mike Woodson who had his normal Monday radio program at Southern Stone Restaurant in Bloomington.
Woodson discussed the recent wins over Penn State and Maryland and previewed the Illinois game.
Banner #5 – Andy Bottoms' Bracketology
Assembly Call Bracketologist Andy Bottoms posted his latest projected bracket this week.
Before yesterday's loss to the Illini, Bottoms had the Hoosiers as seven-seed in the south region against 10-seeded Oklahoma. Six other Big Ten teams were present in the bracket with one-seed Purdue, two-seed Wisconsin, four-seed Michigan State, five-seed Illinois, six-seed Ohio State, and nine-seed Iowa.
Banner #6 – Hoosier Roundup
• Men's Golf won a Big Ten Championship in match play.
• Football signed a couple more players to their highest ever ranked recruiting class. They did however lose running back coach Deland McCullough to Notre Dame but his son's who are highly ranked recruits say they will still honor their commitment to IU.
• Women's Basketball returned from their long COVID pause with a loss to Michigan and a win against Minnesota. Also, star center Mackenzie Holmes was named to the Wooden Award Watch List and their postponed game against Michigan State has a makeup date. They take on arch-rival Purdue today at home.
• Men's Soccer had Kevin Robson named one of the top assistant coaches in the country.
• Women's Golf competed at Big Ten Match Play.
• Water Polo split their final two matches at the Michigan Invitational.
• Men's Tennis beat Yale.
• Women's Tennis lost their season opener to Utah, but also beat Yale.
• Track and Field competed at the Meyo Invitational.
• Swimming and Diving had an athlete named Diver Of The Week.
Thanks for your continued support for The Assembly Call and Inside the Hall. We'll be back next weekend with a new roundup.
Now go enjoy yourself a 6-banner Sunday.
Aaron (Ari) Shifron
Assembly Call Contributor
Filed to: