Bracketology: NCAA tournament projection as of February 1, 2022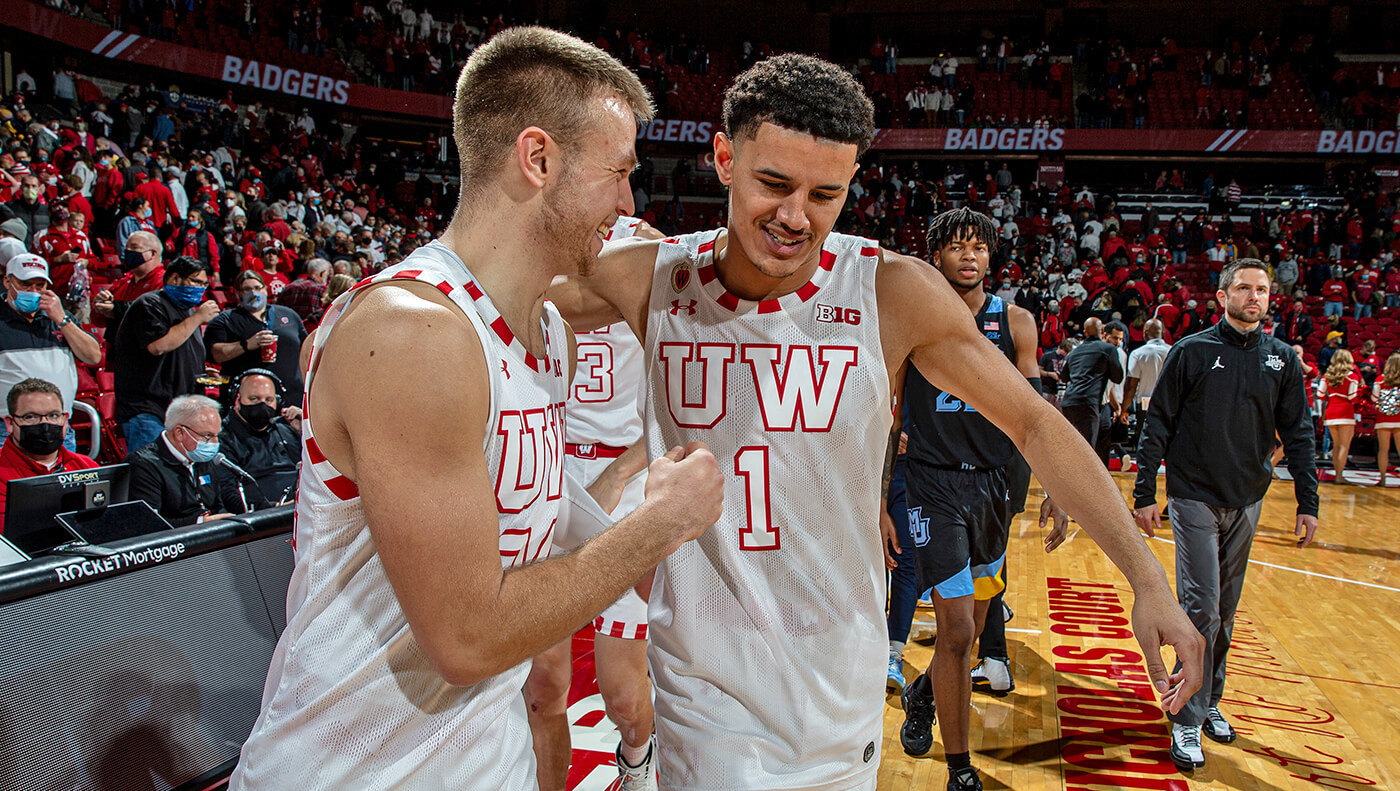 Among the challenges for the NCAA tournament selection committee is the task of evaluating teams whose predictive and results-based metrics tell conflicting stories. This season features a pair of notable teams with a slew of quality wins but middling predictive metrics.
Wisconsin ranks just outside the top 20 of the NET, but they boast seven Quad 1 victories and a total of 10 wins against the top two quadrants. The Badgers have no losses outside of Quad 1, and two of their three losses have come in games with key players missing, which the metrics wouldn't account for anyway. They also have a strong mark away from home with an 8-1 record in road/neutral games. The combination of those achievements lands Wisconsin at #2 in strength of record, but some closer-than-expected games against inferior competition earlier in the season and a large number of close games overall have the Badgers ranked outside of the top 20 in all of the predictive metrics on the team sheet (KenPom, Sagarin, and BPI).
Much has been made of Providence as well, as the Friars sit at 18-2 but rank just 30th in the NET. They have a 5-1 record in Q1 and are 4-1 in Q2 with no other losses. Providence's predictive metrics are hovering near 40, thanks in part to their two losses coming by a combined 48 points. Like Wisconsin, they have a couple of single-digit victories in Quad 4, but the Friars also have seven wins by five points or less, which has landed them atop KenPom's luck rankings. Still, you can't ignore what they've actually accomplished on the floor, which has propelled them to a top-five ranking in SOR.
On the flip side, Houston ranks second in the NET, having blown out multiple opponents to earn top 5 marks in all of the predictive metrics. However, the Cougars's bests wins have come on neutral floors against Oregon and Oklahoma State. In fact, those are their only wins over teams ranked in the top 80 of the NET. The two losses (Wisconsin on a neutral floor and Alabama at home) came by a combined three points, but the committee has to balance the strong metrics with the lack of marquee wins. And with nearly no at-large-caliber teams in the AAC, this isn't a situation that will clearly resolve itself.
Before looking at the one seeds, I wanted to give a quick reminder about how the NCAA selection committee classifies wins based on the NET rating.
A breakdown of the four tiers:
· Quad 1: Home vs. teams ranked 1-30 / Neutral vs. teams ranked 1-50 / Road vs. teams ranked 1-75
· Quad 2: Home vs. teams ranked 31-75 / Neutral vs. teams ranked 51-100 / Road vs. teams ranked 76-135
· Quad 3: Home vs. teams ranked 76-160 / Neutral vs. teams ranked 101-200 / Road vs. teams ranked 136-240
· Quad 4: Home vs. teams ranked 161-351 / Neutral vs. teams ranked 201-351 / Road vs. teams ranked 241-351
One Seeds
Auburn and Gonzaga remain the clear-cut top two teams on the seed list. The Tigers' lone loss came in double-OT against UConn, while they are 6-1 in Quad 1 and 5-0 in Quad 2. Auburn is also 6-0 in true road games and is a combined 9-1 in road/neutral contests.
Gonzaga is 4-2 against Quad 1 with neutral court wins over Texas Tech and UCLA to go with a home victory over Texas and two more Q2 wins. To date, the Zags have played just one true road game, and 11 of their 17 wins fall in Quad 4.
Baylor fell on the road at Alabama in the Big 12/SEC Challenge, but they came back to beat West Virginia on Monday despite playing without two of the team's top backcourt options. The Bears boast seven Quad 1 victories, 11 wins in the top two quadrants, and a 8-1 road/neutral mark, which is enough to keep them on the one line.
While there are a few teams in consideration for the final top seed, I gave Purdue the nod this week. The Boilers have now have six Quad 1 wins following Sunday's win over Ohio State, and they are 7-3 against the top two quadrants with solid marks in both the predictive and results-based metrics. Their three losses have come by a combined 10 points, and Purdue is 7-2 in road/neutral contests, including wins over Villanova (neutral) and Illinois (road).
The Bracket
The projections below are based on all games played through January 31, 2022. Following the bracket, I included a few thoughts on the last four in and first five out.
| | | |
| --- | --- | --- |
| MIDWEST (CHICAGO) | | WEST (SAN FRANCISCO) |
| Greenville – March 18/20 | | Portland – March 17/19 |
| 1) Auburn | | 1) Gonzaga |
| 16) New Orleans / Norfolk St. | | 16) Southern / UNC-Wilmington |
| 8) Davidson | | 8) TCU |
| 9) Iowa | | 9) Seton Hall |
| | | |
| Pittsburgh – March 18/20 | | Portland – March 17/19 |
| 5) Iowa St. | | 5) Illinois |
| 12) North Texas | | 12) Creighton / Wyoming |
| 4) Houston | | 4) LSU |
| 13) Toledo | | 13) South Dakota St. |
| | | |
| Pittsburgh – March 18/20 | | Milwaukee – March 18/20 |
| 6) Ohio St. | | 6) Tennessee |
| 11) Oregon / West Virginia | | 11) Colorado St. |
| 3) Villanova | | 3) Texas Tech |
| 14) Jacksonville St. | | 14) Wagner |
| | | |
| Milwaukee – March 18/20 | | San Diego – March 18/20 |
| 7) USC | | 7) Connecticut |
| 10) Wake Forest | | 10) Murray St. |
| 2) Wisconsin | | 2) UCLA |
| 15) Yale | | 15) Seattle |
| | | |
| EAST (PHILADELPHIA) | | SOUTH (SAN ANTONIO) |
| Indianapolis – March 17/19 | | Fort Worth – March 17/19 |
| 1) Purdue | | 1) Baylor |
| 16) Colgate | | 16) Hawaii |
| 8) Boise St. | | 8) Miami (FL) |
| 9) Arkansas | | 9) BYU |
| | | |
| Buffalo – March 17/19 | | Buffalo – March 17/19 |
| 5) Alabama | | 5) Xavier |
| 12) Chattanooga | | 12) Iona |
| 4) Providence | | 4) Michigan St. |
| 13) Oakland | | 13) Drake |
| | | |
| San Diego – March 18/20 | | Indianapolis – March 17/19 |
| 6) Texas | | 6) Marquette |
| 11) San Francisco | | 11) North Carolina |
| 3) Arizona | | 3) Kentucky |
| 14) Weber St. | | 14) Vermont |
| | | |
| Fort Worth – March 17/19 | | Greenville – March 18/20 |
| 7) Saint Mary's | | 7) Indiana |
| 10) Loyola Chicago | | 10) Oklahoma |
| 2) Kansas | | 2) Duke |
| 15) Appalachian St. | | 15) Longwood |
Last Four In:
West Virginia – The Mountaineers have now lost six straight games, although all six of those have come against teams in this week's field with four of them coming on the road. While they don't have a bad loss, they also don't have a long list of key wins. A home victory over UConn is solid, and West Virginia's lone true road win (at UAB) also falls in Quad 1. Outside of those, there are a few "good but not great" wins over the likes of Oklahoma State, Clemson, and Kansas State. The Mountaineers return to Morgantown for their next two games against Texas Tech and Iowa State, and they will need to at least split those two games to stay in the mix.
Oregon – Following a 6-6 start, the Ducks reeled off six straight wins before dropping a home game to Colorado, but they bounced back to beat Oregon State. They are 3-5 against the top two quadrants with road wins at UCLA and USC as well as a home victory over SMU. A pair of Q3 losses doesn't help matters, but the next five games are all winnable leading up to a key stretch in late February.
Creighton – After dropping games at Butler and home against Xavier last week, the Bluejays have fallen outside the top 70 of the NET and onto the bubble. They have three great wins (home vs. Villanova, at Marquette, neutral court vs. BYU), but there is a huge drop-off after those. The aforementioned Butler loss, as well as a home loss to Arizona State are the biggest blemishes. Things don't get any easier with road games at UConn and Seton Hall this week.
Wyoming – Following a close road loss at Boise State, the Cowboys picked up a huge overtime win at home against Colorado State on Monday, which moves them to 16-3 vs. D-I opponents. Unfortunately just two of those victories have come against teams in the top 100 of the NET. The results-based metrics are solid, but Wyoming doesn't fare nearly as well in Sagarin and BPI. A huge three-game stretch starts Thursday vs. Boise State.
First Four Out:
San Diego St. – The Aztecs got blown out at Utah State last week, and even though that's a Quad 1 loss, it dropped them to 1-4 in Q1 and just 3-5 against the top two quadrants with wins over Saint Mary's (neutral) and Colorado State (home) the only ones of note. Friday's game at Colorado State is shaping up to be a critical one for both teams.
Florida – The Gators lost at Tennessee but bounced back to beat Oklahoma State to maintain their spot on the bubble. Five of their eight losses fall in Q1, but they are just 7-7 against the top three quadrants and also lost at home to Texas Southern. A last-second win over Ohio State is Florida's lone Quad 1 victory, but luckily the SEC will provide plenty of opportunities to move the needle. The next three games (at Missouri, vs. Ole Miss, vs. Georgia) are ones the Gators can ill-afford to lose.
VCU – Somewhat quietly, the Rams have amassed five wins against the top two quadrants, with four coming in true road games and the other on a neutral floor. The issue is that last week's win at Davidson is the only one against a team in the at-large picture. VCU also has a Q3 loss to Wagner, but a gaudy 6-1 road mark gives them a boost. According to KenPom, the Rams are favored in their next nine games, starting with Wednesday's home game against Dayton.
Florida State – Just when it seemed like the Noles were turning things around, they fell by double-digits both at Georgia Tech and at home against Virginia Tech. FSU has dropped into the low-70s in the NET, and their best three wins (sweep of Miami, home vs. Duke) have each come by a single point. They have no other wins over teams in the at-large picture and are also saddled with a pair of Q3 losses. This week brings a trip to Clemson followed by a home date with Wake Forest.
Mississippi State – The Bulldogs came up empty in trips to Kentucky and Texas Tech last week, leaving them at 1-4 in Quad 1 with the lone win coming over Alabama at home. They have also beaten Arkansas at home, but losses to Ole Miss, Minnesota, and Louisville aren't aging well. MSU remains winless in true road games as well. A home game against South Carolina provides a chance to break the losing streak, but a tough four-game stretch awaits after that.
Conference Breakdown:
Big 12 (8): Baylor, Iowa State, Kansas, Oklahoma, Texas, Texas Tech, TCU, West Virginia
Big Ten (7): Illinois, Indiana, Iowa, Michigan State, Ohio State, Purdue, Wisconsin
Big East (7): Connecticut, Creighton, Marquette, Providence, Seton Hall, Villanova, Xavier
SEC (6): Alabama, Arkansas, Auburn, Kentucky, LSU, Tennessee
ACC (4): Duke, Miami (FL), North Carolina, Wake Forest
Pac-12 (4): Arizona, Oregon, UCLA, USC
West Coast (4): BYU, Gonzaga, Saint Mary's, San Francisco
Mountain West (3): Boise State, Colorado State, Wyoming
Missouri Valley (2): Drake, Loyola Chicago
America East: Vermont
American: Houston
Atlantic 10: Davidson
Atlantic Sun: Jacksonville State
Big Sky: Weber State
Big South: Longwood
Big West: Hawaii
Colonial: UNC Wilmington
Conference USA: North Texas
Horizon: Oakland
Ivy: Yale
MAAC: Iona
MAC: Toledo
MEAC: Norfolk State
Northeast: Wagner
Ohio Valley: Murray State
Patriot: Colgate
Southern: Chattanooga
Southland: New Orleans
SWAC: Southern
Summit: South Dakota State
Sun Belt: Appalachian State
WAC: Seattle
Follow Andy on Twitter (@andybottoms) for more thoughts on college hoops and to receive an update whenever new brackets are posted.
Filed to: 2021-22 Bracketology