News and notes from Mike Woodson's radio show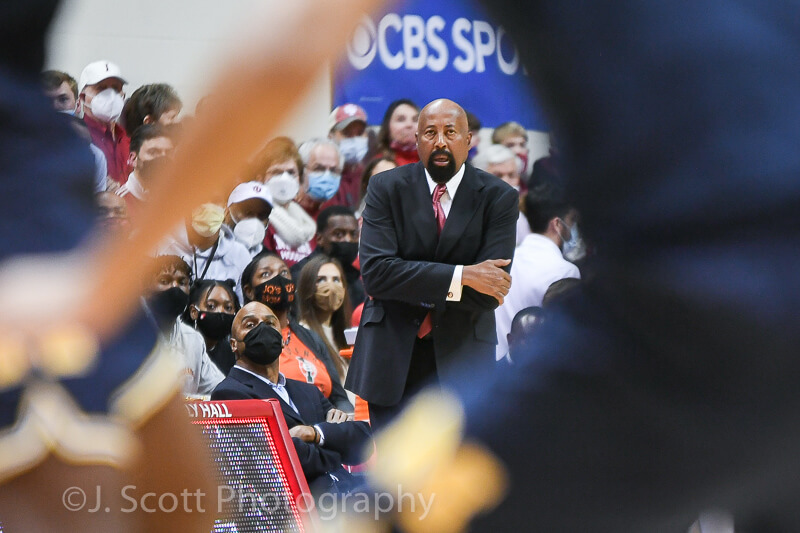 "Inside Indiana Basketball with Mike Woodson" returned Monday night as Woodson spoke with play-by-play announcer Don Fischer.
Woodson discussed Indiana's wins over Penn State and Maryland and previewed Saturday's game against Illinois.
• Woodson on Indiana's win against Penn State: "They did everything that we asked them to do on both ends of the floor… Unfortunately, the second half, they outplayed us. Thank god for the big lead."
• More from Woodson on Penn State: "We left no doubt when we came here that we were ready to play. That's just how we got to come out of the box each and every time we play. Things might not always go your way but you got to have some kind of, you know, pressure and intensity stepping right on the court when the game starts."
• Woodson on Indiana shooting 10-of-13 from deep against Penn State: "We've been shooting a lot of them in practice, just like our free throws man, and I just thought it carried over to the ball game… We had some wide-open looks and guys were just knocking them down. The ball was moving freely, that's the key, I think."
• Woodson on Indiana's win over Maryland: "Our defense, I mean that set the stage. They came out with an 8-0 run and we just didn't panic. I didn't call the timeout. I just kind of let them play their way through it and they did."
• Woodson on Indiana's bench production against Maryland: "The bench was great man. I mean Geronimo was great, Gallo was great, Scoop was great defensively and then Khristian came in and gave us some nice lift."
• Woodson on Indiana's defense up to this point this season: "I had to come in and try to build a defensive system… I go back to the days when I played here under Coach Knight. We always had good defensive teams. If your team is great defensively, you're gonna always have a chance to win."
• Fischer said that Indiana had 16 blocked shots last week and its opponents had zero against them: "That's kinda strange that that happened because normally, your opponent, they block some shots," Woodson said. "But hey, if we can go every game like that, I'll take it."
• Woodson on Indiana improving its turnover numbers: "They're making us run now a lot. I know that. I'm hurting a little bit because I had to run today. And so I mean which is a good thing. I'll keep running, along with my staff, if they keep doing what they're doing."
• Woodson on Race Thompson's three-point shooting: "We've given him the latitude to do it. I mean, I never took that away from him. I've always coached with a four that can make the long ball… If he continues to do that, that will make us even better because now teams can't leave him."
• Woodson on Xavier Johnson: "He's such a competitor man, he really is. From a defensive standpoint, I just always liked his energy and effort that he's given there. I just think now offensively, the game is slowing down for him. He's starting to see things before it develops."
• Woodson on Indiana showing growth: "That's a tribute to those guys putting in the work. Yeah, we push them as coaches, but they got to be willing to work and learn and they're doing that."
• Woodson mentions Rob Phinisee while talking about Indiana's longer break in between games: "I think what it will help a little bit is giving Rob a chance to catch up and hopefully get back here in another week or so."
• Woodson on watching film: "We present it and we learn from it. You know I mean that's the beauty about coaching man. You can't never let players off the hook. Knight never let us off the hook man. I mean good or bad. We had to know."
• Previewing Illinois, Woodson said that Indiana has to make Kofi Cockburn work for his points and rebounds because "he's a force." Woodson also mentioned guards Trent Frazier and Alfonso Plummer.
Filed to: Mike Woodson