Indiana still searching for offensive identity in loss to Illinois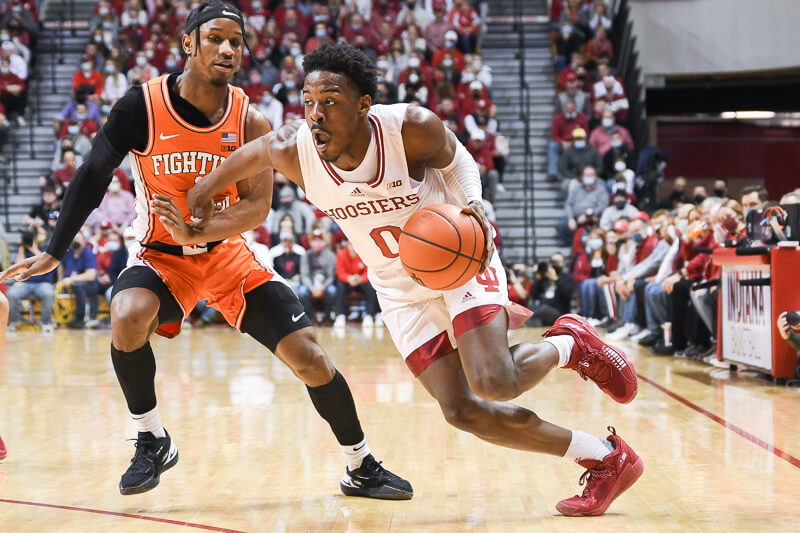 With less than one minute remaining in Indiana's matchup with Illinois on Saturday, Trey Galloway had an open layup. He burst past Illinois guard Alfonso Plummer and exploded toward the basket. At this point, the outcome of the game was already decided. Illinois was going to leave Assembly Hall with a victory and Galloway's layup would just slightly alter Indiana's point total.
As Galloway launched off of his right foot, Illinois center Kofi Cockburn took a hard step as if he was going to contest the shot. But instead of going up for the block, Cockburn let Galloway go by, giving him a free look right at the rim. Galloway's finger roll, though, spun off the rim and out. He threw both of his arms up in frustration.
This is what Indiana's offense was like in its 74-57 loss to Illinois. The Hoosiers shot a season-low 36 percent from the field and a dismal 23 percent from three. For a majority of the game, until late in the second half, Indiana's defense did enough to give itself a chance to win. Ilinois made 4-of-10 from deep in the first half, but also shot just 40 percent from the field. Dominant big man Cockburn was just 2-of-7 in the first half. Illinois got hot late in the game, hitting seven of its last nine shots.
Illinois finished the game shooting 48 percent from the field and 43 percent from three. It was a far cry from how Indiana has played defense this season. But what seemed most concerning moving forward, though, was that Indiana's offense failed itself for a majority of the game. And it seems that the Hoosiers are still trying to find their offensive identity.
"I missed some chippies," Race Thompson said postgame. "I wish I could have them back. I'm frustrated with myself. We got to get back to work. I can't hang my head on that. So, really, that's all it is."
Mike Woodson has built the program on defense. Over the summer, he put emphasis on his team establishing defense more than its offense. Throughout this season, it's been clear that the defense is ahead of the offense and they've truly put up some impressive numbers this season. In early January, Indiana held Ohio State to just 30.8 percent shooting from the field. Against Maryland last Saturday, Indiana held the Terrapins to 28.6 percent from the field. Entering Saturday's game, Indiana was holding its opponents to 37 percent shooting this season.
Because Indiana's defense has been so good this season, its offense has just needed to be average to win. As a whole, Indiana's offensive numbers don't necessarily stand out. Entering Saturday as a team, they were shooting 47 percent from the field, 35 percent from three and 68 percent from the free throw line. There have been plenty of games where Indiana has done enough offensively because its defense carried it.
On Saturday, though, Indiana's offense was far below average. The blueprint for the Hoosiers' offense to be successful is spreading shooters around Trayce Jackson-Davis and forcing them to double him or play single-coverage. Ideally, if there is single coverage, Jackson-Davis can take his man. If a double team comes, then he can kick out for three. That forces the defense to pick their poison. There have been moments this season where that has worked.
On Saturday, that wasn't the case. Jackson-Davis, who picked up two early fouls and sat a majority of the first half, struggled mightily, finishing with just six points on 3-of-9 from the floor and three turnovers. Part of the reason was due to Cockburn, who's an extremely difficult matchup. It allowed Illinois to play single coverage on Jackson-Davis and still neutralize him while not leaving shooters open around him.
"On the defensive end, he's (Kofi Cockburn) definitely tough," Thompson said. "He's a big body. He's hard to get around. He's heavy, he's strong."
Indiana's offense sputtered when Jackson-Davis was on the bench too. It lacked flow, rhythm and looked discombobulated. Most of the pressure was put on point guard Xavier Johnson to make plays off the dribble or in transition. Tamar Bates had six points, but shot 1-of-5 from the field. Thompson had 13 points, but was 5-of-13 from the field. Miller Kopp, who's needed for his 3-point shooting, didn't even attempt a shot in his 16 minutes. Parker Stewart, who's needed for his shooting like Kopp, hit two threes in the first half, but only got two shots in the second half.
"I can't tell you one play we called tonight, you know, unless I was calling it," Woodson said. "You know, and I mean, he (Xavier Johnson) had kind of turned the corner in that area. But our offense, we struggled tonight because we never got into anything."
Perhaps the discrepancy between the two team's offenses was easy to see because Illinois ran the exact blueprint of offense that Indiana wasn't. Illinois surrounds its dominant big man Cockburn with shooters. That forces defenses to either double and risk allowing threes or take their chances guarding Cockburn one on one. Even if there's not a double, Cockburn requires a lot of attention. Indiana was able to slow down Cockburn in the first half, but not the second. Meanwhile, Illinois' perimeter players were knocking down shots. Illinois' starters combined to hit nine 3-pointers.
By the end of the game, Indiana's defense wasn't by any means to its standard this season. But it will likely be increasingly difficult to win games in the Big Ten if Indiana's offense keeps playing like this. Of course, some of Saturday was a result of how well Illinois played defensively. However, it still seems uncertain if Indiana is able to execute on the offensive side of the floor on a consistent enough basis.
There are many questions that still remain. Whether Stewart and Kopp get more shots. Whether teams respect Thompson's jump shot or will the lane be clogged, taking driving lanes. Whether Jackson-Davis is too one-dimensional offensively against the best team in the Big Ten. If there are times again later this season where Indiana's defense gets beat, its offense will likely have to do better if there's a chance of winning.
Filed to: Illinois Fighting Illini