The Minute After: Illinois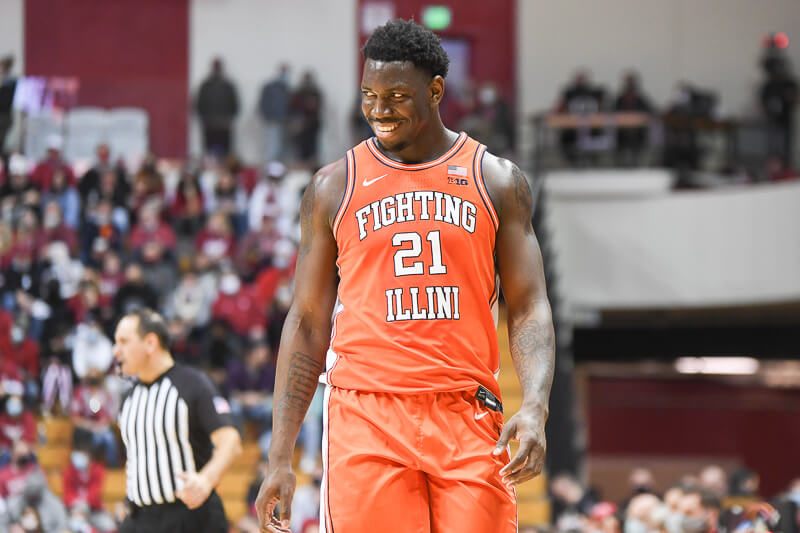 Thoughts on a 74-57 loss to the Illini:
With Trayce Jackson-Davis on the bench with two fouls, Indiana did its best in the first half. The Hoosiers defended hard. Michael Durr kept Kofi Cockburn in check. Indiana's wings and guards didn't let the likes of Trent Frazier or Alfonso Plummer completely take over.
Xavier Johnson (nine points), Parker Stewart (eight points) and Race Thompson (seven points) helped carry the offensive load out of the starting five. Tamar Bates (six points) and Trey Galloway (four points) provided some pop off the bench. It was all enough to carry a two-point lead into the break at 36-34, essentially playing the Illini to a draw.
Jackson-Davis was back in second half and able to stay out of foul trouble. But it didn't matter. Because things went sideways for the Hoosiers. The truth? Cockburn is not a good matchup for Jackson-Davis. The Illini center turns TJD into a different player, unable to dominate down low as he can against many others. The Center Grove product is now just 17-of-49 against Illinois in his career after his six-point, 3-of-9 performance today. Two of his buckets came via Johnson passes where he was unencumbered at the rim. His only other score came when he had Cockburn pulled out to the right corner and was able to use his quickness to get around him to the other side of the rim.
Jackson-Davis turned the ball over three times early in the second half. He forced the issue against Cockburn. It probably didn't help he may have been preoccupied with picking up more fouls. But Illinois failed to capitalize during that stretch, missing some good looks on its end. That didn't last, however. The Illini finally broke free and found its groove offensively during a 21-5 run in the middle of the half. That was the ball game, as Indiana never really recovered from a lifeless offensive start.
Cockburn (12 second-half points) was a load down low. Frazier heated up, scoring 14 second-half points on 5-of-6 shooting. The Illini hit 6-of-13 (46.2 percent) from deep during the final 20 minutes of the contest. It was an inside-out attack Indiana just couldn't slow down, couldn't keep pace with on its end.
While Cockburn and Frazier combined for 26 second-half points, Indiana only mustered 21 total. As Illinois splashed in six looks from deep, Indiana made just one and finished 3-of-13 for the contest.
This Illinois team, now 10-2 and alone atop the conference standings, is elite on both sides of the ball. The Hoosiers? While they've been excellent defensively this season, the offense now sits at 91st on KenPom after today's loss. Scoring 21 points in a second half isn't going to cut it in any Big Ten contest. And it's especially not going to cut it against the conference's best team in terms of wins and losses.
This game presented a great opportunity to snag another Quad 1 win, but the Illini made sure to close the door and lock the key in the second half. Indiana now has a challenging week ahead. The Hoosiers are at Northwestern on Tuesday. It's certainly a winnable contest, but nothing is guaranteed on the road. Indiana then has to play the Spartans in East Lansing on Saturday. Michigan State is 8-2 and sits in second place before a game at Rutgers today.
Now at 7-5, will Indiana drop to .500 in conference play by this time next week? Or will it find a way to snag a precious road win (or two) heading into the final stretch of the regular season?
Filed to: Illinois Fighting Illini