Trayce Jackson-Davis struggles against Kofi Cockburn in loss to Illinois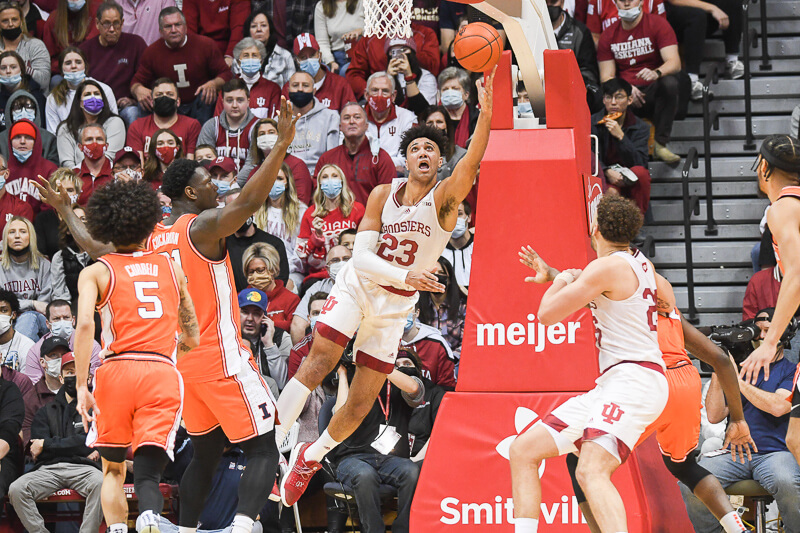 Indiana's halftime lead against the top team in the Big Ten dwindled in the second half. A four-point cushion with 13:11 to play quickly turned into a 12-point deficit with just over five minutes left. No. 18 Illinois got on a run Indiana couldn't stop.
In desperate need of points, the Hoosiers fell back into the same trap that led to their stagnation on offense — feeding Trayce Jackson-Davis in the post.
With 5:27 to play, Jackson-Davis soared in the air for an offensive rebound off of a missed Xavier Johnson 3-pointer. When he went back up against Kofi Cockburn, the Illinois big man sent the ball flying right in front of the IU bench. Alfonso Plummer corraled the ball. On the ensuing possession, Cockburn went right at Jackson-Davis and Race Thompson for a bucket and a 12-point Illinois lead. Cockburn did what Jackson-Davis couldn't do to him — finished with ease.
"Two years ago, (Cockburn) was just a catcher and had to lay it in and had to have an angle," Illinois head coach Brad Underwood said postgame. "Now, he didn't have to have any of that."
The play of Cockburn, mixed with a 23-point performance from Trent Frazier, turned a promising first half into a 74-57 loss at home.
Jackson-Davis picked up two quick fouls to start the game and took a seat not even five minutes in — reminiscent of his start against Purdue.
Enter Michael Durr.
Durr wasn't a force on offense, but he did an admirable job defensively. In his 11 first-half minutes, he held Cockburn to just three points.
"I thought for the most part, we did a pretty good job on the big guy until late," Indiana head coach Mike Woodson said. "I thought we played a beautiful first half."
Durr picked up three fouls in that first half, though, forcing Woodson to turn to Jackson-Davis in the second half.
That's when things got out of hand.
At 7-foot and 285 pounds, Cockburn had the advantage on Jackson-Davis. He didn't need help to double him down low because Jackson-Davis found himself going up against a brick wall every time.
Cockburn sat out for just three minutes in the second half, yet Jackson-Davis only scored two of his six second-half points in that time. Instead, he recorded three turnovers while the Illinois All-American was on the bench.
Durr couldn't provide Jackson-Davis with the help or relief this time. He played just 64 seconds in the second half before fouling out.
So it was up to Jackson-Davis to deal with Cockburn.
Jackson-Davis went 3-8 from the field in his 19 second-half minutes and was a minus-19 — worst among Indiana's players.
Despite Jackson-Davis' inability to get decent angles on Cockburn, Indiana kept looking to run the ball through him on offense.
That led to stalled offensive possessions or turnovers. It's part of what allowed Illinois to close out the game on an 32-11 run. During that run, Jackson-Davis was 0-3 while Cockburn shot 3-of-5.
"He didn't play particularly well," Woodson said of Jackson-Davis.
This loss marked the fourth time Jackson-Davis and Cockburn have played each other in three seasons. Jackson-Davis and Indiana have gone 0-4 against Illinois. Jackson-Davis is shooting just 17-of-49 from the field against the Illini.
This performance — following his games against Purdue and Michigan — poses questions about the ability of Jackson-Davis to perform against the elite big men in the Big Ten.
Going against the likes of Hunter Dickinson, Trevion Williams, Zach Edey and Cockburn, Jackson-Davis has scored 27 points — 17 against Michigan — on 10-23 shooting in 68 minutes of play.
Indiana's All-American has placed himself among the elite bigs in the nation. But playing within a conference flooded with interior forces, Jackson-Davis hasn't been at his best. And on Saturday, it was a big reason Indiana lost for the second time in three games at Assembly Hall.
Filed to: Illinois Fighting Illini, Trayce Jackson-Davis