6-Banner Sunday: Secret scrimmage canceled, Clowney to make college choice on Halloween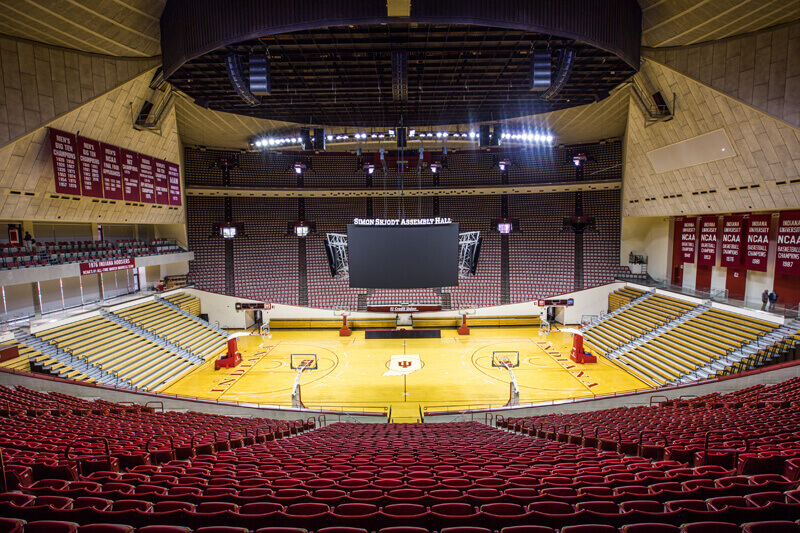 6-Banner Sunday is Inside the Hall's weekly newsletter in partnership with The Assembly Call. More than 8,000 Indiana fans receive the newsletter each week. In addition to appearing each week on the site, you can also opt to receive 6-Banner Sunday by email. A form to subscribe via email is available at the bottom of this week's 6-Banner Sunday.
Welcome to another edition of 6-Banner Sunday, a joint production between The Assembly Call and Inside the Hall where we highlight the five most essential IU basketball stories of the past week, plus take a look at how the other IU sports programs are doing.
While nothing as big as media day occurred this week, many noteworthy bits of news still happened as the season rapidly approaches. This is evidenced by the fact that Inside the Hall continues its series previewing each Big Ten team.
In other news, a scrimmage was canceled, a lot of recruiting information was revealed, Race Thompson is looked at in detail, and some scheduling news is now known. As usual, we will conclude this edition of 6-Banner with Hoosier Roundup by looking at how other IU sports are doing.
In a couple of brief items, Yogi Ferrell has gone over to Europe to continue his pro basketball career, and Twitter handles were released for the team.
You can listen to Inside the Hall's Podcast on the Brink here and Assembly Call Radio here.
• Inside The Hall's preview series
• Cincinnati scrimmage canceled
• Noah Clowney to make college choice and other recruiting news
• Race Thompson feature
• Big Ten/ACC Challenge information released
• Hoosier Roundup
Banner #1 – Inside The Hall's preview series
Nothing makes an upcoming season more evident than when various news sources start previewing the season. Inside The Hall continued its detailed team-by-team look at every Big Ten team. While this began last week with five teams picked near the bottom of the conference previewed, these last few days saw an additional quintuplet of teams looked at whose fortunes appear to be stronger.
The teams previewed were Iowa, Rutgers, Michigan State, Maryland, and Ohio State.
Banner #2 – Cincinnati scrimmage canceled
The Hoosiers elected to play no exhibition games this year. Instead, the plan was to hold "secret" closed-door scrimmages against Cincinnati and Belmont. However, that plan hit a roadblock when the contest with the Bearcats scheduled for this weekend was called off.
A lack of available healthy players for IU appears to be the reasoning behind the game not going forward. It should be noted the Hoosiers did not hold their normal scrimmage at Hoosier Hysteria for the same reason.
Banner #3 – Noah Clowney to make college choice and other recruiting news
Halloween can be a holiday for horrors and spookiness. However, Hoosier fans have to hope they will get news as sweet as the candy eaten that day instead. This is because IU's top remaining recruiting target for 2022, Noah Clowney will announce his college decision on this day.
Alabama, Florida, IU, and Virginia Tech are the schools he is choosing between. Clowney is a 6-9 forward from South Carolina and ranked no. 62 in the 247Composite rankings. IU already has commitments in this class from Jalen Hood-Schifino, Kaleb Banks, as well as CJ Gunn. Clowney would be the final piece of the puzzle should he pick the Hoosiers.
While Clowney is the biggest story in terms of recruiting news right now, other future player information for further down the road made headlines as well this week. This included 6-6 Fishers point guard Jalen Haralson of the 2025 Class picking up a formal offer from IU, 2023 Top 30 player Jeremy Fears including the Hoosiers in his final eight schools, 2024 prospect Copper Koch taking an unofficial visit to IU this weekend, and 2023 guard Gabe Cupps taking an official visit and recapping it with Inside the Hall's Alex Bozich.
Banner #4 – Race Thompson feature
One of the big keys to a successful year for IU could very well be the play of Race Thompson.
This week Inside The Hall's Tyler Tachman wrote an in-depth feature about how new IU coach Mike Woodson is trying to let Thompson have a chance to be himself on the court.
Banner #5 – Big Ten/ACC Challenge information released
Every major piece of information about the schedule had been released recently except for one thing. The only missing question was what would happen with the Big Ten/ACC Challenge? While the opponent in Syracuse has been known for months, the date, time, and TV network were not, until this week.
IU's previously known game as part of the Challenge will tip-off on November 30 at 7:00 or 7:30 pm and be televised on ESPN or ESPN2.
Banner #6 – Hoosier Roundup
Football continues to not live up to their lofty preseason expectations with a loss to Michigan State, as the offense continues to struggle. However, some of the other IU sports produced better results this last week.
• Football fell to Michigan State. They next take on Ohio State in primetime at 7:30 pm on ABC in what figures to be the biggest challenge of the season.
• Men's Soccer beat Ohio State in a key Big Ten game. Also defender Daniel Munie earned his second player of the week honor.
• Field Hockey lost to Kent State but beat Michigan State.
• Swimming and Diving were spectacular at Team USA Competitions and equally good this weekend against conference foe Northwestern.
• Men's Golf won an event at Purdue to continue their solid fall season.
• Women's Golf finished up their fall season at the Illini Invitational.
• Women's Soccer's strong season hit a stumbling block with a loss to Penn State.
• Volleyball fell to Nebraska.
• Cross Country had their final regular-season meet.
• Men's Tennis competed at Clemson.
• Women's Tennis competed at the Cincinnati/Xavier Fall Invitational.
Thanks for your continued support for The Assembly Call and Inside the Hall. We'll be back next weekend with a new roundup.
Now go enjoy yourself a 6-banner Sunday.
Aaron (Ari) Shifron
Assembly Call Contributor
Filed to: