6-Banner Sunday: Big Ten media day recap, TV designations, tip times released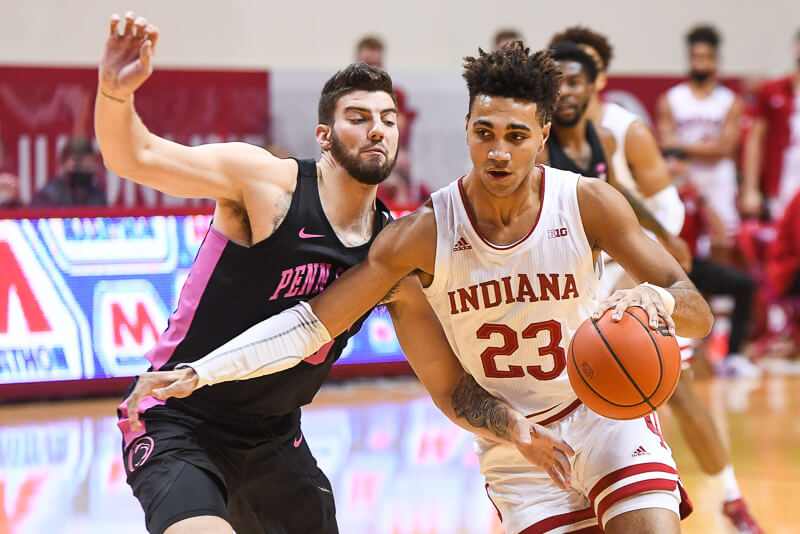 6-Banner Sunday is Inside the Hall's weekly newsletter in partnership with The Assembly Call. More than 8,000 Indiana fans receive the newsletter each week. In addition to appearing each week on the site, you can also opt to receive 6-Banner Sunday by email. A form to subscribe via email is available at the bottom of this week's 6-Banner Sunday.
Welcome to another edition of 6-Banner Sunday, a joint production between The Assembly Call and Inside the Hall where we highlight the five most essential IU basketball stories of the past week, plus take a look at how the other IU sports programs are doing.
IU held its media day last month, but this week it was the Big Ten's turn as the Hoosiers participated with every other team in the conference's version of the event. Also, this week the league released the rest of the information needed to fill out the schedule. Another indication the season is nearing is that Inside the Hall is doing a team-by-team preview of the Big Ten for the coming season.
In news further down the road, the Hoosiers are potentially closing in on a future player. Also, a review of Hoosier Hysteria from last week and our normal Hoosier Roundup concluded this edition of 6-Banner.
This week's Assembly Call Radio can be heard here.
• Big Ten media day recap
• TV and tip times released for IU basketball schedule
• Inside the Hall Big Ten team previews
• Hoosiers offer local standout
• Hoosier Hysteria look back
• Hoosier Roundup
Banner #1 – Big Ten media day recap
Big Ten media day is an annual event signaling the basketball season is about to begin. For many years it was taken for granted this event would be held in person. That changed last year when COVID-19 canceled the event. This season it was held in person once again in Indianapolis, where the Hoosiers took part.
IU speakers included coach Mike Woodson and players Trayce Jackson-Davis, Rob Phinisee, and Race Thompson.
Woodson also spoke a second time during the breakout session. Inside the Hall's Grace Ybarra also recapped the event.
Also, an "official unofficial" poll was conducted amongst the writers who cover Big Ten teams and the Hoosiers were picked seventh. This week's Podcast on the Brink with Zach Osterman discussed the poll.
Banner #2 – TV and tip times released for IU basketball schedule
Another sign the season is right around the corner is the schedule release. While the actual dates and opponents were put out several weeks ago, the times and TV assignments were not. That changed this week when that information was added as well.
With no exhibition games and only 'closed' scrimmages, fans' first chance to watch the Hoosiers will be the season opener against Eastern Michigan on Nov 9th at 6:30 pm on Big Ten Network. The only game that will require an online BTN+ subscription follows against Northern Illinois on Nov. 12.
Overall IU will make six appearances on FS1, six on an ESPN network, three on Fox, and one on CBS with the remainder on BTN.
Banner #3 – Inside the Hall Big Ten team previews
As is the case every year, Inside The Hall did a detailed breakdown of each team before the tipoff of the regular season.
The preview started with Minnesota and continued with Penn State, Nebraska, Northwestern, and Wisconsin. The remaining teams will be released in the coming days.
Banner #4 – Hoosiers offer local standout
Recruiting often takes the Hoosiers to far parts of the country. In this case, though it only goes as far as a couple of miles from the IU campus. After watching and recruiting him, the Hoosiers finally put out an official scholarship offer to 2023 local product JaQualon Roberts of Bloomington North.
Roberts, who is a forward, has no stars yet and IU was the first high-major school to offer him, but in-state rival Butler immediately followed. He also holds other Division I offers from IUPUI, Miami (OH), Indiana State, Massachusetts, Northern Illinois, and Akron.
Banner #5 – Hoosier Hysteria look back
While Hoosier Hysteria occurred last week and was in time to make 6-Banner, more information has come out since.
Last Monday, IU released several videos looking back at the event. The footage includes the team introductions and speeches from Woodson and Hoosier legend Isiah Thomas.
Banner #6 – Hoosier Roundup
Football had its bye week, but other sports played on to relatively successful results.
• Men's Soccer took advantage of a soft spot in their schedule and knocked off Omaha and Trine. Also, Spencer Glass is a senior CLASS Award candidate.
• Women's Soccer continues to be the Hoosiers' strongest athletic program this fall as they tied a ranked Michigan team and knocked off Northwestern to move to 9-2-3 on the season and third place in the Big Ten. Also, senior Hanna Nemeth earned Scholar-Athlete of the Month.
• Volleyball beat Rutgers but lost to Maryland.
• Field Hockey gave a highly ranked Rutgers team all it could handle before falling at the wire. This was followed with an upset of no. 16 Ohio State for the team's first conference win.
• Women's Golf won their first tournament of the year on their home golf course at IU. As a result, Aine Donegan who won the event was named Big Ten Golfer of the Week.
• Swimming and Diving opened their season to strong results.
• Women's Basketball announced their TV schedule for the upcoming year and participated in media day. The team also announced they are joining the men's team and offering a yearly schedule poster as part of NIL. Additionally, I did a Big Ten preview in the Assembly Call Community for subscribers.
• Although Football did not play this week, the TV network was announced for next weekend's showdown with Michigan State. They also scheduled a 2026 game with Ball State and have a senior CLASS Award candidate in Ty Fryfogle.
• Softball picked up a big-time University of Kentucky transfer Sarah Stone. They also had 14 Hoosiers earn NFCA All-American Scholar-Athlete Honors.
• Wrestling had Andrew Irick earn Scholar-Athlete of the Month.
Thanks for your continued support for The Assembly Call and Inside the Hall. We'll be back next weekend with a new roundup.
Now go enjoy yourself a 6-banner Sunday.
Aaron (Ari) Shifron
Assembly Call Contributor
Filed to: