Big Ten media day recap: Mike Woodson on player roles, program history and more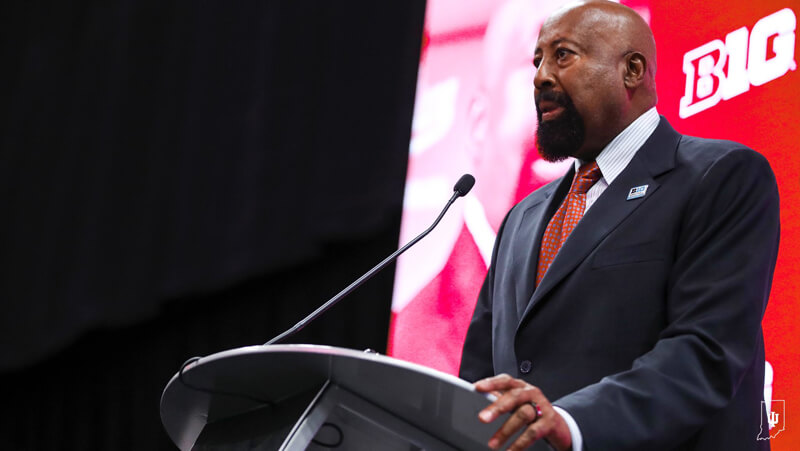 INDIANAPOLIS – A little more than a week after Indiana basketball media day, the program made another appearance at Big Ten Basketball Media Days on Friday at Gainbridge Fieldhouse.
The two-day event featured press conferences and one-on-one sessions with all 14 head coaches and select players from both the men's and women's program at every Big Ten school.
Indiana head coach Mike Woodson was accompanied by Trayce Jackson Davis, Rob Phinisee and Race Thompson in Indianapolis.
With the team's first scrimmage slated for Oct. 17 against Cincinnati, there was a lot to talk about ahead of the season. During Woodson's time behind the microphone, he provided insight into the team's chemistry, touched on the importance of Indiana basketball's history and even commented on the program under Archie Miller. Here are some of the highlights.
Trayce Jackson-Davis needs support on the floor
It's clear returning All-American Trayce Jackson-Davis is slated to be the Hoosiers' centerpiece on both ends of the floor, but Woodson said he doesn't want all of the responsibility to fall on him.
"We just can't depend on Trayce to carry the load," he said. "I'm trying to instill in all of these players that they have a chance to play and make a difference on our ballclub."
When Woodson came into this program just over six months ago, he took a look at the team and its film and found some noticeable holes he had to fill. That's why he brought in Xavier Johnson, Miller Kopp, Tamar Bates and Michael Durr.
But it's not just on those four new players. It's also on the ones he inherited. He said everybody's got to step up and play a role. Woodson expects everyone in a uniform to be ready to play.
"We don't have a team where we have three or four superstars," Woodson said. "We've got one dominant player in Trayce, we've got a bunch of supporting cast. That supporting cast has all got to be ready to play."
The pressure isn't just on the rest of the team to step up, though. When Jackson-Davis committed to staying at Indiana last spring, Woodson didn't show him what he did well from a basketball standpoint, but instead everything he couldn't do.
From that point, Jackson-Davis has come to the gym early and stayed late. He's put in the work.
"I can't help but think that's going to help him in the long run as well as us as a team," Woodson said.
Getting Rob Phinisee to shoot the ball
Woodson described Rob Phinisee as "a treat" and said he's been a bright spot over the last three months in terms of leading the program.
But he wasn't shy to mention the biggest problem he had with the point guard — getting him to shoot more.
"I'm telling him it's okay to shoot the basketball," Woodson said. "I don't know if he's had coaches tell him in the past, but I'm telling him it's okay to do that."
Woodson said he's just reluctant to shoot, so he's worked with him on that. But it's not a natural transition.
"I've got to basically cuss him out to shoot the ball," Woodson said.
Outside of learning to take more shots, Woodson has been pleased with Phinisee's growth. He said he's going to need him and his leadership as they move into the season.
Importance of bringing in Indiana basketball alums
Isiah Thomas' appearance at this year's Hoosier Hysteria wasn't just a cool moment for fans, but it was an important lesson for the team. Although Woodson and Thomas only played together for one year, Woodson said it was nice for his players to see their interactions and something of that magnitude.
It doesn't stop there. Woodson shared that Jared Jeffries, Scott May and John Laskowski paid a visit to the team on Thursday.
"These young players need to see that because those banners are hanging there for a reason," Woodson said. "A lot of the players that put those banners up in the rafters had a hell of a career at Indiana University and went on to play some NBA basketball as well. So, for our young group, it's nice that they come around."
Woodson wants his players to understand the importance of Indiana basketball and what it means to the state. That's why he's shown them so much about its history.
"IU basketball will never go away," he said. "And for these young guys to understand, there's a reason why there's 22 Big Ten titles and then five national titles. They've got to understand that this is rich in tradition in terms of basketball. If you look at it in any other way, you're missing the boat."
Mike Woodson's journey back to Indiana
This wasn't the first time Woodson talked to Indiana about the head coaching job.
When the job opened up in 2017 before the program went with Archie Miller, they also talked to Woodson. But he said he didn't like the way the process was going. Indiana wanted to talk to him and he said he walked away from it back then.
That all changed the second time around. He said it was a very professional and sincere process.
"I think when you coach at any level, you want to be wanted," Woodson said. "They made it clear that they did want me and I wanted to come back."
He felt good about it coming out of his job interview and felt good about what he could offer Indiana. Then, the job was his.
"It was a no-brainer for me because I would never accept any other job. I would never pursue any other college," Woodson said.
He said it hurt and was frustrating to watch Indiana basketball from afar these last few years, but he didn't assign any blame.
"I'm never going to bad mouth any coach, it's not my nature. Coaching is hard, it really is. Archie did what he thought was best for the team, it just didn't work out," Woodson said.
He said he wants to see the program do better, but so does anyone who has played for Indiana or gone to college there. They want to see Indiana do well. And now it's Woodson's job.
"Now I'm in that seat," Woodson. "We've got to make sure we can make a major move and get this team back on top. That's the only reason I came back."
(Photo credit: IU Athletics)
Filed to: 2021 Big Ten media day, Mike Woodson, Robert Phinisee, Trayce Jackson-Davis