6-Banner Sunday: Indiana set to host Illinois and Iowa in pivotal week for NCAA tournament chances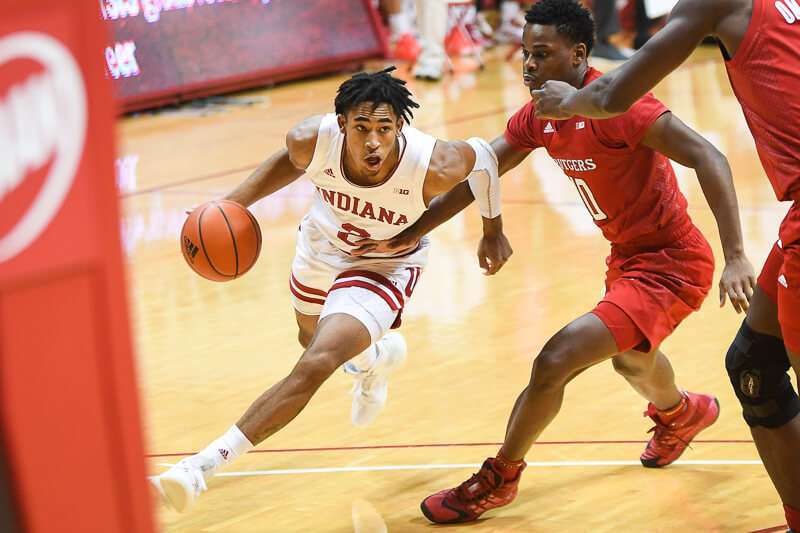 6-Banner Sunday is Inside the Hall's weekly newsletter in partnership with The Assembly Call. More than 7,500 Indiana fans receive the newsletter each week. In addition to appearing each week on the site, you can also opt to receive 6-Banner Sunday by email. A form to subscribe via email is available at the bottom of this week's 6-Banner Sunday.
Welcome to another edition of 6-Banner Sunday, a joint production between The Assembly Call and Inside the Hall where we highlight the five most essential IU basketball stories of the past week, plus take a look at how the other IU sports programs are doing.
After taking down Iowa on the road roughly 10 days ago, Indiana quickly lost its momentum, losing to Rutgers 74-70 in a frustrating home loss. The Hoosiers now sit with a 9-7 overall record and 4-5 mark in the Big Ten. With about a month of the regular season remaining, they are firmly on the NCAA tournament bubble.
The Hoosiers still have plenty of chances to pick up big wins, though. Indiana takes on No. 19 Illinois Tuesday night, followed by No. 7 Iowa next Sunday afternoon.
In this week's injury report, Trey Galloway didn't play for the second consecutive game against Rutgers due to back soreness and his timeline to return is unknown. Armaan Franklin re-aggravated his ankle in the game at Rutgers, too, but played through it. Because Indiana's game scheduled yesterday against Michigan was postponed due to COVID-19 issues in the Wolverines athletic department, the team has eight days to recover before they face the Illini.
In recruiting news, class of 2022 combo guard Isaac McKneely committed to Virginia on Saturday afternoon. Indiana contended in his final-8 schools. Also, in-state 2022 target CJ Gunn is set to announce his decision on Feb. 7.
You can listen to this week's edition of Assembly Call radio here.
• Indiana stumbles in loss to Rutgers
• Indiana to host top-25 ranked Illinois Tuesday night
• Armaan Franklin's enduring hero
• Trayce Jackson-Davis named to 10-player watch list for Karl Malone award
• Inside the Hall's updated midseason Bracketology
• Hoosier Roundup
Banner #1
Indiana stumbles in loss to Rutgers
Despite hitting 62 percent (10-of-16) of its 3-pointers, Indiana fell to Rutgers 74-70 in a disappointing loss at home. One game after holding Iowa to its lowest point total of the season, Indiana's defense failed them as they weren't able to contain Rutgers' dribble penetration.
After only committing three turnovers in the first half, Indiana gave the ball away five times in the two and a half minutes out of the break. Indiana forward Trayce Jackson-Davis had arguably his worst game of the season and was bothered in the paint by Rutgers center Myles Johnson.
"I thought they dropped back with their size," IU head coach Archie Miller said after the game. "Especially at the center position, they kept him (Myles Johnson) in between the rim and players. It kind of made it like a two on two-game. You are able to get down there, but you are not able to get some clean ones. We missed some good ones."
The Hoosiers shot just 14-of-40 on 2-pointers and 10-of-24 on layups or dunks. Indiana's upperclassmen backcourt of Al Durham and Rob Phinisee combined for only 15 points on 5-of-15 from the floor.
Banner #2
Indiana to host top-25 ranked Illinois Tuesday night
The Hoosiers will look to avenge their loss earlier this season when they host Illinois at 9 pm on Tuesday in Assembly Hall on either ESPN or ESPN2. Indiana was unable to come up with clutch plays down the stretch in their 69-60 loss to Illinois in late December.
The Illini have an overall record of 11-5 and a conference mark of 7-3. They've had some struggles though, dropping a game to Maryland at home in early January. They did, however, pick up a huge win over Iowa on Friday night.
Illinois is led by the dynamic duo of guard Ayo Dosunmu and forward Kofi Cockburn. Dosunmu is averaging 21.9 points, 6.1 rebounds and 4.8 assists per game while Cockburn is averaging a double-double of nearly 17 points and just over 10 rebounds. In their last meeting, Indiana was able to hold Dosunmu in check until he went off in the final ten minutes of the game.
Tuesday will offer yet another resume-building opportunity for Indiana as Selection Sunday nears.
Banner #3
Armaan Franklin's enduring hero
Throughout his life, Armaan Franklin's bond with his mother India has helped shape him into the person he is today. A decade ago, India, as a single mother, was working a full-time job and getting her Master's degree while providing for Armaan and his siblings.
"My mom is definitely my hero, my role model," Armaan said. "She taught me all about hard work and staying dedicated to what you want to do. She let me know that I can do anything I put my mind to if I just work hard."
India has also been there for Armaan. She was there when he was an overlooked recruit and when he struggled during his freshman season. Now, Armaan is having a breakout sophomore season for Indiana.
"I'll never be able to repay her for what she's done for me," Armaan said. "She wants me to be my best at all times so that's how I can make her happy and try to repay her. But it'll never happen. There's nothing I can do to repay her."
Banner #4
Trayce Jackson-Davis named to 10-player watchlist for Karl Malone Award
Indiana sophomore forward Trayce Jackson-Davis was included in 10-player Karl Malone Award watchlist, it was announced Thursday. The award honors the nation's top forward.
Jackson-Davis was the only Big Ten player named to the list. Other notable players on the list were Texas' Greg Brown and Stanford's Oscar Da Silva, both of which Jackson-Davis faced off against in the Maui Invitational earlier this season. LSU's Trendon Watford, the younger brother of former Hoosier Christian Watford, also made the cut.
Jackson-Davis is averaging 20.1 points and 8.7 rebounds per game this season and has consistently been in the top-5 of KenPom's Player of the Year rankings. In Big Ten play, he's averaging 19.4 points, 8.8 rebounds and 1.6 blocks per contest.
Banner #5
Inside the Hall's updated midseason Bracketology
Andy Bottoms of Assembly Call released his updated Bracketology on Inside the Hall earlier this week. According to Bottom's projections, Indiana would make the NCAA tournament as an 11-seed.
For the second consecutive week, Bottoms included 11 Big Ten teams in the field, although he's not convinced that the conference will be able to sustain that many bids by the end of the season. Bottoms tabbed Michigan as a No. 1 seed, followed by Iowa as a No. 2 seed and Wisconsin as a No. 3 seed.
Bottoms discussed the logic for his projections as well as Indiana's tournament forecast for the rest of the season on this week's Podcast on the Brink.
Banner #6
Hoosier Roundup
As has been the case with each successive week, more Olympic sports are taking part in competition. Some big wins, but also heartbreaking defeats occurred this week.
• Football officially named their new defensive coordinator this week in now former Georgia DB coach Charlton Warren.
• Women's Basketball picked up a huge win against a ranked Northwestern team on the road last Sunday with a big comeback. However, they fell to an even better Ohio State team at home on Thursday. They face Michigan State at 4:30pm today on BTN as they look to get back on track before a makeup contest with Rutgers Thursday.
• The awards continue to rack up for IU Baseball star Grant Richardson as he earned his third preseason All-American honor this week.
• Volleyball fell to Rutgers Friday before defeating the Scarlet Knights yesterday for their first Big Ten win.
• Men's Soccer saw senior defender Spencer Glass added to the MAC Hermann Trophy Watch List.
• Women's Soccer added an additional recruit to their 2021 class.
• Cross Country had a terrific weekend at the Big Ten Championships with the men placing second and the women fourth.
• Wrestling took down Northwestern for their first Big Ten win of the season before falling in a close match to highly ranked Penn State.
• Men's Golf joined several other teams from last week by announcing their schedule for this spring.
• Track and Field saw a Hoosier earn Big Ten Athlete of the Week.
• Swimming and Diving also had several athletes earn Big Ten Awards.
• Men's Tennis opens their season this week in Wisconsin.
Thanks for your continued support for The Assembly Call. We'll be back next weekend with a new roundup.
Now go enjoy yourself a 6-banner Sunday.
Tyler Tachman – Student Intern The Assembly Call
Filed to: