Bracketology: NCAA tournament projection as of January 26, 2021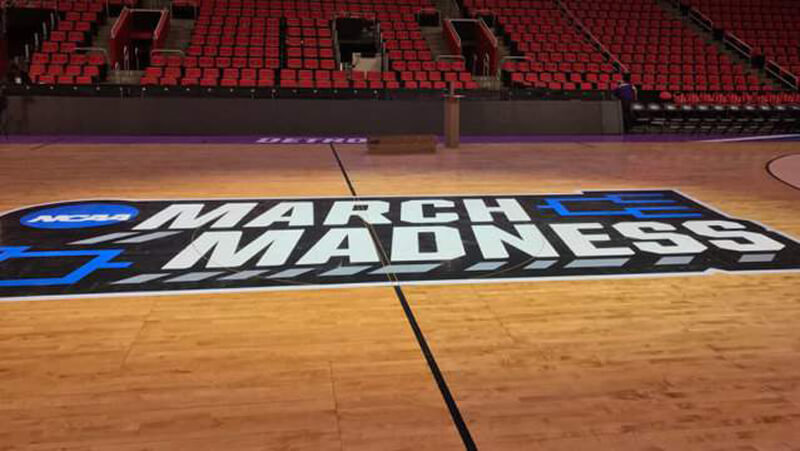 Somehow we are already less than seven weeks from Selection Sunday, but this will be a stretch run the likes of which we've never seen. The number of moving pieces in terms of games that may or may not be rescheduled and conference tournaments that may or may not be played is going to make the committee's job tougher than ever.
It remains to be seen how the selection committee will attempt to account for lost games, players missing games, or even teams struggling to get back into a rhythm following a COVID-19 related pause. I'm curious to see if the committee does another in-season reveal of the top four seed lines as they've done the last couple years. Last year this was done on February 8, so if it's going to happen, it will likely be soon.
For the second straight week, 11 Big Ten teams are included in this week's projected field. However, I'm not convinced the league will be able to sustain that many bids when all is said and done as teams continue to beat one another up. Nearly every game provides opportunities for quad 1 or quad 2 wins with very few games even falling outside of the top two quadrants, limiting the chances for teams to take a bad loss.
A limited non-conference schedule will likely make it even harder for mid-majors to earn at-large bids, and there just aren't many worthy at-large profiles as you get into the middle of leagues like the ACC, Pac-12, and SEC.
At this point, I've selected the representatives from the single bid leagues based on a combination of the current standings and who I think will win the league.
Before looking at the one seeds, I wanted to give a quick reminder about how the NCAA selection committee classifies wins based on the NET rating.
A breakdown of the four tiers:
· Quad 1: Home vs. teams ranked 1-30 / Neutral vs. teams ranked 1-50 / Road vs. teams ranked 1-75
· Quad 2: Home vs. teams ranked 31-75 / Neutral vs. teams ranked 51-100 / Road vs. teams ranked 76-135
· Quad 3: Home vs. teams ranked 76-160 / Neutral vs. teams ranked 101-200 / Road vs. teams ranked 136-240
· Quad 4: Home vs. teams ranked 161-351 / Neutral vs. teams ranked 201-351 / Road vs. teams ranked 241-351
One seeds
Although the one seeds remain unchanged this week, Gonzaga and Baylor continue to separate themselves from the rest of the field, occupying the top two spots in both the NET and KenPom.
Michigan racked up two more wins last week to stay on the top line, routing Maryland by 24 at home and then winning by 17 at Purdue. The Wolverines now boast a 7-1 mark against the top two quadrants, but barring a change, they will be out of action all week.
Villanova also remained on the one line after knocking off Seton Hall and Providence at home after going nearly one month between games. The Wildcats' lone loss on the season came to Virginia Tech in overtime, but it's their impressive road win at Texas that is allowing them to hold off the Longhorns for the final one seed.
The aforementioned Longhorns were also strongly considered for a top seed. They boast huge road wins at Kansas and West Virginia, and home losses to Villanova and Texas Tech have come by a total of just six points. Iowa's case took a hit with a home loss to Indiana last week, but Houston is waiting in the wings if the teams above them stumble. The Cougars rank fourth in the NET and own three quad 1 victories, headlined by a neutral court win over Texas Tech and a home win over Boise State. Their lone loss came by one point at Tulsa, but Houston still has a 6-1 mark against the top two quadrants.
The Bracket
The projections below are based on all games played through January 25, 2021. Following the bracket, I included a few thoughts on the last four in and first six out.
| | | |
| --- | --- | --- |
| REGION 1 | | REGION 2 |
| Indianapolis | | Indianapolis |
| 1) Gonzaga | | 1) Baylor |
| 16) N.C. A&T / Prairie View A&M | | 16) Montana St. / Vermont |
| 8) Boise St. | | 8) Saint Louis |
| 9) Connecticut | | 9) Florida |
| | | |
| Indianapolis | | Indianapolis |
| 5) Minnesota | | 5) Creighton |
| 12) Winthrop | | 12) Michigan St. / Stanford |
| 4) West Virginia | | 4) Virginia |
| 13) Furman | | 13) Belmont |
| | | |
| Indianapolis | | Indianapolis |
| 6) Clemson | | 6) UCLA |
| 11) LSU | | 11) Indiana |
| 3) Ohio St. | | 3) Missouri |
| 14) Bryant | | 14) South Dakota St. |
| | | |
| Indianapolis | | Indianapolis |
| 7) USC | | 7) Oklahoma St. |
| 10) North Carolina | | 10) Drake |
| 2) Alabama | | 2) Iowa |
| 15) UC Irvine | | 15) Texas St. |
| | | |
| REGION 4 | | REGION 3 |
| Indianapolis | | Indianapolis |
| 1) Villanova | | 1) Michigan |
| 16) Sam Houston St. | | 16) Grand Canyon |
| 8) Oregon | | 8) BYU |
| 9) Oklahoma | | 9) Xavier |
| | | |
| Indianapolis | | Indianapolis |
| 5) Texas Tech | | 5) Florida St. |
| 12) St. Bonaventure | | 12) Toledo |
| 4) Illinois | | 4) Kansas |
| 13) Liberty | | 13) UAB |
| | | |
| Indianapolis | | Indianapolis |
| 6) Colorado | | 6) Louisville |
| 11) Arkansas | | 11) Maryland / San Diego St. |
| 3) Wisconsin | | 3) Tennessee |
| 14) Colgate | | 14) Siena |
| | | |
| Indianapolis | | Indianapolis |
| 7) Virginia Tech | | 7) Purdue |
| 10) Rutgers | | 10) Seton Hall |
| 2) Texas | | 2) Houston |
| 15) Cleveland St. | | 15) Northeastern |
Last Four In:
Maryland – The Terps are just 3-6 in the Big Ten, but those three victories came on the road at Illinois, Wisconsin, and Minnesota, all of which qualify as high quad 1 wins. For now, that trio of victories and a top 40 NET ranking are enough to keep the Terps in the field. Maryland hosts Wisconsin in College Park this week, and a win would provide a sweep over the Badgers as well as a little breathing room.
San Diego State – Following a season-opening win against UCLA, things haven't gone quite as well for the Aztecs, who dropped a pair of road games at Utah State and lost at home to BYU and Colorado State. SDSU doesn't have a quad 1 victory, but a 4-4 mark against the top two quadrants is solid enough for now. The upcoming schedule should provide opportunities to stack wins.
Stanford – Despite being short-handed, the Cardinal picked up an overtime win over UCLA on a last-second layup to propel themselves back into the field. A neutral-court victory over Alabama continues to look better and better, but Stanford is still just 3-5 in quad 1 and 2 opportunities. Jerod Haase's squad hits the road to play the Arizona schools this week.
Michigan State – The Spartans haven't played since January 8, and while they don't have a loss outside of the top two quadrants, their profile is pretty thin. A home win over Rutgers and a road win at struggling Duke are the only ones that fall in the top two quadrants. MSU desperately needs to get back in action so they can start bolstering their resume.
First Six Out:
Pittsburgh – The Panthers took care of Duke at home but stumbled on the road at Wake Forest. They own a sweep of Syracuse as well as a road win at Northwestern, but a quad 4 home loss to St. Francis (PA) stands out. Pitt's next three games all come at home, as the Panthers host North Carolina, Notre Dame, and Virginia Tech.
Colorado State – Following a split of two road games with fellow bubbler Utah State, the Rams are in the at-large mix. They boast a pair of quad 1 victories and have just three losses, which came on the road against San Diego State, Utah State, and Saint Mary's. However, five of CSU's 10 wins fall in quad 4, but this week brings two chances for quality wins with Boise State visiting on Wednesday and Friday.
Utah State – The Mountain West has three teams within the last four in and first five out, making it the official conference of the bubble. The Aggies had the good fortune of playing both San Diego State and Colorado State at home, and a 3-1 mark there accounts for all three of their victories against the top two quadrants. The larger issue is that eight of their 11 D-1 wins fall in quad 4, and Monday's road loss at UNLV doesn't help matters.
Richmond – An early road win at Kentucky doesn't hold nearly the weight the Spiders would have expected to start the season, and I suppose a neutral court victory over Loyola Chicago helps for bubble purposes. However, last week's home loss to La Salle gives Richmond a second quad 4 loss, which leaves very little margin for error.
Syracuse – The Orange picked up a little momentum with wins over Miami and Virginia Tech, but a trip to Virginia brought them back down to Earth. Syracuse is just 2-5 against the top two quadrants, with the win over Virginia Tech the only one over an at-large contender. Throw in a 1-4 road mark, and the case isn't all that compelling. This week brings home games against NC State and Louisville.
Loyola Chicago – A NET ranking in the top 30 looks good, but the Ramblers have no quad 1 wins and no victories against teams in the top 90 of the NET. Mid-February games at Drake loom large, but Loyola just needs to keep winning until then.
Conference Breakdown:
Big Ten (11): Illinois, Indiana, Iowa, Maryland, Michigan, Michigan State, Minnesota, Ohio State, Purdue, Rutgers, Wisconsin
Big 12 (7): Baylor, Kansas, Oklahoma, Oklahoma State, Texas, Texas Tech, West Virginia
ACC (6): Clemson, Florida State, Louisville, North Carolina, Virginia, Virginia Tech
SEC (6): Alabama, Arkansas, Florida, LSU, Missouri, Tennessee
Big East (5): Connecticut, Creighton, Seton Hall, Villanova, Xavier
Pac-12 (5): Colorado, Oregon, Stanford, UCLA, USC
Atlantic 10 (2): Saint Louis, St. Bonaventure
Mountain West (2): Boise State, San Diego State
West Coast (2): BYU, Gonzaga
America East: Vermont
American: Houston
Atlantic Sun: Liberty
Big Sky: Montana State
Big South: Winthrop
Big West: UC Irvine
Colonial: Northeastern
Conference USA: UAB
Horizon: Cleveland State
MAAC: Siena
MAC: Toledo
MEAC: North Carolina A&T
Missouri Valley: Drake
Northeast: Bryant
Ohio Valley: Belmont
Patriot: Colgate
Southern: Furman
Southland: Sam Houston State
SWAC: Prairie View A&M
Summit: South Dakota State
Sun Belt: Texas State
WAC: Grand Canyon
Follow Andy on Twitter (@andybottoms) for more thoughts on college hoops and to receive an update whenever new brackets are posted.
Filed to: 2020-2021 Bracketology