Indiana's loss to Rutgers proves nothing is guaranteed in this year's Big Ten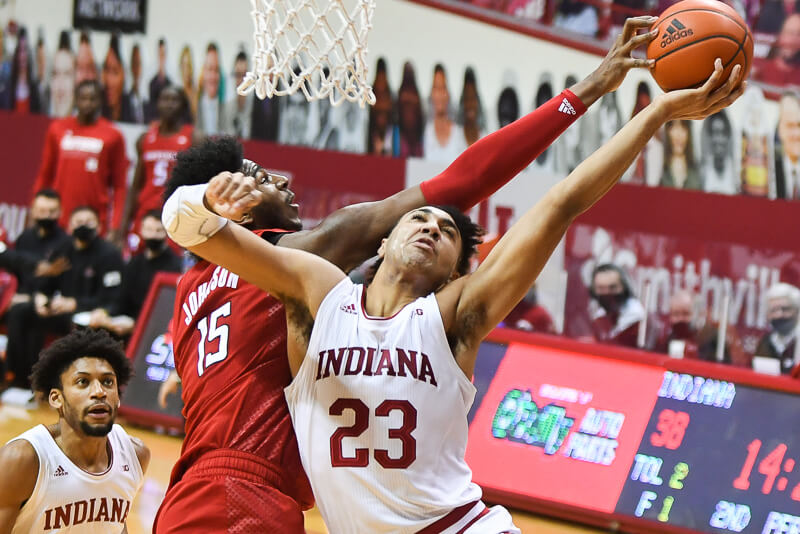 By just after 11 p.m. on Thursday night in Carver-Hawkeye Arena, Indiana had pulled off one of the biggest wins in Archie Miller's tenure. The Hoosiers were coming off a disappointing loss home to Purdue the week prior. But Indiana quickly moved on by frustrating No. 4 Iowa in what appeared to be a win that would change the narrative of the season.
More than 700 miles away in University Park, Penn State picked up its first Big Ten win against Rutgers.
This was a Rutgers team that began the season 6-0 and, at one point, was No. 11 in the country. But then the Scarlet Knights took a nosedive. They dropped five games in a row, including the loss to Penn State, who entered the game winless in the Big Ten.
On Sunday, Indiana and Rutgers, two teams seemingly headed in polar opposite directions, met in Bloomington. The Scarlet Knights led the Hoosiers for more than 32 minutes and came out on top 74-70.
This is the state of the Big Ten this season. It's also, however, a trend of inconsistencies that have haunted Indiana over the last couple of seasons.
The Big Ten is the best conference in college basketball. There have been six teams in the top-25 on a consistent basis. At times, ten teams have been projected to make the NCAA tournament. Earlier this season, it was described as a "meat grinder" by long time IU radio announcer Don Fischer.
"In this league, I don't think it's anything about momentum," sophomore guard Armaan Franklin said after the loss to Rutgers. "You play a good team every night. Some games go your way, some games don't."
Indiana was outworked from the beginning. Before the tipoff, the Rutgers bench was rowdy first, causing the Indiana sideline to stir and try to match it. To begin the second half, the Scarlet Knights' players slapped the floor in unison on defense. Rutgers forward Ron Harper Jr. was demonstrative down the stretch, yelling: "Let's get this shit, man."
That was what couldn't be seen on the stat sheet. What was visible numerically, didn't offer much relief, either.
Maybe the most head-scratching stat was Indiana's 3-point shooting. Not because it was bad, but because it was exceptional. Indiana has been inconsistent from deep all season, but on Sunday they shot a superb 10-of-16 from three. If you were to tell someone that Indiana made 10 3-pointers, they would undoubtedly believe it should be a win by a healthy margin.
Instead, on Sunday, that was not the case. Not in the Big Ten this season.
Then there was Rutgers guard Geo Baker. Ahead of this season, he was considered one of the nation's top returning players by some national media pundits. But early this year, Baker dealt with an ankle injury and wasn't himself. Over the last four games, he averaged only 6.5 points and shot a combined 3-of-14 from deep.
So it was only right that Baker had 19 points on Sunday, including 4-of-9 from deep in what was his best game of the season.
Much of that was also due to Indiana's lackluster defense. One game after allowing one of the most potent offenses in the nation to its lowest scoring total of the season, Indiana's defense was uninspiring.
"This league not only requires you to play hard and tough and all that stuff, but you have to play well, too," Miller said. "You have to play well in these games."
This has been happening all around the Big Ten this season. Look no further than the start of Northwestern's conference slate. The Wildcats were picked 13th or 14th in essentially every preseason poll, but put together a 3-0 start and ascended into the top-25. They've since lost seven in a row.
Look at Maryland, who has a conference record of 3-6, but is somehow still in the hunt to make the NCAA tournament because those three wins are all against current top-25 teams on the road.
"It's going to be the mental challenge, I think, to not break down when things aren't going well, as an individual and as a team," Miller said earlier this season. "I think the team that has the big picture and the long game, in the back of their mind that it's one game at a time, has a chance to really have monumental wins."
And let's add a raging pandemic to this madness. Earlier this week, Michigan played Purdue despite Boilermaker guard Sasha Stefanovic testing positive for COVID-19. A day later, Michigan shut its entire athletic program down due to a positive test for the COVID-19 variant that originated in the United Kingdom.
The Big Ten as a whole this season serves as a representation of the inconsistencies Indiana has had over the last four years. There are top-tier wins, but an inability to hold sustained success. Now, Indiana's recent trends are being mirrored by the rest of the league.
It's what makes Indiana, and the league, so exciting, or infuriating. Or a combination of both. Probably the latter. But there are still 11 more Big Ten games left for Indiana to build its resume for March. If the past month is any indication, few outcomes can be predicted.
"We take this and move forward for the next one," Franklin said.
At this point, that's all the Hoosiers and everyone else in the conference can really do.
Filed to: Rutgers Scarlet Knights