Five takeaways from Indiana's loss at Illinois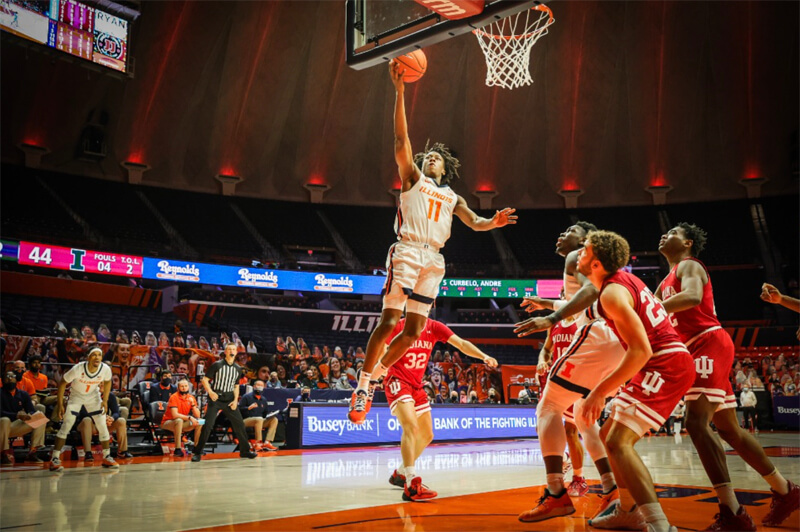 Indiana played well in stretches, but couldn't overcome a dominant performance by junior guard Ayo Dosunmu in a 69-60 loss at Illinois on Saturday afternoon. The loss dropped the Hoosiers to 5-4 overall and 0-2 in Big Ten play.
Here are five takeaways from the loss to the Fighting Illini:
• Dosunmu dominates down the stretch: For a half, it looked like Indiana might be able to hold Illinois All-America candidate Ayo Dosunmu in check.
Trailing just 29-27 at intermission, Indiana held Dosunmu to just eight shot attempts in the first half and 10 points. Rather than hunt shots, Dosunmu looked to get his teammates involved early and not force anything.
But with his team trailing 49-44, Dosumu made his move. Over the game's final 9:47, Dosunmu exploded for 18 points and showed why he's arguably the best guard in the country.
"Ayo played MVP level tonight," Archie Miller said. "He made every big play for them. When you have that guy that you can go to at the end of the game like that, it makes a lot of problems for everyone else."
Based on his postgame comments, the timing for Dosunmu's heroics was no accident.
"I played a mind game with them," Dosunmu explained. "On all of my ball screens, they were kind of hard hedging, but I was making the right play about six or seven times in a row and their bigs started getting lazy and complacent. So when I kept coming off, they were expecting me to just keep making the right play, hitting the corner. Just played a mind game with them.
"I knew around the nine or ten-minute mark, they were thinking when I came off the ball screen, I was going to hit the corner or hit the shake. And then I saw Trayce Jackson-Davis, he kept just coming and leaving right away and that's when I was able to get in there, get a floater off, got a layup and got some easy transition 3s. So basically I was just playing a mind game with them, watched a lot of film on them and I knew that when the duration of the game increases, their tendencies start to get lazy so I just wanted to attack on that."
• Cockburn wins battle with Jackson-Davis: In a matchup between two of the Big Ten's elite bigs, Illinois sophomore Kofi Cockburn got the better of Trayce Jackson-Davis on Saturday afternoon.
Jackson-Davis struggled to finish at the rim for most of the night and Cockburn's size and shot-altering ability played a role in that. Jackson-Davis was just 3-of-13 on 2s and finished with 11 points, a season-low, and eight rebounds, none of which came on the offensive glass.
Jackson-Davis also battled foul trouble in the second half, which limited him to 31 minutes, several below his season average.
Cockburn, meanwhile, recorded his sixth double-double in 10 games this season with 15 points and 15 rebounds in 30 minutes.
• Franklin continues to shine offensively: After a modest offensive start to the season in which he averaged 8.8 points over the team's first five games, Armaan Franklin continued his offensive breakout against Illinois.
The 6-foot-4 guard from Cathedral topped his career-high in points for the third time in four games with 23 points on 8-of-12 shooting from the field. Franklin made 5-of-6 3-pointers in Saturday's loss. Over Indiana's last four games, he's 17-of-26 (65.3 percent) from behind the arc.
For a program that has struggled to find a knockdown shooter for the entirety of the Miller era, the Hoosiers may finally have that guy in Franklin.
In nine games this season, Franklin is 19-of-38 from distance and has already made more 3-pointers than he did all of his freshman season (17).
• Phinisee and Durham bounce back after silent first half: Junior Rob Phinisee, who came off the bench for the first time this season, and senior Al Durham Jr., were invisible in the first half of Saturday's game.
The duo played a combined 20 first half minutes against Illinois and didn't record a point, assist or rebound. Given that lack of production from two of its most experienced players, Indiana was fortunate to only trail 29-27.
Both players, who also struggled against Northwestern last Wednesday, responded in the second half of the State Farm Center.
Phinisee was more assertive looking for his shot in the second half and scored four points and dished out an assist in nine minutes. Durham was even better with nine points on 4-of-9 shooting in 16 second half minutes.
• Rotation grows in first half of Saturday's loss, lower turnovers help offense: Miller said that he might need to play more guys in the aftermath of Wednesday's loss to Northwestern and in the first half of Saturday's game, he did just that.
Nine different players logged at least five minutes in the first half at the State Farm Center and Jordan Geronimo was the only available scholarship player to not log a minute before halftime. Geronimo did get into the fray in the second half and knocked down a 3-pointer in four minutes.
The biggest positive in the loss, however, was the fact that Indiana took care of the ball on Saturday. The Hoosiers committed just eight turnovers for a turnover percentage of just 12.1. It was just the third time in nine games that Indiana hit its stated goal of 10 or fewer turnovers frequently mentioned by Miller.
"That's how we have to play," Miller said. "Trayce isn't going to go 3-for-13 every game. I think offensively if you look at it, we've got to get a couple of different guys playing with a little more confidence to help the cause. We've got to continue to play our bench. We've got to continue to move the ball. It wasn't perfect, but with a one-possession game with three minutes to go, our offense wasn't getting us beat."
(Photo credit: Illinois Athletics)
Filed to: Archie Miller, Armaan Franklin, Illinois Fighting Illini, Trayce Jackson-Davis