Five takeaways from Indiana's loss to Rutgers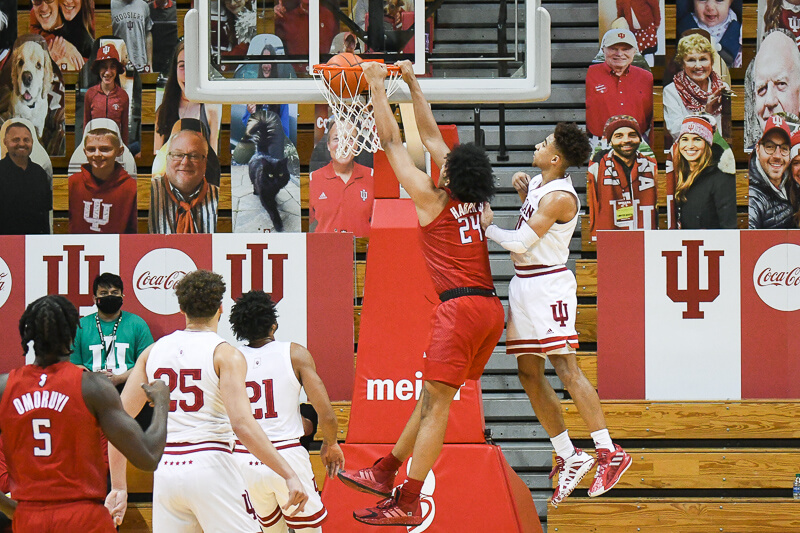 Indiana fell back below .500 in Big Ten play with a 74-70 loss to Rutgers on Sunday afternoon at Simon Skjodt Assembly Hall. The loss dropped the Hoosiers to 9-7 overall and 4-5 in Big Ten play.
Due to the postponement of next weekend's game against Michigan in Ann Arbor, Indiana is not scheduled to play again until Feb. 2 against Illinois in Bloomington. Here are five takeaways from Sunday's loss to the Scarlet Knights:
• After an impressive showing at Iowa, Indiana's defense regresses in loss: Rutgers hadn't won a game since Dec. 29 entering Sunday's matinee at Assembly Hall.
The offensive numbers for the Scarlet Knights in their five prior games – all losses – were unimpressive. But Rutgers shredded Indiana's defense on Branch McCracken Court by scoring 1.12 points per possession, their highest output since an 81-76 win over Purdue at the RAC.
Rutgers shot 19-of-31 on 2s, its highest percentage (61.2) inside the arc since their second game of the season against Farleigh Dickinson. Indiana struggled to guard the Scarlet Knights off the dribble and were outscored 30-24 in the paint.
"Today, Rutgers did a really good job with dribble penetration," Archie Miller said. "We had a hard time keeping them off the bounce, in particular on the perimeter."
In addition to getting beat off the dribble and in the paint, Indiana had a difficult time containing Geo Baker. The Rutgers senior broke out of a recent slump by scoring a season-high 19 points. Baker made four of his seven 3-point attempts.
• Hoosiers shoot just 35 percent on 2s: 3-point shooting has plagued Indiana for a majority of Miller's tenure. On Sunday, it was IU's inability to finish inside the arc that was problematic.
Indiana wasted a 10-of-16 (62.5 percent) shooting performance on 3s by shooting just 14-of-40 (35 percent on 2s). Not only did Rutgers alter plenty of Indiana looks in the paint and at the rim, it also forced the Hoosiers to take eight long 2s outside of the paint. Indiana made just two of those attempts.
In all, Indiana was 10-of-24 on dunks or layups and Trayce Jackson-Davis, typically an efficient scoring option, was just 4-of-10 from the field.
"I thought they dropped back with their size," Miller said. "Especially at the center position, they kept him (Myles Johnson) in between the rim and players. It kind of made it like a two on two game. You are able to get down there, but you are not able to get some clean ones. We missed some good ones."
• A head-scratching second half start: Indiana went into the second half trailing by five and could have been down just three had it blocked out Caleb McConnell on the final possession of the first half.
Nonetheless, it was a manageable margin given the fact that Indiana allowed the Scarlet Knights to shoot 4-of-5 on dunks and 8-of-10 on layups in the first half.
The Hoosiers, however, ended any chance at building momentum early in the second half with its turnovers. After committing just three in the first half, Indiana had five turnovers in a stretch of two minutes and 21 seconds. Rather than chipping away at the five-point deficit, Rutgers extended its lead to 10 after Indiana's fifth turnover in that stretch.
"Offensively, to start the second half, the game really changed with five turnovers in the first four or five minutes," Miller said. "We had three turnovers at halftime, finished with 12. Ended up having nine turnovers in the second half, which to me was the big difference in the game."
• Lander provides boost in limited minutes off the bench: Khristian Lander has been a non-factor for most of the season, but the freshman point guard was solid in the win at Iowa and backed it up with arguably his best game of the season on Sunday.
The Evansville Reitz product scored six points on 2-of-3 shooting in 11 minutes in the loss. It was the first time Lander logged more than 10 minutes in a game since the North Alabama game back on Dec. 13. He made both of his 3-point attempts and looked more comfortable defensively.
Given the inconsistencies of Indiana's upperclassmen guards, there could be an opportunity to earn a bigger role for Lander in the second half of the Big Ten schedule.
After struggling early in the season with turnovers and shot selection, his play over the last two games should help him build confidence.
• For the ninth time in 11 tries, Indiana follows up a win over a ranked team with a loss under Miller: Indiana's 81-69 win at Iowa on Thursday could have put Indiana above .500 in Big Ten play for the first time all season.
But the Hoosiers, as has often been the case under Miller, followed up a big win with a letdown performance.
According to ELIAS via ESPN Stats and Info, Indiana is just 2-9 in games following a win over an AP top 25 team under Miller.
With three home losses on the ledger already against teams currently outside the top four of the Big Ten standings, Indiana has left itself with little margin for error if it hopes to return to the NCAA tournament for the first time since 2016.
Filed to: Rutgers Scarlet Knights