The Minute After: Rutgers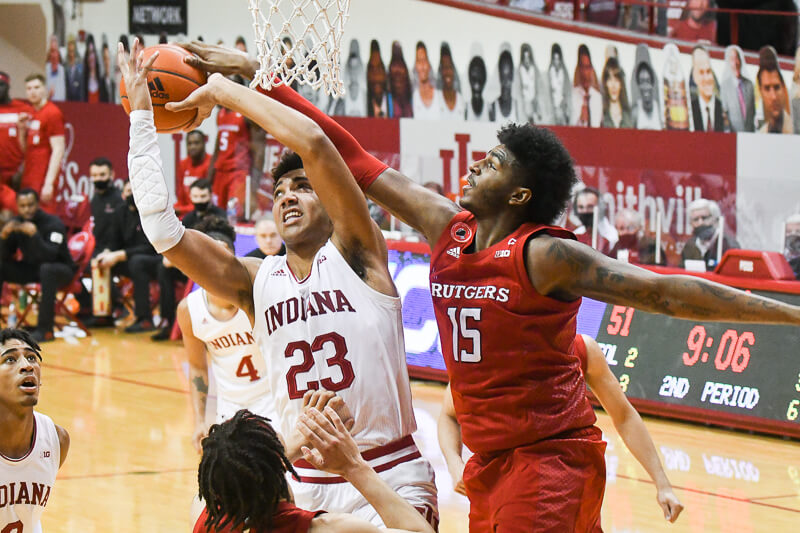 Thoughts on a 74-70 loss to Rutgers:
On Thursday night in Iowa City, Indiana caught the Hawkeyes in a situation primed for an upset. Iowa had won five straight entering the contest. It had an off-shooting night from deep. Indiana played strong defense regardless, making things difficult for Luka Garza, kept turnovers low and made enough shots of its own from deep despite a rough night from the line to pull out the victory.
But it goes the other way, too.
Rutgers had lost five straight coming into today's contest and is underperforming pre-season expectations. The Scarlet Knights have defended poorly in Big Ten play and their offense hasn't made up for it. And so they appeared in pure desperation mode today. It seemed to spur them on to bring more energy and effort than the Hoosiers from the jump, as they looked for their first win since Dec. 29. Indiana allowed Rutgers to get comfortable offensively in the first half and the Scarlet Knights played with confidence the whole game as a result. Geo Baker's 19 points (7-of-15) were a season-best. Rutgers shot well from deep (8-of-22, 36.4 percent). And after entering the game shooting just 55.2 percent from the line in Big Ten play, the Scarlet Knights hit 12-of-17 (70.6 percent) in this one.
Indiana curiously continues to play excellent against some of the best teams in the nation on the road while fumbling at home against the bottom half of the Big Ten.
Trayce Jackson-Davis was not his All-American self today. The sophomore scored just 13 points on 4-of-10 shooting. Jackson-Davis tends to raise his game in the second half, but that did not happen today in a game the Hoosiers could have really used it. Rutgers fronted him aggressively and made things difficult for him all game, which didn't help matters. While Armaan Franklin had a team-high 14 points, it came on just 4-of-11 shooting. The sophomore was also clearly slowed by an ankle injury he sustained in the first half but was able to play through.
Indiana really shot itself in the foot to start the second half. Five early turnovers became seven points for the Scarlet Knights. Rutgers punched its lead out to 14 with 11:52 to go, but Indiana was able to cut it as close as three points on a couple of occasions. The Hoosiers were just unable to capitalize beyond that and it was ultimately the difference over the final minutes.
After playing a mostly mistake-free sequence against Iowa in the second half, Khristian Lander continued to show today he may finally be figuring things out at the college level. Lander is no longer jacking quick shots outside the flow of the offense. He's playing more principled, sound defense as well. Lander hit two key 3-pointers in the second half for the Hoosiers today and Archie Miller rewarded his play by going with him for longer than usual.
This is a bad loss for the Hoosiers. But just as Indiana's rough loss to Purdue was followed by some extended time off due to COVID-19 in the MSU program, so too will it now get time off after Michigan's program is shut down due to COVID-19 as well. That extended practice time seemed to help the Hoosiers pull off the upset in Iowa City.
What will this next extended practice time bring before the Illinois matchup on Feb. 2? With the ups and downs this season has brought, it's anybody's guess.
Filed to: Rutgers Scarlet Knights