6-Banner Sunday: Indiana's defense shines in 81-69 win at Iowa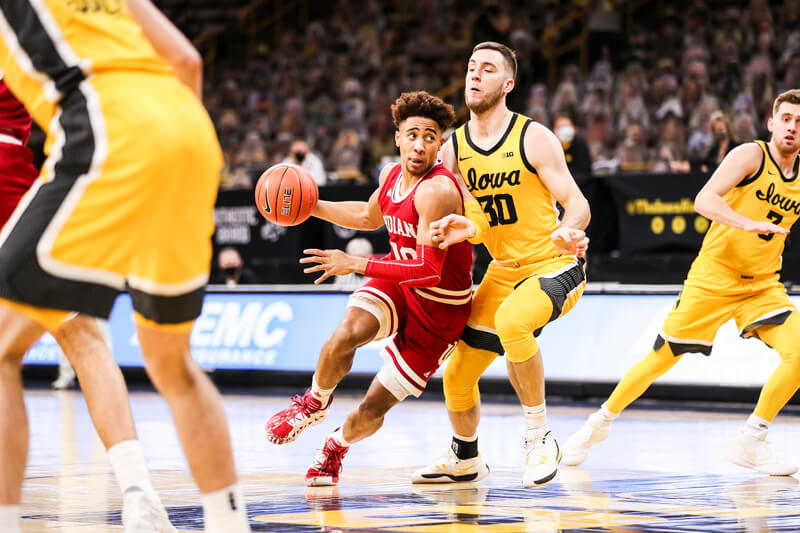 6-Banner Sunday is Inside the Hall's weekly newsletter in partnership with The Assembly Call. More than 7,500 Indiana fans receive the newsletter each week. In addition to appearing each week on the site, you can also opt to receive 6-Banner Sunday by email. A form to subscribe via email is available at the bottom of this week's 6-Banner Sunday.
Welcome to another edition of 6-Banner Sunday, a joint production between The Assembly Call and Inside the Hall where we highlight the five most essential IU basketball stories of the past week, plus take a look at how the other IU sports programs are doing.
Indiana was finally able to break through against a top-25 opponent as the Hoosiers took down the Hawkeyes 81-69 on Thursday. It could prove to be Archie Miller's biggest win in his tenure at Indiana.
The Hoosiers trailed by six points at the break but roared back in the second half to take a commanding lead. Besides Luka Garza and Joe Wieskamp, Iowa's offense was dreadful against Indiana's pack-line defense.
With the resume-building win, the Hoosiers now have a 9-6 overall record and 4-4 mark in the Big Ten heading into their matchup with Rutgers on Sunday.
In this week's injury report, Trey Galloway sat out against Iowa due to back soreness and his timeline to return is unknown. Archie Miller said that senior forward Joey Brunk, who has been out all season due to a back injury, successfully underwent surgery and is starting his rehab process. Miller hasn't ruled out the notion that Brunk could potentially play toward the end of the season.
In other college basketball news, the official dates of the NCAA Tournament were announced and can be found here.
Also, Assembly Call's Andy Bottoms published the first in-season edition of his bracketology. Bottoms had Indiana as an 11-seed playing Oregon in the opening round. This projection, however, was before Indiana's win over Iowa.
Lastly, a late breaking story has all University of Michigan Athletics on pause for two weeks due to a more contagious COVID strain found within the department. As a result, IU's game in Ann Arbor next weekend will be postponed.
You can listen to a replay of Assembly Call's postgame show here.
• Indiana takes down top-ranked Iowa
• Freshman Jordan Geronimo steps up in victory
• Indiana to host Rutgers Sunday afternoon
• The Trey Galloway effect and how it's already leaving a mark at Indiana
• This week's edition of Podcast on the Brink with UMHoops
• IU sports roundup
Banner #1
Indiana takes down top-ranked Iowa
The Hoosiers put up their best performance of the season, knocking off No. 4 Iowa 81-69 on the road Thursday night. It was a team effort as four Hoosiers scored in double-figures and Trayce Jackson-Davis led the way with 23 points. The veteran backcourt of Al Durham and Rob Phinisee combined for 32, including important free throws from Durham down the stretch.
Just a week earlier, Indiana fell in a disappointing loss at home to Purdue. The Hoosiers had a full week to regroup after last Sunday's game against Michigan State was canceled due to COVID-19 issues in the Spartans' program.
"We had to challenge some guys," Indiana head coach Archie Miller said after the game. "Guys challenged each other. The practices needed to get back to where guys were competing."
That's what Indiana did, although they played far from perfect. They shot just 60 percent from the free-throw line and Race Thompson and Trayce Jackson-Davis were in foul trouble essentially the whole game. But Indiana's energy, grit and poise prevailed in a win that will prove to be invaluable come Selection Sunday.
"Everybody was locked in," Phinisee said.
Banner #2
Freshman Jordan Geronimo steps up in victory
There were still more than seven minutes left in the first half when Race Thompson and Trayce Jackson-Davis had each picked up their second personal fouls. Indiana's frontcourt had already been depleted all season with the absence of Joey Brunk. On top of that, they were tasked with trying to stop one of the best players in the nation, Luka Garza.
That's where freshman forward Jordan Geronimo came in. He's played sparingly over the course of the season but came up big for the Hoosiers against Iowa. Geronimo didn't put up huge numbers: seven points in ten minutes. But, he was the quiet key in disrupting the rhythm of Iowa's offense. He played with poise, lifting IU's frontcourt when they needed it most.
"I thought Jordan Geronimo, best game he's played," Miller said. "I mean, his contributions tonight were awesome in terms of how he brought energy and how physical he was."
Geronimo bothered Garza and disrupted him in the paint. In the second half, Garza shot just 4-of-11 and committed four turnovers. Meanwhile, Indiana's defense was outstanding, holding Iowa's offense without a field goal for 11 minutes late in the game. A big part of that was the energy Geronimo brought.
"I'm really proud of him. Honestly, really, really, proud of him," Jackson-Davis said.
Banner #3
Indiana to host Rutgers Sunday afternoon
After two days off, Indiana will be back in action on Sunday afternoon, hosting Rutgers in Assembly Hall.
The Scarlet Knights got off to a phenomenal start to the season, posting a 7-1 record and moving into the top-15. Lately, however, Rutgers has fallen on hard times. They've lost their last five games, including one to Penn State on Thursday night and will enter Sunday's matchup with a 3-6 mark in the Big Ten.
Rutgers' success is largely reliant on the play of forward Ron Harper Jr., who's averaging 18 points and six rebounds per game. Guard Jacob Young and center Myles Johnson are also key pieces for the Scarlet Knights. Young is averaging 15 points per game while Johnson is a physical body in the paint.
Sunday will be an opportunity for Indiana to keep its momentum rolling.
Banner #4
The Trey Galloway effect and how it's already leaving a mark at Indiana
As a freshman this season, Trey Galloway has caught attention with his unrelenting hustle and energetic play. While Galloway wasn't the most heralded recruit in the freshman class, he's made an instant impact for the Hoosiers, averaging 4.9 points, 2.1 rebounds and 2.1 assists per game while adding the intangible of toughness.
This mentality isn't new for Galloway. It was one that grew over his four-year high school career at Culver Academies playing for his father Mark. As a sophomore, he won a state championship.
"Just bringing that fire to the court and kind of just picking up the guys," Galloway said. "I feel like I can bring that to the table and really be that fire guy and keep us together when things are going rough."
Off of the court, people at Culver knew Galloway to always have lively conversation. He stayed after games to meet with fans. It's carried over to IU this season, too, where Galloway has quickly fit in with his teammates.
"You were always his friend," Culver assistant coach Blaine Schafer said. "You always had a conversation that he loved to have with you. It was never just a 'hey coach, what's up?'"
Banner #5
This week's edition of Podcast on the Brink with UMHoops
Inside the Hall's Alex Bozich welcomed Dylan Burkhardt of UMHoops onto this week's Podcast on the Brink. The two discussed Indiana's win over Iowa, as well as Michigan's poor performance against Minnesota. The Wolverines, however, are still atop of the Big Ten standings and ranked in the top-10. With that said as written above, Michigan will be on a two week COVID pause starting today. This was not discussed in the podcast as it was recorded before last night's breaking news.
Earlier, it was reported that the Big Ten Tournament could be moved from its original location of Chicago to Indianapolis. There has been some skepticism about whether teams who are a lock to make the NCAA Tournament would even risk playing in the events. Bozich said that he expects teams will, in fact, opt out for safety reasons.
Bozich and Burkhardt also reflect on their preseason list of top-25 Big Ten players. The top-5 of Franz Wagner (5), Kofi Cockburn (4), Trayce Jackson-Davis (3), Ayo Dosunmu (2) and Luka Garza (1) have all performed up to their ranking.
Banner #6
Hoosier Roundup
Volleyball is now underway this week joining Wrestling, Track and Field, Swimming and Diving, Football and Men's and Women's Basketball as the sports that have competed this academic year. A few others will begin in the next few weeks as well with several more sports releasing schedules this week.
• Women's Basketball will finally resume today against a ranked Northwestern team. This was after Thursday's game against Michigan State was postponed due to COVID in the Spartans program.
• Volleyball announced their TV schedule for this season and IU will appear on Big Ten Network three times. The team opened their season this weekend with two losses against highly ranked Nebraska.
• Men's Soccer put out their schedule which will begin in February and be conference only with no fans allowed.
• Women's Soccer also released a schedule slated for a February start with conference only and no fans allowed as well.
• Baseball is a little further out (potential March start but no schedule yet), but several Hoosiers earned pre-season honors from Perfect Game website.
• Swimming and Diving beat Ohio State and had several players honored.
• Track and Field secured 14 individual victories in a home meet this weekend.
• Wrestling fell to Michigan.
• Water Polo announced their schedule which will start next month.
• Women's Golf also released a schedule beginning next month and had a few players earn pre-season honors.
• Men's Golf has not announced their schedule but did have three players earn pre-season honors as well.
• Colts legendary coach Tony Dungy spoke to IU athletes about Martin Luther King in light of last week's holiday.
Thanks for your continued support for The Assembly Call. We'll be back next weekend with a new roundup.
Now go enjoy yourself a 6-banner Sunday.
Tyler Tachman – Student Intern The Assembly Call
Filed to: