The Minute After: Iowa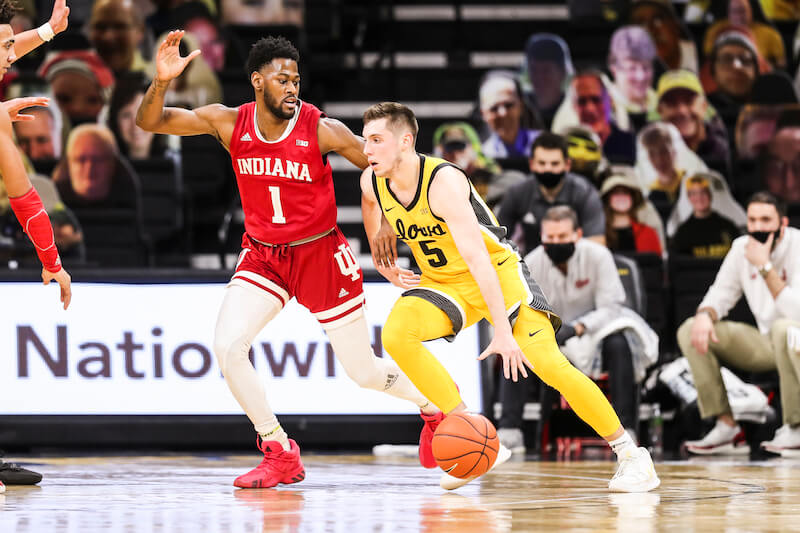 Thoughts on an 81-69 win against the Hawkeyes:
It's been a long week for Indiana basketball.
The home loss to Purdue last Thursday had fans upset, some cascading towards apathy for this season … and the program. The vacuum created by the canceled game against Michigan State on Sunday only added more time to wallow in it all.
But the season isn't over. There are games yet to be played. No one on the court seems to be giving up. And tonight was a reminder that for all the on-paper shoulds of Big Ten basketball, once the ball is tipped, you never really know what's going to happen.
And what happened tonight was the nation's most efficient offense went cold over the final 30 minutes of the contest. Ice cold in the second half. How ice cold in the second half? Try an 11-plus minute field goal drought and a 1-of-10 mark from distance, the lone make coming after the game was pretty much wrapped. Iowa made just nine baskets on 34 attempts (26.5 percent) over the final 20 minutes. Jordan Bohannon, an Indiana killer in games past, missed all nine of his shots tonight. Eight of those came from distance. (It also hurt that CJ Fredrick didn't play all second half due to injury.)
But credit to Indiana's defensive performance as well. It was sloppy early, allowing Iowa easy looks from 3-point range. And its decision to let Luka Garza go one-on-one to start the contest really got him going. Yet, as the game wore on, Indiana stopped allowing Iowa all that space on the perimeter. And Race Thompson and Jordan Geronimo gave absolutely everything they had on Garza. Couple that effort with Indiana's guards blitzing the presumptive National Player of the Year time after time and you could tell he was bothered. Could tell he really had to work for everything he got. Garza shot just 4-of-11 in the second half. His 28 points were about his season average. The Hoosiers didn't let Garza go nuts because they defended the hell out of him.
Speaking of Geronimo, this was his best game as a Hoosier. Thurst into more playing time due to Trayce Jackson-Davis and Thompson foul trouble, Geronimo improbably was the best individual defender Indiana threw at Garza all evening. He also made his presence felt on offense, scoring seven points and making all three of his field-goal attempts.
This was another subpar free-throw shooting performance for the Hoosiers (21-of-35, 60 percent). And the Hawkeyes absolutely cleaned up on the offensive boards, rebounding 43 percent of their misses, helping them to 17 second-chance points. But Indiana was strong in other areas, which helped ensure those two factors wouldn't spell doom when another road victory against one of the best teams in the country was within reach. The Hoosiers turned it over on just 11.7 percent of their possessions tonight, their third-best performance in that category all season. That included just one miscue in the second half before turning it over twice late after Iowa went full-court press to try and get back into the game. Indiana also made 47.1 percent (8-of-17) from 3-point range. That's a season-best. Low turnovers and strong 3-point shooting on offense were huge in this one.
With the conference being so good this year, the Hoosiers have plenty of opportunities to pick up wins against some of the best teams in the country, helping to boost their NCAA tournament considerations. Against Wisconsin, Indiana fell short in double overtime, missing a shot at the end of regulation to win it.
But tonight against Iowa, the Hoosiers closed it out with relative ease, and who woulda thunk it?
(Photo credit: IU Athletics)
Filed to: Iowa Hawkeyes