What to expect: Rutgers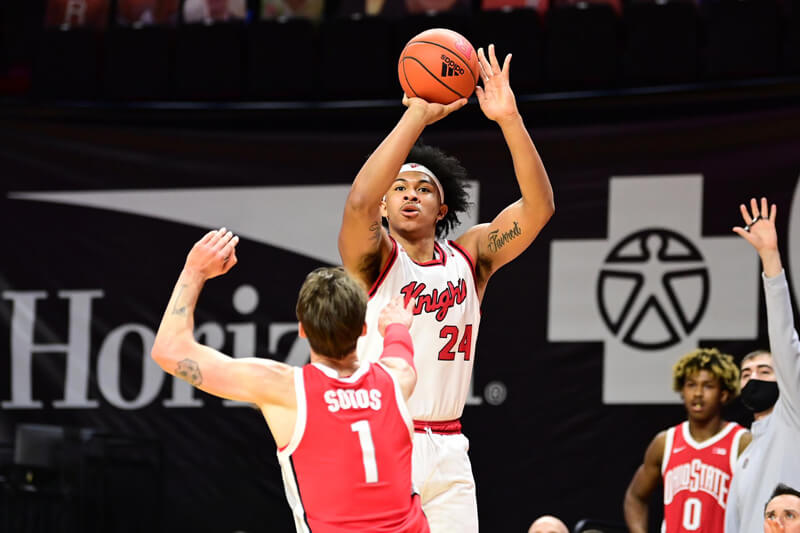 Indiana will look to rise above .500 for the first time in conference play when it hosts Rutgers on Sunday afternoon at Simon Skjodt Assembly Hall.
The Scarlet Knights have dropped five straight games and six of seven after starting the season 6-0. In the Associated Press top 25 poll released on Dec. 21, Rutgers was No. 11 in the country and looked like a lock for the NCAA tournament.
Sunday's game will tip at 12 p.m. ET on BTN with Brandon Gaudin and Stephen Bardo on the call:
Indiana posted its most impressive win of Archie Miller's tenure on Thursday night in Iowa City. The Hoosiers held Iowa to just 69 points in a 12-point victory that could have been even more decisive with better free throw shooting.
The victory, IU's first that qualifies as Quad 1 in the NCAA's NET ratings, has the potential to totally change the outlook of the season. The Hoosiers have a solid non-conference resume to fall back on, but were lacking a marquee win prior to Thursday. Now Indiana must show itself capable of handling prosperity as it hosts a reeling Rutgers program on a short turnaround.
With two Big Ten home losses already in league play and games in Bloomington still to come against the likes of Illinois, Iowa and Michigan, the Hoosiers need to take advantage when teams in the bottom half of the ledger come to town.
MEET THE SCARLET KNIGHTS
No Big Ten team had a more painful ending to the 2019-20 season than Rutgers. The Scarlet Knights, fueled by a strong homecourt advantage at the Rutgers Athletic Center that helped them reach the 20-win mark, were going to make the NCAA tournament for the first time since 1991.
Rutgers began the shortened 2020-21 season with great promise. After taking care of three low major teams at home, the Scarlet Knights beat Syracuse, Maryland (away) and Illinois for a 6-0 mark. Then the wheels fell off.
After hanging its hat on defense last season, Rutgers has regressed below the mean this season. The Scarlet Knights are 13th in defensive rebounding percentage, 13th in opponent free throw rate, 11th in 2-point field goal percentage defense and 10th in defensive efficiency in Big Ten play.
Junior Ron Harper Jr. will be at the top of the scouting report. At 6-foot-6, Harper Jr. is spending a lot of his time at the four and will force Indiana to guard him on the perimeter. Harper Jr.'s 18.6 points per game lead the team and he's shooting 41.6 percent on 3s. Harper Jr. is an excellent spot-up shooter as he's scored 92 points on 68 spot-up possessions this season. That ranks in the 94th percentile nationally according to Synergy Sports.
Harper Jr. is joined by senior Geo Baker, junior Montez Mathis and senior Jacob Young in the starting lineup.
The 6-foot-2 Young is the highest usage player on the roster and is making 50.4 percent of his 2s and 37.5 percent of his 3s. Young is effective in ball screens, where he scores .893 points per possession. Nearly 44 percent of Young's offensive possessions are ball screens, per Synergy. Young's 15.2 points per game are second on the team and his 4.2 assists lead the Scarlet Knights.
Baker, who was touted by some as one of the nation's top returning players in the preseason, has yet to get on track in his senior season. The 6-foot-4 guard missed the first three games of the season with an ankle injury and has scored in double figures just once during the Rutgers five-game losing streak. He's shooting just 25.6 percent on 3s in conference play and 46.2 percent on 2s. Mathis is shooting a career-best 37.8 percent on 3s and is third on the team in scoring at 12.2 points per game.
Junior Myles Johnson starts at the five and is backed up by freshman Cliff Omoruyi, a top 50 player who missed five games due to a knee injury. Johnson is 6-foot-11 and 255 pounds and operates exclusively out of the post. He's making 61.3 percent of his 2s, but is a dreadful 38.2 percent from the free throw line. Johnson is fifth in the conference in offensive rebounding percentage, second in defensive rebounding percentage, second in block percentage and third in steal percentage. Omoruyi was off to a solid start before his injury. The 6-foot-11 center is an excellent defensive rebounder and is making 62.5 percent of his 2s.
Two other rotation names to know are sophomore Paul Mulcahy and junior Caleb McConnell. The 6-foot-6 Mulcahy has done a solid job of making 3s and getting to the foul line in league play. Mulcahy is ninth in the Big Ten in free throw rate and is making 72.2 percent of his attempts from the line in conference games. McConnell had planned to redshirt this season, but joined the rotation for a home loss to Iowa on Jan. 2. He's a wing with some size, but has yet to get on track through five games. McConnell is shooting just 19 percent on 2s this season.
TEMPO-FREE PREVIEW AND KEYS TO THE GAME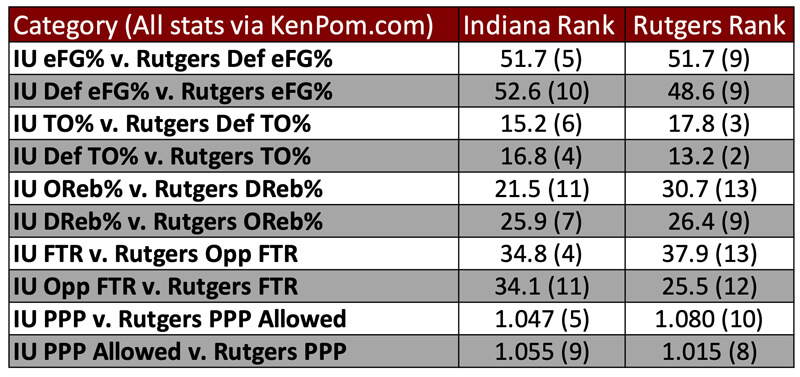 • Take care of the ball: Indiana appears to have turned a corner here in recent weeks and it's the one area where Rutgers has caused problems defensively this season. The Scarlet Knights have the highest steal percentage of any Big Ten team and are third in the conference in turning their opponents over. Possessions that don't result in a turnover against the Rutgers defense are typically ending up with high percentage 2s or a trip to the foul line. Rutgers is 11th in 2-point field goal percentage defense and 13th in free throw rate. Rutgers is going to gamble for steals and Indiana must be prepared.
• Can Indiana convert from the line? The Hoosiers are likely to get plenty of attempts from the line on Sunday afternoon. Archie Miller has described his team's free throw shooting problems as deflating and he's spot-on with that assessment. The Hoosiers won by 12 in Iowa City despite shooting just 21-of-35 from the free throw line. Indiana is 11th in the conference in free throw shooting percentage at 65.8. Fortunately for the Hoosiers, Rutgers is even worse. The Scarlet Knights enter Sunday's game shooting just 55.2 percent from the line in conference play, which is last in the league.
• Back up Thursday's defensive performance with another stellar effort: Holding Iowa to 69 points in Iowa City was no small feat and it's the type of effort Indiana is going to need to continue to produce if hopes to sustain success over the final months of the season. Rutgers is generating the majority of its offense (56.5 percent) on 2s and despite its solid 3-point shooting percentage in league play (36.4), doesn't emphasize taking perimeter shots. The Scarlet Knights are only making 7.1 3s per game in Big Ten games, which ranks 11th out of 14 teams.
WHAT IT COMES DOWN TO
According to KenPom, this is Indiana's most favorable home game remaining on the schedule.
KenPom likes the Hoosiers to win by five with a 67 percent chance of victory. The Sagarin ratings also favor Indiana by five.
This is a crucial game for Rutgers if it wants to rescue its fading NCAA tournament hopes. The Scarlet Knights have already lost three home games and still have five road games remaining after Sunday. For Indiana, a win on Sunday would provide some further momentum entering the toughest 3-game stretch of the season.
(Photo credit: Rutgers Athletics)
Filed to: Rutgers Scarlet Knights