Five takeaways from Indiana's win at Iowa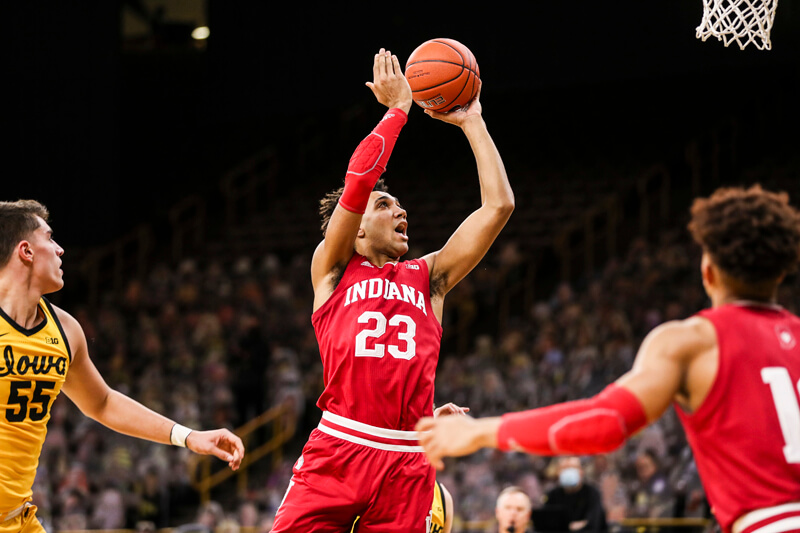 Indiana responded to a disappointing loss at home to Purdue with its biggest win of the season Thursday night. The Hoosiers, behind a stout defensive effort and a balanced scoring attack, knocked off No. 4 Iowa 81-69 at Carver-Hawkeye Arena.
The win, which provided a major boost in the computer rankings, moved the Hoosiers to 9-6 overall and 4-4 in conference play. Here are five takeaways from the win over the Hawkeyes:
• Indiana shuts down the nation's most potent offense: Iowa's offensive numbers entering Thursday's game in Iowa City were staggering.
The Hawkeyes were scoring a Big Ten-best 1.203 points per possession in conference play. Their last five wins came by an average margin of 15.4 points. Iowa was second in the conference in effective field goal percentage at 56.8 and came in averaging 85.7 points per game.
But Indiana made Iowa look ordinary in Thursday's upset win.
The Hawkeyes scored just 1.01 points per possession, a season-low. Iowa made only 5-of-23 of its 3-point attempts, its second-worst performance of the season in terms of makes and percentage (21.7). In the second half, Iowa went more than 11 minutes without a field goal.
After coming close in overtime road losses to Florida State and Wisconsin, the Hoosiers finally broke through against an elite opponent away from Bloomington. In those losses, Indiana buckled late and missed opportunities to close out winnable games. On Thursday in Iowa City, Indiana didn't relent once it grabbed a lead in the final seven minutes.
• Phinisee, Durham shine and provide secondary scoring boost: The consistency of Trayce Jackson-Davis has been a stalwart for the Hoosiers this season. The sophomore forward is averaging more than 20 points and nine rebounds per game in conference play. Over Indiana's last six games, Jackson-Davis has scored 21 or more points five times.
What's been missing is consistency from Indiana's upperclassmen guards, Al Durham Jr. and Rob Phinisee.
In Thursday's loss to Purdue, Phinisee and Durham combined for just eight points on 3-of-10 shooting. In Iowa City, the duo rose to the occasion to take some of the pressure off Jackson-Davis.
Phinisee delivered his best game of the season, finishing with 18 points, three assists, three rebounds, three steals and no turnovers in 32 minutes. He thoroughly outplayed Jordan Bohannon, who didn't score in more than 33 minutes.
Durham was only 2-of-6 from the field, but was a bright spot at the free-throw line where he knocked down nine of his 10 attempts. Durham had 14 points and like Phinisee, didn't commit a turnover.
• Indiana appears to have cured its turnover issues: For the seventh straight game, Indiana had a turnover percentage of 17.4 or less.
For a perspective of how significant of an improvement that is, the Hoosiers had a turnover percentage of 20.1 or higher in four of their first six games this season against high major competition.
In Thursday's win against the Hawkeyes, Indiana had a season-low eight turnovers for a turnover percentage of 11.7, its third-lowest mark of the season. IU's ability to take care of the ball, coupled with a hot shooting performance from the perimeter (8-of-17), allowed the Hoosiers to overcome another poor free-throw shooting night (21-of-35).
Miller's goal for his team in terms of turnovers per game has been a moving target. After starting at a goal of 12 turnovers or less earlier in his tenure, he talked about 10 or less per game to begin this season. Most recently, Miller proclaimed that he would like to see seven to eight or fewer turnovers per game. On Sunday, the Hoosiers hit the mark and left Iowa City with their most significant win of Miller's tenure.
• Hawkeyes secondary scoring options fail to deliver: In our preview for Thursday's game, one of the keys listed was Indiana finding a way to slow down Joe Wieskamp or Jordan Bohannon:
The reality with Garza is that he's going to fill up the stat sheet regardless of what the defense throws at him. His season-low is 16 points and he's already got six games of 30 or more points. Iowa becomes unstoppable when its secondary options like Bohannon and Wieskamp are producing along with Garza. The Hoosiers have had plenty of struggles stopping Bohannon over the years, but they're going to have to find a way to slow him or Wieskamp down to find any success.
As John Gasaway of ESPN astutely pointed out this morning on Twitter, Indiana's work on Bohannon showed what can be accomplished when one of Iowa's secondary options is handcuffed offensively.
Garza still delivered on his season average with 28 points, but the Hoosiers made him take 22 field goal attempts and nine free throws to get there.
The key was silencing Bohannon, who went 0-for-9 from the field. Over Iowa's previous five games, Bohannon was averaging 17 points and 4.4 made 3s.
• Could this win change the trajectory of Miller's tenure? In the aftermath of last Thursday's loss to Purdue, it was fair to wonder if Indiana was going to be able to turn a corner this season, Archie Miller's fourth in Bloomington.
One win doesn't fix everything, nor does it change the fact that Indiana still has plenty of work to do to make the NCAA tournament this season, but beating a top five team on the road is a major boon to IU's resume.
Indiana jumped 15 spots in the NET ratings this morning, a significant boost in a metric that carries weight come March. It was Indiana's first Quad 1 victory of the season and immediately shifts the conversation away from the Purdue loss.
With a reeling Rutgers program, which has lost five straight games, coming to Bloomington on Sunday, Indiana now has the opportunity to gain some momentum entering the most difficult stretch of its schedule.
Filed to: Aljami Durham, Archie Miller, Iowa Hawkeyes, Robert Phinisee, Trayce Jackson-Davis