What to expect: Iowa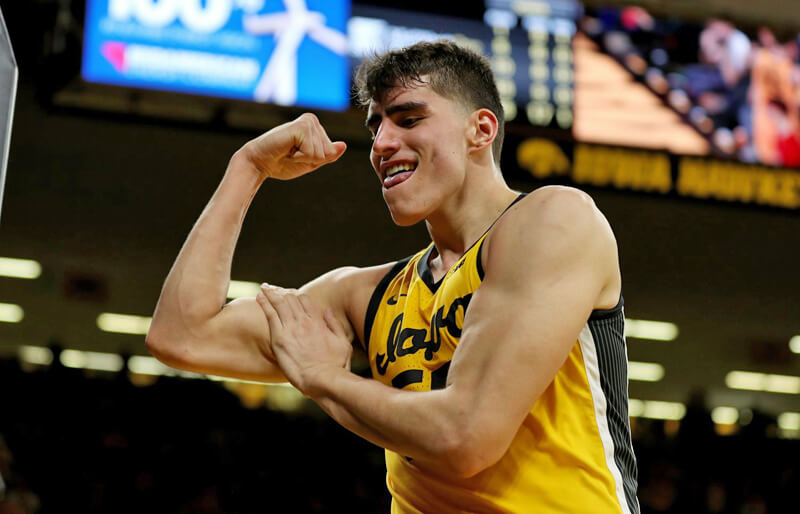 Indiana will look to rebound from an 81-69 loss to Purdue when it travels to Iowa City to take on No. 4 Iowa at Carver-Hawkeye Arena on Thursday. 
The Hawkeyes are 12-2 and sit just a half-game back of Michigan in the Big Ten standings at 6-1. Thursday's game is scheduled to tip at 9 p.m. ET on FS1 with Adam Amin and Nick Bahe on the call:
Indiana's season has arrived at a crossroads. The Hoosiers have already dropped two Big Ten home games and now embark on the most challenging part of their conference schedule in desperate need of wins.
Four of Indiana's next five scheduled games are against teams ranked in the top 10 of the KenPom ratings and two of those games are on the road. At just 8-6 overall and 3-4 in Big Ten play, the Hoosiers are in danger of moving to the wrong side of the NCAA tournament bubble if the losses continue to pile up.
Thursday is unlikely to offer any reprieve as Iowa has reeled off five straight wins by an average margin of 15.4 points. The Hawkeyes boast the nation's most potent offense and are defending at a respectable level when compared to previous seasons. Iowa is averaging a league-best 1.203 points per possession in Big Ten play and is seventh in points per possession allowed at 1.033.
MEET THE HAWKEYES
Luka Garza is the reigning Big Ten player of the year and a lock to win the award again this season. While Garza's professional future has plenty of question marks, he's the best college basketball player for the second straight season according to KenPom's player of the year ratings.
Garza is a relentless force on offense who can do a little bit of everything. In the post, Garza has scored 154 points in 134 possessions this season, which ranks in the 91st percentile nationally according to Synergy Sports. Garza can also step out on the perimeter and make 3s (47.9 percent this season) and is shooting 66.5 percent on 2s. Garza's 26.9 points per game lead the Big Ten. The reality with Garza is that he's likely to have a big night regardless of the opponent. Indiana's success against the Hawkeyes is more likely to come down to what it can do against secondary options like Joe Wieskamp and Jordan Bohannon.
With the amount of attention Garza commands in the frontcourt, Wieskamp and Bohannon are capitalizing from the perimeter. Bohannon has knocked down 39 3s on 40.6 percent shooting and Wieskamp has connected on 24 triples at a 42.1 percent clip. Bohannon missed the majority of last season due to a hip injury, but has played in all 14 games so far this season. His 10.5 points per game are third on the roster and his 4.9 assists per game lead the team.
Wieskamp, who could have an NBA future due to his shooting prowess, is second on the team in scoring at 14.4 points per game. He's scored 67 points on 59 spot-up possessions and 59 points on 45 transition possessions this season, according to Synergy.
The Hawkeyes have yet another floor spacer in CJ Fredrick, who is 26-of-51 on 3s this season. A former AAU teammate of Rob Phinisee, Fredrick is a redshirt sophomore and has yet to commit a turnover in Big Ten play.
The remainder of the Iowa rotation is composed of role players who average between 3.2 and 7.2 points per game. Castle product Jack Nunge is a 6-foot-11 wing who is making 56.5 percent of his 2s after missing last season with a torn ACL.
Connor McCaffery remains a starter and acts as a facilitator for Iowa's elite offensive players. McCaffery's assist rate of 31.2 is second in Big Ten play. McCaffery's younger son, Patrick, is a 6-foot-9 redshirt freshman who comes off the bench to average 6.1 points and 3.2 rebounds per game.
Freshman Keegan Murray provides frontcourt depth and is making 73.1 percent of his 2s and 50 percent of his 3s in conference play. Sophomore guard Joe Touissant has taken a step back in terms of his role due to Bohannon's return to the lineup. A high usage, low-efficiency option on offense, Touissant averages 4.4 points and 2.6 assists per game.
TEMPO-FREE PREVIEW AND KEYS TO THE GAME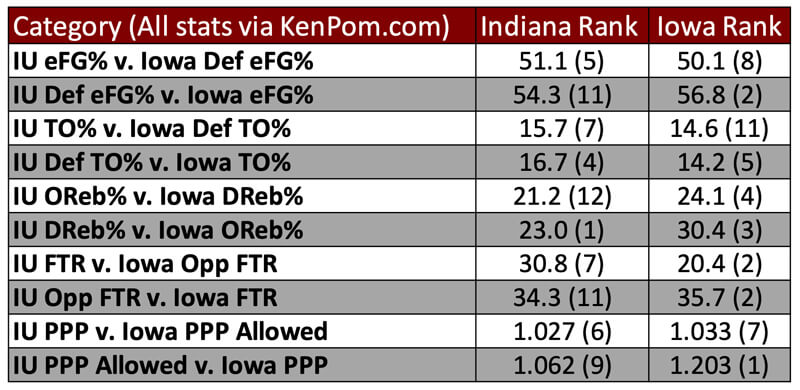 • Can Indiana score enough to remain in the game? Iowa is going to score and the Hawkeyes are going to do so in bunches. The Hawkeyes are scoring 85.7 points per game in Big Ten games. Indiana has scored more than 85 points just once this season against a high-major opponent. The Hoosiers needed overtime to get there against Penn State back on Dec. 30.
• How will Indiana respond after Thursday's disappointing loss to Purdue? Indiana's performance against Purdue was somewhat surprising given the fact it was a game the Hoosiers needed to win to stay relevant in the Big Ten race. Will the Hoosiers respond with a better effort in Iowa City? Archie Miller expressed some optimism earlier this week on his radio show, but Indiana's inconsistent play this year makes it hard to decipher which team will show up on a given night.
• Find an answer for Bohannon or Wieskamp: The reality with Garza is that he's going to fill up the stat sheet regardless of what the defense throws at him. His season-low is 16 points and he's already got six games of 30 or more points. Iowa becomes unstoppable when its secondary options like Bohannon and Wieskamp are producing along with Garza. The Hoosiers have had plenty of struggles stopping Bohannon over the years, but they're going to have to find a way to slow him or Wieskamp down to find any success.
WHAT IT COMES DOWN TO
Given Indiana's struggles to consistently score and its below-average defense in Big Ten play, the Hoosiers face an enormous challenge on Thursday in Iowa City. The Hawkeyes are a legit contender for a No. 1 seed in the NCAA tournament and are among the favorites to win the regular season Big Ten title.
The KenPom projection is Iowa by 10 with just a 19 percent chance of an IU victory. The Sagarin ratings also favor Iowa by 10.
(Photo credit: Iowa Athletics)
Filed to: Iowa Hawkeyes