The Minute After: Purdue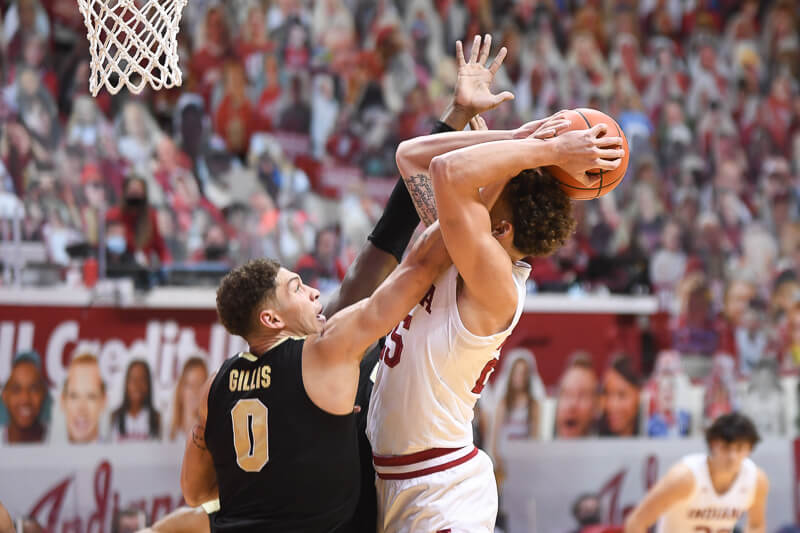 Thoughts on an 81-69 loss to the Boilermakers:
The Purdue Problem continues.
The Hoosiers are now losers of 11 of their last 12 against the Boilermakers, including eight straight. Tonight's loss also draws Archie Miller's IU record against the Boilermakers to 0-6. Four of those losses have come in Bloomington.
Once Purdue took a 7-6 lead at the 16:48 mark on a Mason Gillis second-chance layup, the Hoosiers never again led in this one. Each time Indiana threatened to get over the hump, the Boilermakers had an answer. Purdue hasn't shot it well from deep in Big Ten play, as it entered the contest hitting just 30.8 percent through five conference games. But this team has plenty of shooters and picked tonight inside Assembly Hall to have their Big Ten breakout party. The Boilermakers made 11-of-17 (64.7 percent) from deep, including a 7-of-9 (77.8 percent) mark in the first half to set the tone. Indiana didn't get out on shooters early and Purdue made the Hoosiers pay.
Indiana did hold Trevion Williams to just six points in the first half on 2-of-5 shooting. But Williams came alive in the final 20 minutes, hitting 7-of-10 after the break for 16 points. And while it wasn't a high volume, the 3-point shooting remained hot (4-of-8, 50 percent). Indiana, on the other hand, had its worst 3-point shooting performance of the season. The Hoosiers hit just 3-of-18 (16.7 percent). In the second half, IU seemed allergic to even firing from deep, as it took just one attempt — a Trey Galloway miss — outside of the final 1:19 of the contest when it bombed away in desperation to try and get back into the contest. Indiana also had a rough night from the line. The Hoosiers hit just 16-of-29 (55.2 percent) from the charity stripe, their third-worst performance of the season.
So this one isn't too tricky: Shoot that poorly and you're not going to win many Big Ten games.
Indiana's offense also looked about as stagnant as it's been all season at times. This was especially true during a more than five-minute field goal drought in the second half as Purdue got the lead up to 67-56 with 5:22 to go, which pretty much put the game away for good. There just wasn't much ball movement, cutting or cohesion in sets.
After picking it up over the last few contests, Al Durham and Rob Phinisee combined for just eight points on 3-of-10 shooting. Armaan Franklin was back in the lineup and scored 14 points, but it came on an inefficient night. The sophomore hit just 6-of-15 from the field and missed all five of his 3-point attempts. Purdue also torched Indiana on baseline out of bounds plays tonight, scoring a number of buckets on them en route to 1.15 points per possession for the evening.
A clunker like tonight is going to happen from time to time, especially from a team like Indiana that doesn't count shooting as a strong suit. But for it to happen against Purdue at home is a bad look. Further, Indiana has now slid out of the top 30 in KenPom (No. 36) with its offense down to No. 57 and the defense outside the top 20 for the first time all season (No. 22).
It's a rough night for Indiana basketball. And the Big Ten schedule gets even harder from here.
Filed to: Purdue Boilermakers