Numbers tell the story in Indiana's loss to Purdue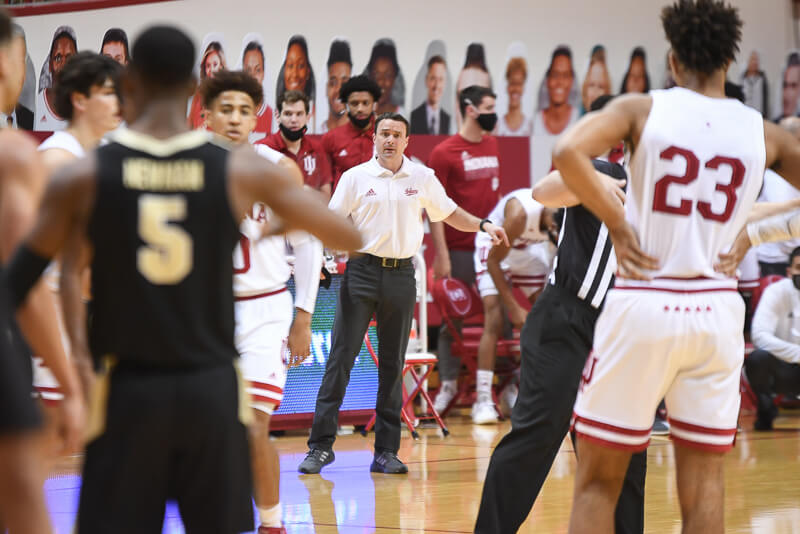 Archie Miller has been telling his team that they have to be good to stay competitive in games, but great to win them. Recently, Indiana has been in games. Before Purdue, all of its first six Big Ten contests were decided by single-digits. Indiana closed the deal against Maryland, Penn State and Nebraska. But were unable in others like Northwestern and Wisconsin.
On Thursday against Purdue, by Miller's ideology, Indiana was good. They were in the game, only trailing by one point midway through the second half. But they weren't great. They couldn't do enough down the stretch, falling 81-69 to a Purdue team that Indiana was statistically comparable to entering the night.
"I give Purdue a lot of credit," Miller said after the game. "I thought they played with a lot of edges and great confidence."
The statistics tell you everything that you need to know from Thursday's game. Sometimes, rivalry matchups will be decided by the aspects that aren't tangible like effort and intensity. But that wasn't the case on Thursday. It was all evident on the stat sheet.
The most glaring is the 3-point shooting. Purdue shot 11-of-17 (65 percent) from deep after entering the night at a 30 percent clip in league play. On the other side, Indiana shot a dismal 3-of-18 (17 percent).
Then there was the free-throw shooting. Purdue cashed in on 20-of-31 (65 percent), which isn't anything overwhelmingly impressive. But Indiana was worse, converting on 16-of-29 (55 percent) from the stripe.
If you add those up, Purdue has a 24-point advantage from beyond the arc and a four-point advantage at the line. That's 28 total in favor of Purdue in a game where the Boilermakers won by 12. Those two aspects are where the game was decided. And when Indiana puts up those numbers, it becomes almost mathematically impossible for them to get into a position to win.
"When you don't shoot the ball well, your defense is really going to have to have to be good and tonight it wasn't," Miller said. "That's what happens in this league if you don't have that side of the ball in check."
It wasn't in check from the beginning. Purdue knocked down 7-of-9 triples in the first half. Four different Boilermakers hit at least one from deep, and three hit a pair. On a couple of occasions, Trayce Jackson-Davis was switched onto a guard and was a tad late on a closeout.
"I think we let them get comfortable," Franklin said. "They got their big guys going and offensive rebounds and things like that. We just have to come out and play harder in the first eight minutes."
After falling into a 12-point deficit, the Hoosiers went on a 12-2 spurt to climb back into the game. But by the end of the first half, though, the numbers were already were a hint of what the outcome would be as Indiana was 3-of-12 from three and 5-of-9 from the free-throw line.
In the second half, it seemed like everyone was waiting for Purdue to come back down to earth, but they never did. Indiana wasn't able to make any adjustments to disrupt their rhythm. The Boilermakers went 4-of-8 from deep in the final 20 minutes. Indiana was just 0-of-6 from deep in the second half
"This team has to be able to get some stops and find a way to play defensively very tight and very tough-minded," Miller said. "It has to find a way to have its defense as something that it can rely on because offense is hard."
That's been the issue as of late. Early in the season, Indiana won with defense. Through the first seven games of the season, the only opponent IU allowed to shoot over 40 percent from the field was Tennessee Tech. But since Big Ten games started, it's happened six times.
Indiana doesn't have the offensive firepower to hang with teams when their opponent shoot lights out. And, as of right now, they don't have the defensive intensity to stop that from happening. Add in Purdue outmanning IU on the boards and drawing up clever inbounds plays and the margin for error becomes razor-thin.
"We wanted to be the team to change the culture about it and rewrite the story," Franklin said about IU's losing streak against Purdue. "Unfortunately, we didn't make enough plays and hit enough shots."
At this point, the fact of the matter is that Indiana still doesn't quite have an identity. Most storylines have revolved around like a hotel door. At times, there has been outstanding defense and the potent offense, but they haven't been consistent. Miller admitted earlier that the Hoosiers still hasn't played a complete game on both ends of the floor.
Here are some other numbers to consider: Indiana is now 8-6 overall, 3-4 in the conference and down to No. 36 in KenPom. An NCAA tournament bid by a continuation of those metrics isn't a guarantee. Now, Indiana has a week hiatus before they take on top-10 ranked Iowa. They can choose to stew over the loss or use the loss as fuel.
It's certain, though, that it won't get any easier from here.
Filed to: Archie Miller, Purdue Boilermakers