6-Banner Sunday: Indiana basketball is back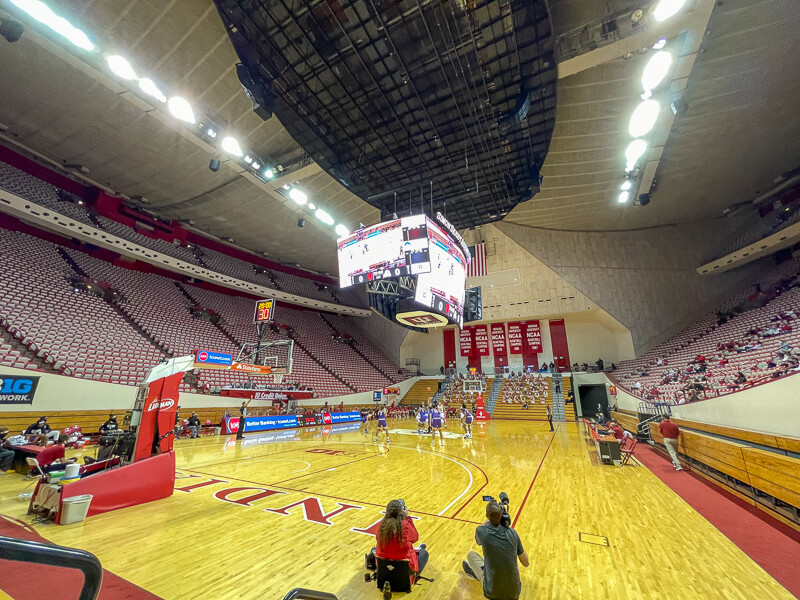 6-Banner Sunday is Inside the Hall's weekly newsletter in partnership with The Assembly Call. More than 7,500 Indiana fans receive the newsletter each week. In addition to appearing each week on the site, you can also opt to receive 6-Banner Sunday by email. A form to subscribe via email is available at the bottom of this week's 6-Banner Sunday.
Welcome to another edition of 6-Banner Sunday, a joint production between The Assembly Call and Inside the Hall where we highlight the five most essential IU basketball stories of the past week, plus take a look at how the other IU sports programs are doing.
The eight-month long wait for Indiana basketball finally came to an end on Wednesday night. The Hoosiers dominated Tennessee Tech in a 89-59 win inside Assembly Hall, where no fans were allowed due to the ongoing Covid pandemic. Sophomore Trayce Jackson-Davis and freshman Trey Galloway were the standouts, scoring a combined 39 points. Rob Phinisee, Al Durham and Jerome Hunter also pieced together solid performances.
You can listen to reactions from the game on Assembly Call's first postgame show of the year.
Earlier in the week, though, the status of actually playing the game was uncertain. On Monday, it was reported that Tennessee Tech head coach John Pelphrey tested positive for COVID-19. In the days leading up to college basketball's opening slate of games, there were many cancelations and postponements. In the end, the Golden Eagles traveled to Bloomington, but were without Pelphrey and three of their players. The rest of the team passed protocols upon arrival.
Now, the Hoosiers are headed to a loaded field at the Maui Invitational in Asheville, North Carolina. Indiana is back in action at 2:30 pm on Monday against Providence.
• Indiana routes Tennessee Tech in season opener
• An unprecedented night inside Assembly Hall
• Hoosiers head to Maui Invitational
• Four-star Mason Miller picks Creighton over Indiana
• Inside the Hall releases preseason Bracketology
• Hoosier Roundup
Banner #1
Indiana routes Tennessee Tech in season opener
As expected in this new COVID-19 ridden season, Indiana and Tennessee Tech both got off to slow starts Wednesday night. Early on, sophomore Trayce Jackson-Davis shot 1-6 from the field and the Hoosiers only held a slight 20-17 lead. But then Jackson-Davis and the rest of the Hoosiers came to life, closing the half on a 28-2 run and essentially putting the game out of reach. In the end, Indiana took a 89-59 victory.
Jackson-Davis, who was named a preseason All-American by a variety of outlets, finished the night with a double-double of 26 points and 11 boards. What was most telling was that he showcased his ability to finish with his off hand, while also knocking down a long 2-pointer. Both are aspects of his game that Jackson-Davis worked on in the offseason and if he can continue those on a consistent basis, he's bound for the NBA after this year.
Trey Galloway made the biggest impact among the group of four freshmen. He contributed 13 points, two assists and two rebounds in 19 minutes off the bench. He frequently outhustled the Golden Eagles' defense down the floor, leading to crafty finishes at the rim. Five-star freshman point guard Khristian Lander scored five points, including one 3-pointer. Fellow freshmen Anthony Leal and Jordan Geronimo played sparingly.
Despite the blowout win, some reoccurring issues surfaced again. Indiana shot a dismal 10-22 from the free throw line and 5-19 from 3-point land. The absence of senior big man Joey Brunk, who was dealing with a sore back, was also felt as the Hoosiers barely outrebounded the Golden Eagles despite a major height advantage.
Banner #2
An unprecedented night inside Assembly Hall
For decades, Assembly Hall has been one of the most formidable venues to play at because of the Hoosier faithful. In a normal year, the concourse would've been humming with hope of a new season. There would've been the aroma of buttery popcorn and chime of tickets being scanned.
Instead, on Wednesday night, there was near silence. The only spectators were select family members after it was announced earlier that the general public would not be allowed in Assembly Hall, indefinitely. After Trey Galloway put in a dunk in the second half, there were a few claps, but the loudest roar came from the IU bench.
On the north end bleachers, there were cardboard cutouts of fans, dogs and felines. At halftime, an employee disinfected the socially distanced bench area. As Indiana ran out on the floor before the game, a recorded audio track of The Bland played over the loudspeaker.
"I think we were all anticipating what it was going to be like," Archie Miller said reflecting on the atmosphere. "It is greatly different. The energy level, the juice in the building, the crowd, it's a different feeling for your team in terms of the energy level."
Banner #3
Hoosiers head to Maui Invitational
Up next for Indiana is what Archie Miller called the "premiere event" of college basketball's early season tournaments. The Maui Invitational, which was originally set to take place in Hawaii, will be held in Asheville, North Carolina this week. The eight team field includes North Carolina, UNLV, Stanford, Texas, Davidson, Providence and Alabama.
Indiana is set to open the three day tournament at 2:30 on Monday against Providence. Similar to Indiana, Providence ranked just outside of the first AP top-25 rankings and will be Hoosiers' first true test of the season. The Friars, who are coached by Ed Cooley, blew out Fairfield in their season opener last week.
Providence has serious size with center Nate Watson, who racked up 23 points and 10 rebounds against Fairfield. They also have a talented guard in junior David Duke, who put in 18 of his own in the win against Fairfield.
Indiana will play either Davidson or Texas in the second round game. North Carolina, the highest ranked team in the group, is on the opposite side of the bracket and could potentially face Indiana in the championship game Wednesday.
Banner #4
Four-star Mason Miller picks Creighton over Indiana
Archie Miller missed out on yet another big man in the 2021 class last week. Last month, Silver Creek star Trey Kaufman picked Purdue over Indiana among others. Four-star forward Mason Miller, who had whittled his list down to just Creighton and Indiana, chose the Bluejays last Monday.
"I love their offense," Miller said of Creighton. "They have a good offensive build, shooting a lot of threes and getting a lot of shots up. I like that a lot. And also the coaches there. They're nice, too."
Miller, who is the son of former NBA player Mike Miller, was ranked as the No. 65 player in the nation, according to the 247Composite. Miller had never visited Bloomington, but met virtually with the IU staff before his announcement and communicated with them on a consistent basis. Mike Miller played at Florida while current Indiana assistant coach Tom Ostrom worked as a video coordinator under Billy Donovan.
As of right now, center Logan Duncomb is Indiana's lone commitment in the 2021 class. The Hoosiers are still in pursuit of five-star forward Aminu Mohammed, who's eyeing a decision in mid-December. Even if Mohammed commits Indiana, the Hoosiers will still have a lack of frontcourt depth and may be forced to turn to the transfer market after this season.
Banner #5
Inside the Hall releases preseason Bracketology
Even though it's extremely early in the year, Assembly Call's Andy Bottoms already put together his preseason projected NCAA tournament seedings. Indiana came in as a No. 6 seed and would be set to face the winner of a play in game between Ole Miss and Miami (FL).
Bottoms projected that nine Big Ten teams would make the tournament, the most out of any conference. Besides Indiana, others to make the field were: Illinois, Iowa, Michigan, Michigan State, Ohio State, Purdue, Rutgers and Wisconsin. Minnesota was considered, but ultimately didn't make the cut. Wisconsin and Illinois were both on the line as a two seed.
The ACC and SEC would both have six teams in March Madness, according to Bottoms. The No. 1 seeds are: Gonzaga, Villanova, Baylor and Virginia. Of course, all of this is subject to change over the next few months.
"Much like last season, the conference is shaping up to be among the deepest in the country," Bottoms wrote about the Big Ten.
Banner #6
Hoosier Roundup
By Aaron (Ari) Shifron
Football continued to win but may have suffered a devastating injury in the process. With that said, due to a Covid outbreak at Ohio State, IU can clinch a spot in the Big Ten Championship if the Buckeyes are unable to play either of their next two games. In other news, the Hoosier's highly ranked Women's Team lived up to the hype in their first game.
• IU Football rolled over Maryland to continue their historic season but lost starting quarterback Michael Penix during the game. They take on a ranked Wisconsin team next Saturday at 3:30pm on ABC. As a result of their success, the Hoosiers were in the College Football Playoff Rankings for the first time ever this week. Also, early this week WR Ty Fryfogle was named Big Ten Offensive Player of The Week for the second straight time after posting back to back 200 yard games against Michigan State and Ohio State.
• No. 15 and Big Ten favorite Indiana Women's Basketball rolled to an easy win in their season opener.
• Former Hoosier star and famous Olympic Swimmer Lily King was dominant in a meet in Budapest.
• Tommi Stockham, one of the highest ranked recruits in the history of Indiana Volleyball did a Q and A so fans could get to know her better.
• Wrestler Brock Hudkins is thankful for many things this holiday season.
Thanks for your continued support for The Assembly Call. We'll be back next weekend with a new roundup.
Now go enjoy yourself a 6-banner Sunday.
Tyler Tachman – Student Intern The Assembly Call
Filed to: