Indiana isn't immune to college basketball's scheduling madness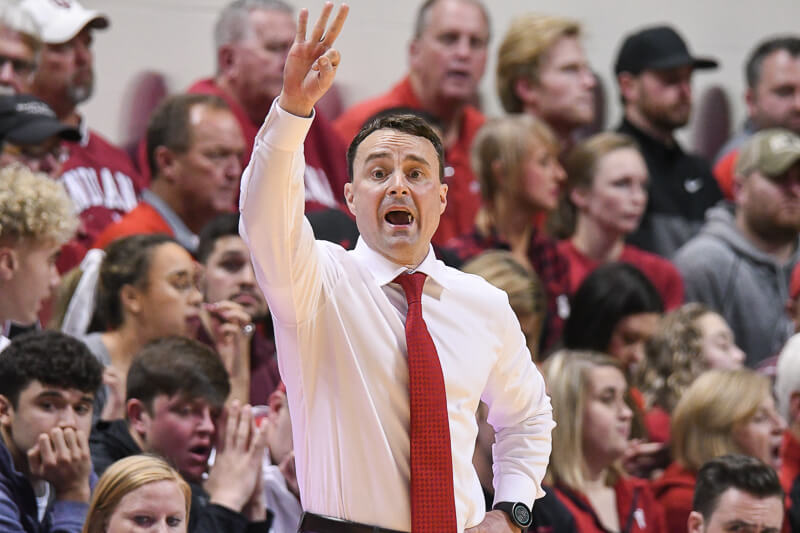 Rising from his seat inside Indiana's media room, Archie Miller muttered a reminder to himself. A tuft of Miller's hair was still battered from Indiana's final preseason practice Tuesday afternoon. During the press conference, Indiana was still set to open the season against Tennessee Tech the following evening. As Miller stood up, he looped his mask, which was dangling off the side of his face, back over his right ear.
"Get my mask back on," Miller mumbled as he exited the podium.
It was a fitting reminder for Miller and the rest of the country in lieu of college basketball's recent developments. On Monday, just two days before the scheduled start date of the season, a wave of COVID-19 bombshells hit the college basketball landscape.
The news whirlwind started Monday morning when it was announced that Ole Miss was paused due to positive COVID-19 tests. Shortly after, it was reported that Baylor wouldn't be taking part in the 2020 Empire Classic after head coach Scott Drew tested positive the day prior. Both Arizona and Duke's openers were canceled due to virus complications. Then, it was released that Tennessee had paused all team activities due to positive tests, including one from head coach Rick Barnes.
All of this, and it wasn't even 1 p.m. yet.
As the day continued, the reports kept flooding in. Oregon opted to forgo playing at the Mohegan Sun to stay closer to home. Wichita State arrived at the Bad Boy Mowers event in Sioux Falls, South Dakota, only to have multiple players test positive. Tournament executives were left scrambling to find replacements. Many other programs nixed their scheduled contests as the day went on it.
This was two days before the start of the season.
By the evening, even Indiana couldn't duck college basketball's crumbling structure. It was reported that Tennessee Tech head coach John Pelphrey tested positive for the virus. The Golden Eagles, however, would still make the trip to Bloomington with assistant Marcus King as the acting head coach.
Miller talked about all of the uncertainty with his team earlier in the fall.
"We have to be ready to go with the game plan if things change," Miller said Tuesday. "As we start to play the games, there's going to be a lot of cancelations. There's going to be a lot of teams that aren't able to get started."
As teams travel to national events, one of the main struggles is the incongruity of testing protocols. The Big Ten tests players every day and if a player or coach tests positive, they don't have to shut down the program. When Michigan State head coach Tom Izzo tested positive last week, the program was still able to forge ahead with their workouts. It's similar to college football, where Clemson was still able to play against Boston College even after quarterback Trevor Lawrence came down with the virus.
It's a different story, however, in other conferences. Tennessee, who's in the SEC, was forced to pause their team operations after Barnes tested positive. Without uniform guidelines, one positive test can set off a chain of scheduling implications.
Conferences have been able to plan all of this since March. Yet, here we are.
"Not only has it been a difficult preseason, but some teams haven't practiced," Miller said. "Some teams have had a really tough time with COVID. Some teams have had very little access to their players other than some preseason stuff. I feel like as games get started, you'll see some teams that aren't ready."
All the while, Indiana has been preparing for the season. They competed in an intrasquad scrimmage last Thursday in place of what would usually be an exhibition game. Miller said that freshman point guard Khristian Lander made four 3-pointers. Miller also was impressed with the rebounding of forwards Race Thompson and Joey Brunk. A concern for Miller, though, is his team's conditioning.
"Game shape is a different type of shape," Miller said. "I wouldn't be surprised at all if these first few weeks of the season these games don't look great."
Tennessee Tech was scheduled to arrive in Bloomington on Tuesday where their group will be tested. According to Big Ten protocols, Tennessee Tech will be tested again on Wednesday. With the Maui Invitational coming up next week, there's been skepticism whether it's even worth playing Tennessee Tech at all. Miller mentioned that rescheduling games will be an option if it reaches that point.
"When our number is called we have to appreciate the opportunity and take advantage of the opportunity because we know games are getting canceled," senior captain Al Durham said. "So it's being able to stay locked in and focused on what we want to accomplish."
As of right now, the Hoosiers are set to take on Tennessee Tech tomorrow at 8 p.m. in Assembly Hall. That can, of course, change quickly. In some form, whether it's Indiana or not, there will be college basketball played tomorrow.
"I think once we get to the jump ball things will feel a little more normal," Miller said.
It's anyone's guess when that jump ball will be for Indiana. It could be tomorrow night. It could be next week. But it's been since March that they've held onto that hope. And when it does happen, it'll finally feel a little more normal.
Filed to: Archie Miller