'Embrace your journey': How Joey Brunk rediscovered his love for the game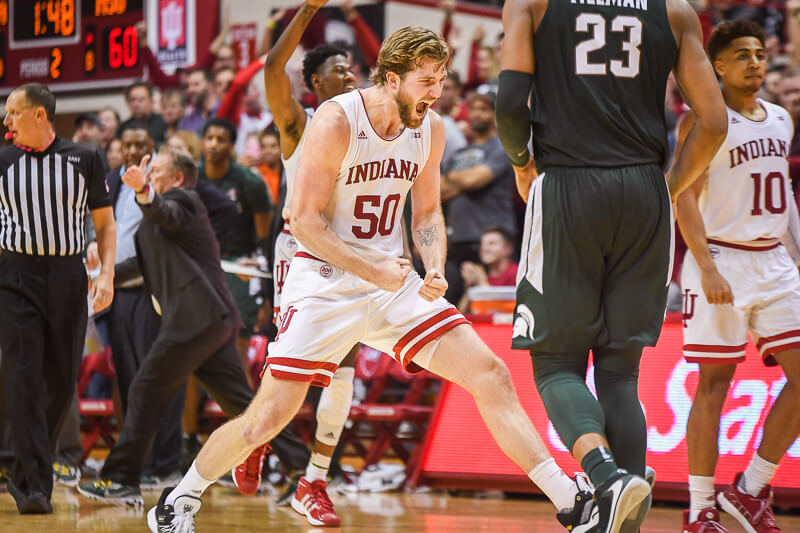 Jason Smeathers got accustomed to receiving a certain postgame text last season. It was from Joey Brunk. Once the team returned the locker room beneath the Assembly Hall seats, shortly after the final whistle of Indiana's games, the message would come through.
"In the gym at 11:30?" the text from Brunk would say.
"Yep," Smeathers would respond. "See you there."
Smeathers, an Indianapolis based trainer, would make the 45-minute drive to Cook Hall in Bloomington. That's where they'd frequently workout until one or two o'clock in the morning.
"The game is just the game," Smeathers said. "We're trying to win the championship in the long run."
After transferring from Butler, Brunk's first season at Indiana was riddled with inconsistencies. He was a key player in the frontcourt rotation, starting 31 of Indiana's 32 games. Over the first 20 contests of the year, Brunk averaged more than 22 minutes played per game, while scoring 8.3 points and grabbing 6.4 rebounds.
But in the middle of the Big Ten schedule, Brunk's numbers took a sharp decline. Over a six-game stretch, he averaged just over 10 minutes on the court per game, along with just 2.5 points and two rebounds.
Through the struggles, Brunk, now a redshirt senior, was persistent. There was a time, though, that Smeathers saw a different version of Brunk.
Three years ago, Smeathers was helping Boston Celtics guard and former Butler star Gordon Hayward rehab his dislocated ankle and fractured tibia. They were at St. Vincent Sports Performance in Indianapolis when they saw Brunk lifting weights. Smeathers and Hayward stopped to watch Brunk lift.
"It was like 'what are you doing?'" Smeathers remembers thinking.
As Smeathers watched, he didn't see the passion that he was used to seeing out of Brunk. The two used to play pickup together when Brunk was a budding young prospect at Southport High School in Indianapolis.
In those games, Brunk was more than five years younger than some of his competitors but wasn't ever afraid to throw his body around. He always sprinted the floor. He always boxed out. He always crashed the glass.
"He was just kind of born doing those things," Smeathers said. "It's basically in the Indiana style of basketball stuff."
It was that energy that made Brunk a heralded recruit out of high school. He was a four-star center in the 2016 class and put up 18.3 points and 8.3 rebounds per game as a senior, helping Southport to its first sectional title since 2000. He was a finalist for the Indiana Mr. Basketball Award. After making a big play or bodying his way into the paint, he'd demonstratively flex his muscles and let out a yell. One time after a dunk, Brunk nearly knocked over opponent as he raced to get back on defense.
Back on that day at St. Vincent Sports Performance, Smeathers could see that Brunk had lost some of his love for the game. Brunk was just going through the motions. Smeathers approached Brunk with honesty.
"You don't look like you," Smeathers recalls telling Brunk. "You used to be really, really good and now you don't look like it."
Brunk tried to make an excuse, saying that he was working hard and that he'd be ok. But the change of demeanor that Smeathers saw was due to the well-documented hardship Brunk endured as a freshman at Butler. In October of 2016, Brunk's father, Big Joe, was diagnosed with a brain tumor. Big Joe underwent multiple surgeries to save his life. In April of 2017, Big Joe died at age 56.
Big Joe took Brunk to his first high school basketball game at Southport Fieldhouse as a kid. They'd rise as early as 6 a.m. to workout. They went to the Indianapolis Colts Super Bowl win in 2007. They hugged right after Southport won sectionals.
Big Joe would always tell Brunk to embrace his journey.
"There's not a manual on how to play college basketball immediately after your dad dies," Brunk said in an interview with the Big Ten Network.
As he dealt with the loss, Brunk was granted a redshirt year in his freshman season. When Brunk came back in his redshirt freshman year, he wasn't the same. He averaged five minutes per game. After watching the games, Smeathers knew that Brunk was better than the guys that were beating him out for playing time.
"He just wasn't there," Smeathers said. "If he's ever not emotional while he's playing, he's not attuned, he's not clocked in."
And that's exactly what Smeathers saw at St. Vincent Sports Performance. He knew he needed to get Brunk back to his old self. So, Smeathers told Brunk they'd start working out again. Smeathers would be available all hours of the day. Brunk wasn't allowed to say no.
"He had every excuse in the world to not want to workout," Smeathers said. "I mean if someone were to look at someone and say 'I don't need to, I don't want to,' he was the guy."
When they first started training, they worked on "everything," Smeathers said with a laugh. There was footwork, ball handling, a jumphook, building up Brunk's IQ to the college basketball level.
The hardest part for Brunk was understanding that learning these skills was a process. He wanted to master everything immediately. If Brunk messed up footwork or a drill, he'd yell at himself. If Brunk couldn't get a move right, he'd refuse to leave the court. Some nights they'd be in the gym for 2-3 hours until Brunk figured it out. Smeathers would tell him to be patient.
"No, I have a chance to get better," Smeathers recalls Brunk saying.
Smeathers would get creative in figuring out how to calm Brunk's intensity. Sometimes, he just had to tell Brunk to shut up. Or, he'd launch the ball across the court so Brunk had to walk and pick it up. Smeathers would also take videos to show Brunk that he's not far off from doing a move correctly.
Quickly, Smeathers saw Brunk's love for the game return. Brunk would bring a friend to rebound or a teammate to push him. If Smeathers told him to take a night off, even to just form shoot, Brunk hated it. They made a rule that if Brunk didn't play 20 minutes, they trained after the game. So, the midnight workouts originated at Butler's Hinkle Fieldhouse.
"He liked being able to go home at night and know that he did more than anyone else," Smeathers said.
The results were evident. In Brunk's redshirt sophomore year at Butler, he averaged 7.6 points and 3.6 rebounds per game in over 18 minutes on the court. There were nine games in which Brunk put up double-digit scoring numbers.
Following his sophomore year, Brunk decided to transfer to Indiana, where his work ethic quickly became noticeable. The first time he was on campus, Brunk asked strength and conditioning coach Clif Marshall if they could lift in the weight room. Early last season, he won the gold jersey for outstanding effort in practice. In the preseason evaluation, Brunk was awarded a perfect 100/100 grit score.
Despite a rocky first season with the Hoosiers, there were some highlights for what has become known as the "Brunkyard Dog."
In the Jimmy V Classic in New York, which honors legendary coach Jim Valvano who died from cancer, Brunk ignited a Hoosier win over UConn with nine points. With seven minutes remaining, Brunk used his shoulder to carve out space and drop in a layup through contact, tying the game at 42. He emphatically pumped his arm down, signaling an and-one and bumping his chest with freshman Jerome Hunter. On Brunk's back was No. 50, Big Joe's old number.
"My dad, I think he's watching every game," Brunk said after the game. "I know, I'm sure he's watching tonight."
Now, Brunk is a senior for Indiana. He was recently voted as a team captain. He will, again, be a mainstay in IU's frontcourt alongside Trayce Jackson-Davis.
Starting around May, Brunk would workout in the mornings with Smeathers. Then, he'd play pickup with overseas professionals. Later, he'd have weight training with professional strongman Derek DeVaughn. Finally, at night, Brunk would get more shots up or focus on his free throw shooting, which he converted at a 44 percent mark last season.
Smeathers has tried to help Brunk understand that his 6-foot 11-inch, 255-pound frame can be used powerfully at the rim, rather than relying on a soft touch. Smeathers has told Brunk to study other players, like Denver Nuggets center Nikola Jokic, to recognize that improvement takes time.
"This is Joey everyday," Smeathers said. "Some people do that for show and Joey does that nonstop for three years now."
After a season that was cut short due to the COVID-19 pandemic, there are increased expectations for the Hoosiers this year. There are four newcomers, all of which need guidance as they adjust to the college game. As a captain, Brunk is responsible for helping them transition into the offensive system and defensive schemes.
"Joey's probably going to be our most vocal leader this year," Jackson-Davis said. "Just the way he attacks every day, the way he's on people – not in a bad way – but just wanting them to be the best they can be."
Brunk has faced his share of adversity in his career, and with all the uncertainties surrounding the upcoming season, there will surely be more. But some things can still be counted on. Brunk will run the floor hard. He'll box out. He'll crash the glass. He'll log late night workouts.
On Brunk's right forearm, there's a permanent reminder of how far he's come. Inked onto his skin, there's a winding river, along with two trees that lead up to a mountain range. Above it, there are three words.
Embrace your journey.
Filed to: Joey Brunk