News and notes from Archie Miller's radio show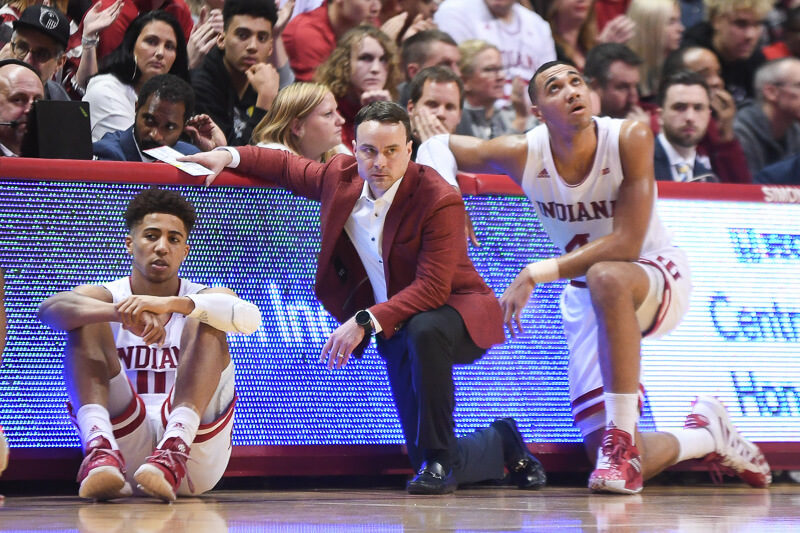 This season's first episode of "Inside IU Basketball with Archie Miller" aired Monday night with play-by-play announcer Don Fischer. Miller talked about an unorthodox offseason and what he expects out of the team this year. Indiana is scheduled to take on Tennessee Tech at 8 p.m. ET on Wednesday night in Assembly Hall to open the season.
– "It's been a long time coming for our kids." Miller opens by talking about how difficult it was for the coaches and players to deal with March Madness being canceled last season. It was expected that the Hoosiers were going make their first NCAA tournament appearance under Miller.
– Miller praised redshirt junior forward Race Thompson and senior forward Joey Brunk for their effort on the boards in Indiana's intrasquad scrimmage last Thursday. It was the first time that the team played two 20-minute halves with referees. Entering this year, one of Miller's concerns is rebounding, especially with how physical it is in the Big Ten.
– Miller said because of the lost time in the offseason, he feels like the team isn't all the way back in playing shape yet. He said it may take a couple of games to fully regain their conditioning.
– In the offseason, one of Miller's biggest worries was players losing time away from facilities, resources and trainers. He noted that it's even more of a setback for the freshmen who rely on their first offseason to get their body physically ready for the college game. Miller said he plans to have the team consistently lift weights through the season to make up for lost time.
– "It's got to be a team that's much, much smarter with the ball." Miller pinpointed taking care of the ball and defense as areas in which they need to show improvement early in the season. Miller acknowledges that Indiana's schedule, with Butler, Florida State and the Maui Invitational on the calendar, will force them to show toughness early on. Miller said the team needs to turn the ball over at the lowest rate since he's been head coach.
– With a smaller, more guard-oriented lineup, Miller said the defense can be much more versatile. On the other hand, Miller pointed out that they'll need to be aggressive on the defensive boards because they won't have as much size. The guards will have to "get muddy and blockout and rebound," Miller said.
– "I think last year's team was built a certain way, much bigger and you can only do so much with certain personnel." Miller said that the addition of freshmen Anthony Leal, Khristian Lander and Trey Galloway will allow the team to be more skilled in handling the ball. Miller stated that ball-handling wasn't one of Indiana's strengths last year, especially with Justin Smith frequently playing the three. Miller expects the offense to include more screens, spacing, changing sides and driving. It will also, Miller said, open up room for sophomore Trayce Jackson-Davis in the interior.
– "It's been an ongoing issue," Miller said about shooting. Miller praised junior guard Rob Phinisee's development, saying he's shown more confidence as a shooter. In Miller's eyes, senior Al Durham was playing his best basketball at the end of last season. Miller said sophomore Armaan Franklin gained 12-14 pounds in the offseason and needs to show growth from the perimeter. Miller notes Lander, Galloway and Leal have shot the ball as well as anyone else.
– According to Miller, junior Jerome Hunter can be the X-factor for Indiana shooting the ball. "This year he'll even shoot more threes," Miller said. He also notes that junior forward Race Thompson has improved his shot.
– Miller says that there will be "more randomness" in who handles the ball with more guards on the floor. As a result, the Hoosiers can take advantage of more transition opportunities. Miller said that much of the transition game stems from defensive prowess.
– Fischer asks Miller to give an evaluation of the four newcomers. "All four of them are great kids… They entered in seamlessly," Miller said.
– Miller was high on Leal's work ethic and size at 6-feet 5-inches and 210 pounds. Leal, who was known for his shooting ability in high school, has displayed good range so far. Miller pointed out that Leal played well in the scrimmage on Thursday. "We're going to trust him."
– Miller said that Galloway is one of the team's best ball-handlers and drivers. Galloway, like Leal, also has great size for a guard. Miller said Galloway and Leal, who played AAU together, frequently hang around each other.
– Miller said that freshman Jordan Geromino may be the most talented player he's recruited in a while and has tons of potential. There has been a learning curve for Geronimo and that he's still figuring out a balanced shot selection. Miller also said Geronimo has a good feel for passing and can be an asset on defense with his versatility.
– Lastly, Miller said he tells Lander every day that he has to bring intensity at every practice to get to that next level of dominance. Miller said he knows there are high expectations for Lander, who arrived as a five-star recruit. Miller said that it will take time for Lander to acclimate to the college game and show improved decision-making skills. Lander knocked down four 3-pointers in the scrimmage on Thursday. "He's going to get thrown into the fire early."
– Miller said that he felt like last year's team had too much depth. He anticipates leaning on the eight returners every game with the four freshmen all getting their chance, too.
– Miller said new co-associate head coach Kenya Hunter "hasn't missed a beat" since joining the staff in September. Miller has been impressed by how invested Hunter is with his relationships.
– Miller previewed Wednesday's season opener against Tennessee Tech by saying he's gotten to know head coach John Pelphrey over the last 8-9 years. Miller expects that the Golden Eagles will make up for their lack of size with talented guards that can play at a fast pace. "I told our guys today, early in the year, if you're not ready to get back, if you're not ready to rebound and guard, anything is possible. I think with a team like Tennessee Tech coming in on Wednesday, if we're not ready, things won't go as well as we plan," Miller said.
– To close, Miller thanks fans for staying engaged through the pandemic. "It's a team that, I think, everyone will like… We're going to see how this all plays out in the next couple of weeks," Miller said. "It is going to be wild. There's no reason to whine or complain. I remember when they canceled our season last year how that felt. Every chance that we get an opportunity to get back out there, I think that's the biggest thing. Find a way to get going."
Filed to: Archie Miller