6-Banner Sunday: Former Hoosiers set to resume NBA play as offseason news continues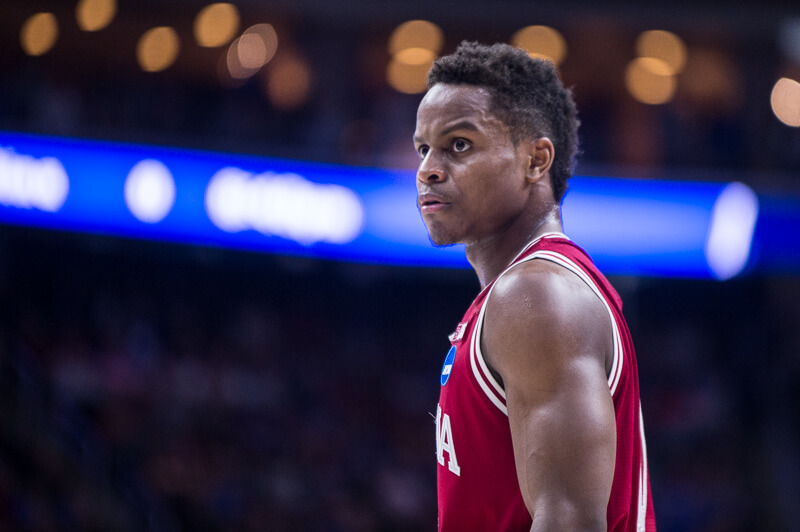 6-Banner Sunday is Inside the Hall's weekly newsletter in partnership with The Assembly Call. More than 7,000 Indiana fans receive the newsletter each week. In addition to appearing each week on the site, you can also opt to receive 6-Banner Sunday by email. A form to subscribe via email is available at the bottom of this week's 6-Banner Sunday.
Welcome to another edition of 6-Banner Sunday, a joint production between The Assembly Call and Inside the Hall where we highlight the five most essential IU basketball stories of the past week, plus take a look at how the other IU sports programs are doing.
It was a relatively quiet week in offseason college basketball news, as the lion's share of the attention in collegiate athletics continues to go toward the possibility of playing fall sports, in particular college football.
No major decisions were made by the NCAA in this regard either, meaning it remained business as usual for the IU basketball program, as much as that is possible nowadays, in terms of summer training inside Assembly Hall and Cook Hall.
But things are changing fast on the professional sports front, with Major League Baseball starting up a few days ago and in news more relevant to IU basketball fans, the resumption of the NBA season just days away as well.
A look at former Hoosiers getting set to restart their seasons, along with a continued look at IU's offseason questions and a new opponent announced for the 2020-21 season, made up the news for the past week in IU basketball.
• Story lines series looks at IU expectations, Joey Brunk and the backcourt
• Former Hoosiers set to resume NBA play
• Recruiting roundup: IU misses on Jordan Longino, in contact with Alexis Reyes
• IU to play Western Michigan as non-con schedule takes shape
• Remembering the recruitment of past IU greats
• Hoosier Sports Roundup
Banner #1
Story lines series looks at IU expectations, Joey Brunk and the backcourt
The Inside the Hall 'Offseason Storylines' series came to a close this week with a look at three more of the most interesting offseason topics for the 2020-21 Indiana team.
Alex Bozich spoke with three national college basketball writers – Pat Forde of Sports Illustrated, Mike DeCourcy of The Sporting News and Rob Dauster of NBC Sports – to get their thoughts on what realistic expectations should be for Indiana in season four of the Archie Miller era. The conversations between Bozich and Forde, DeCourcy and Dauster touched on what Miller has built so far in Bloomington, when it's fair for fans to begin judging Miller on wins and losses and what people should expect from the Hoosiers given their current roster composition.
The idea of grading Archie Miller on his first three seasons at IU was also the topic for this week's edition of Assembly Call Radio featuring the return of Jerod Morris along with Andy and Coach.
Later in the week, Alex also wrote about what Indiana's backcourt may look like next season, given the depth now found at guard thanks to the 2020 recruiting class featuring Trey Galloway, Anthony Leal and Khristian Lander.
I wrote the remaining 'Offseason Storylines' article, which focused on redshirt senior Joey Brunk and what his role will be for the Hoosiers in his final season.
All six of the 'Offseason Storylines' articles can be found here.
Banner #2
Former Hoosiers set to resume NBA play
Exhibition games are already underway inside the 'NBA Bubble' in Orlando as the league gets set to resume games that count in the standings on July 30, and plenty of Hoosiers will be playing critical roles for their respective teams.
Only 22 of the league's 30 teams were invited to the bubble, meaning Cody Zeller of the Charlotte Hornets is done for the season since Charlotte was so far back in the standings.
But for other former IU players, they're preparing for a sprint into the postseason and possibly an NBA title.
Each team will play eight games for playoff seeding purposes before the postseason begins. Victor Oladipo of the Indiana Pacers is the lone Hoosier in the bubble with an uncertain future about playing in these games. Oladipo has played in exhibition scrimmages in the bubble for Indiana, but remains undecided about playing in seeding games for the team thanks to factors like the ruptured quad tendon he suffered in 2019 and his upcoming free agency after next season.
A complete list of former IU players set to take part in the NBA restart can be found here.
Banner #3
Recruiting roundup: IU misses on Jordan Longino, in contact with Alexis Reyes
For the second time this summer, Indiana lost out on a 4-star recruit to the Villanova Wildcats.
It was hardly a surprise when Class of 2021 forward Trey Patterson chose the Wildcats over the Hoosiers in June, and history repeated itself this week when Class of 2021 shooting guard Jordan Longino also picked Villanova over the likes of Indiana, Maryland and Virginia.
Longino's decision means the Hoosiers still have only one commit in the Class of 2021: Cincinnati area big man Logan Duncomb.
But there's another backcourt presence in the Class of 2021 that IU is keeping tabs on in shooting guard Alexis Reyes from Cushing Academy in Massachusetts.
Reyes doesn't have an IU offer yet, but is in contact with IU assistant coach Mike Roberts. I spoke with Reyes' high school coach, James Cormier, to learn more about Reyes' game and his recruitment.
Banner #4
IU to play Western Michigan as non-con schedule takes shape
Another piece in the IU scheduling puzzle was sorted out this week as The D1 Docket learned via public records request that Indiana will host Western Michigan on Friday, November 13.
Western Michigan, in theory, shouldn't pose too much of a challenge to Indiana. The Broncos, out of the Mid-American Conference, went 13-19 last season, finished No. 237 in the KenPom ratings and lost their leading scorer (guard Michael Flowers) to a transfer during the offseason.
IU now has four confirmed games against non-power conference opponents for next season. In addition to the Western Michigan game, IU will also play NJIT, Robert Morris and Nebraska Omaha.
Whether the non-conference portion of the season will even take place is something up for serious debate though, and it's one of the questions answered during this week's reader mailbag edition of Podcast on the Brink featuring myself and Alex.
Banner #5
Remembering the recruitment of past IU greats
Throughout this summer, Zach Osterman of The Indianapolis Star has taken IU fans back in time with tales from the recruiting trail.
Speaking with some of the best Hoosiers to suit up in candy stripes in recent memory, Osterman has taken readers on a ride through their recruiting journeys and described how those Hoosiers ended up in Bloomington.
The likes of Pat Graham, A.J. Guyton and Jared Jeffries are some of the players featured in the series so far, and the story of Jordan Hulls' recruitment was covered by Osterman this week.
From blowing up on the AAU circuit to the way former Indiana coach Tom Crean revealed the scholarship offer he was extending to Hulls, this week's piece revealed the behind-the-scenes recruiting process for a beloved recent Hoosier.
"Being an in-state kid, being 10 minutes from the campus, it was very enticing for me to play for the school I grew up loving and being around all the time," Hulls said to Osterman.
Banner #6
Hoosier Sports Roundup
• Football had three individuals selected for another preseason award. They also announced the loss of a former player.
• Four Hoosiers made opening day MLB rosters.
• Several former Hoosiers continued their season in the MLS tournament.
• Volleyball earned an academic award.
• Water Polo also had 14 players named to an All-Academic team.
• Track and Field lost a former coach.
Thanks for your continued support for The Assembly Call. We'll be back next weekend with a new roundup.
Now go enjoy yourself a 6-banner Sunday.
Filed to: