Class of 2021 shooting guard Alexis Reyes ready to become leader, main scorer at Cushing Academy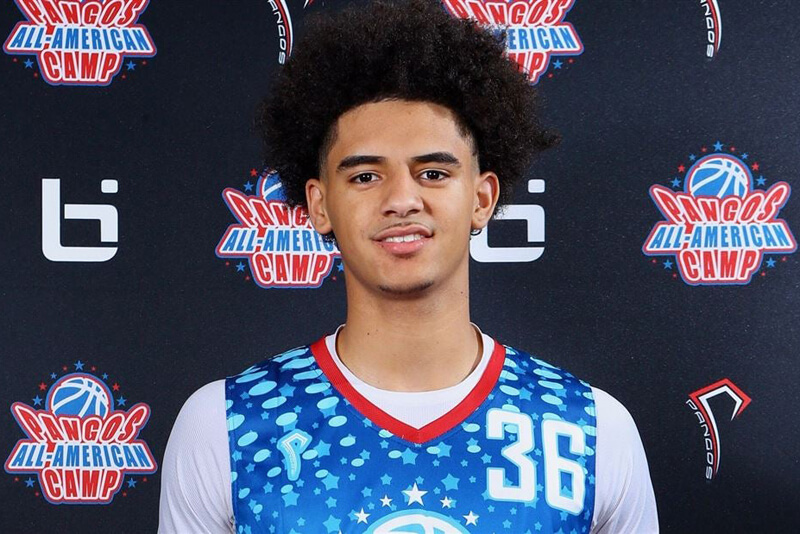 This is the season James Cormier expects Alexis Reyes to put it all together at Cushing Academy.
Reyes was an important piece at shooting guard for the Penguins during the past two seasons, but he was never the main attraction, nor was he the go-to star for the Massachusetts-based school in the ultra competitive NEPSAC (New England Preparatory School Athletic Conference).
He was a supporting piece on teams that also featured Bensley Joseph (a highly recruited four-star point guard now at Putnam Science Academy in Connecticut) and Malachi Ndur (an incoming freshman player at Brown).
But expectations have steadily grown for the 6-foot-7, nearly 200-pound Reyes, to the point that Cormier will rely on him as the cornerstone of next season's Cushing squad.
"I'm excited to see him turn into our main scorer and leader this year," Cormier said. "He's always kind of had a sidekick…maybe a little less relied upon with some of those other guys (Joseph and Ndur). But Alexis has always been that kind of Robin so to speak. I'm looking forward to seeing Alexis take on that lead role."
Indiana is among the college programs interested in what Reyes will offer as a senior, with assistant coach Mike Roberts (who played in the NEPSAC at New Hampton) leading Reyes' recruitment.
The open-gym atmosphere at Cushing is described by Cormier as one that pushes players toward success. He said the Penguins host open gyms four days a week, and on any one of those occasions between five to 25 Division I through III coaches will fill the space.
Roberts was one of them last fall watching Reyes play, and Cormier credits the collective exposure from these sessions with helping Reyes evolve.
"Constantly playing under that pressure where there's always eyes on you, whether it be Indiana or Fairleigh Dickinson, it's a small coaching fraternity and people are going to talk," Cormier said. "So if you have one off night, that's going to get out there. I think he's realized that and embraced that and just continued to improve his game and intensity and his level of competing in a consistent way."
Even while he was considered a second or third option, Reyes still impressed. He averaged better than 12 points, six rebounds and three assists per game for the Penguins last season while also knocking down nearly 40 percent of his 3-pointers.
"His versatility I think is his greatest attribute on the floor," Cormier said. "(He's) able to guard, with his length and toughness, a lot of different types of players and positions and then offensively he can really drill it. He makes shots at a high percentage, super efficient."
While Cormier added that Reyes can border on being too unselfish on the offensive end, the success he's had with the Penguins and with Expressions Elite on the AAU circuit has led to plenty of college interest.
Indiana hasn't taken the step of offering Reyes a scholarship yet, but schools like Creighton, Illinois and Georgetown have.
"As a young guy he (Reyes) had a high profile. I think the thing he really improved on at Cushing was being able to balance the social media hype, continuing to develop his work ethic and his academics and just being able to balance the three of those things all while being away from home," Cormier said.
A boarding school environment lends itself to helping high school players focus near exclusively on their academics and athletics. It's a common theme seen in several recent IU recruits like Trey Galloway, Jordan Geronimo and Alex Karaban.
That theme has continued with Reyes, as Cormier praised the rising senior for his ability to keep his head down and work within the confines of Cushing's 162-acre campus in Ashburnham, Massachusetts. It's also a natural product of attending five days a week of mandatory strength classes.
Even something as simple as Reyes developing a strong post presence can be traced back to this.
"If there's one offensive quality that he does better than most other 6-7 players in the country, (it's) make shots, but he's also a great facilitator, can play out of the post," Cormier said. "Often times he will play the two for us in certain lineups and he'll be going against a 6-1, 6-2 guard and he's very content going in the post and finding ways to score and get fouled.
"When the double (team) comes, finding open guys and making the right plays. But also when he's being guarded by a slower three or four man, being able to face up and take them off the bounce and create his own shot or finish at the rim for him or his teammates."
All of this builds to now.
Cormier believes Reyes is battle-tested and mature enough to lead Cushing in a bid for a NEPSAC title.
Indiana and others, as always, will be watching.
"He was always a shot maker, but being able to expand that in-between game, his mid-range, different finishes. Just being able to make more plays off the bounce," Cormier said. "We'll see an even more polished playmaker next year."
Filed to: Alexis Reyes