Indiana recruit Alex Karaban embraces the challenge of New England prep school basketball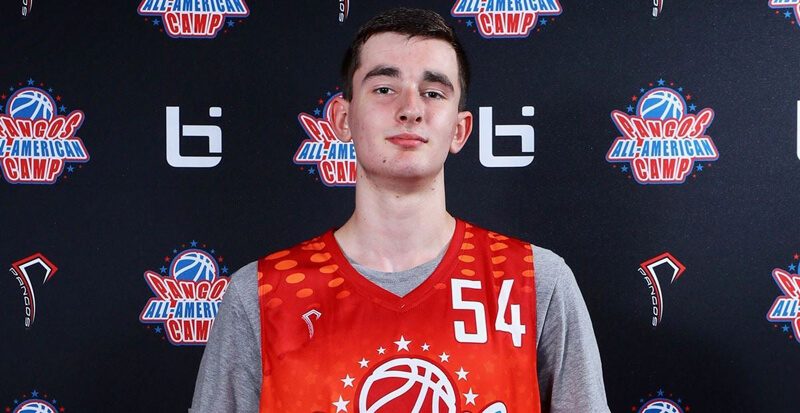 When Andrew Gale pitches high school basketball players and their families about the benefits of New England prep school hoops, the selling points spill out of him.
Gale talks about the rich history of success for prep schools in the region. The fact they play with "all college rules" and feature coaching staffs filled with former Division I assistants is just an added bonus.
A tight travel radius also means some of the country's best prep school competition can be found within a three-hour drive.
It's combined to build a mythological reputation for basketball in New England.
"In previous years we've had kids from Athens (Greece), we've had kids from Istanbul (Turkey), we've had kids from Latvia," Gale said. "The allure of coming to play here has been around for a long time and it really brings out the best in the kids and brings the best players to this area."
As the head varsity coach at New Hampton School in New Hampton, New Hampshire, these are just some of the talking points Gale has to offer, and that's before he gets into the basketball side of things.
"We have advanced film, analytics. We do scouting reports. A lot of high schools I'm sure don't have the strength and conditioning facilities that we have, the yoga training we have, we do pool workouts, all that stuff," Gale continued.
"The sell is, basically, 'We're going to teach you how to play the game and we're going to teach you how to manage your time and teach you how to be away from home and basically prepare you to elevate yourself higher than any other incoming freshman when you show up in college.'"
The latest budding success story spawned from this is Alex Karaban, who is following in the path of IU freshman Jordan Geronimo after Karaban earned a IU scholarship offer back in March.
Karaban, a 6-foot-8, 190 lb. small forward, began his high school career at Algonquin Regional High School in Northborough, Massachusetts, before moving to New Hampton ahead of his sophomore season.
He starred for Algonquin as a freshman, averaging 22.4 points, 8 rebounds and 3 assists per game, along with 39 made 3-pointers.
As an eighth grader Karaban also got varsity experience playing at St. Peter-Marian High School in Massachusetts where he averaged more than 16 points per game.
But it was this success which helped Gale convince Karaban of his need to seek better competition.
"The biggest sell for Alex was that he was the best player on his high school team as a freshman," Gale said. "We told him, 'If you really want to push yourself and play at the highest levels, you need to surround yourself with really good players and surround yourself with coaches who know what they're talking about…we're able to help you reach a level that you haven't reached.'"
Gale is one of those aforementioned NEPSAC (New England Prep School Athletic Conference) coaches with college-level experience. He was a student manager and later a graduate assistant at Vermont before joining the coaching staff at New Hampton, and frequently mentions how the New Hampton program mirrors those at the next level.
"This is the closest thing you can get to college basketball," Gale, who will have players on his roster next season from all parts of the country, said. "It's hard not to get better in our league because it's a sink or swim type thing."
Karaban more than stayed afloat as a 15-year-old who often played against seniors and post-grad players with Division I offers. Karaban averaged 20 points, 8.8 rebounds and 3 assists per game as a sophomore against the improved competition.
"He's just a matchup nightmare," Gale said. "Nobody can guard him. Bigger guys can't guard him on the perimeter. Smaller guys can't guard him in the post…(we try to) get him in situations where he felt comfortable driving someone to the rim or posting somebody up."
The adjustment to being a young player in a new environment playing against elite athletes took time for Karaban, who Gale described as "stone faced."
New Hampton's rigorous practices led to Karaban's body breaking down midway through the season. Extra sessions in the weight room and near-daily stretching and yoga sessions helped his frame better handle the workload.
A good off-court relationship with one of New Hampton's post-grad players, Canadian guard Jahmyl Telfort (now at Northeastern University), helped provide Karaban with extra stability as he adjusted.
While offseason focus points for Karaban have included becoming more comfortable on the perimeter and learning how to operate in the halfcourt offense in pick-and-roll situations from the 3 spot, the high-major offers are already starting to pile up.
Indiana, Marquette, Providence and Purdue are among the more notable names that have already offered Karaban, but IU's connection to him runs deeper than most schools.
New Hampton is the alma mater of former IU player and current assistant coach Mike Roberts, as well as the former home of past IU greats Tom Coverdale and Noah Vonleh.
Karaban knows this, but more importantly he values this.
Gale said after New Hampton upset Brewster Academy for the Class AAA NEPSAC title in March he returned to campus to texts from Karaban, proclaiming how much fun the season was and his desire to try and win two more titles in his time left at the school.
"He knows this place means a lot to people. There have been a lot of good players who have come through here and he wants to put himself in that category," Gale said. "He wants to be the best player that he can possibly be, but also be the best player that's put on the New Hampton jersey."
Filed to: Alex Karaban