Offseason storylines: With added depth, how will IU's backcourt rotations shake out?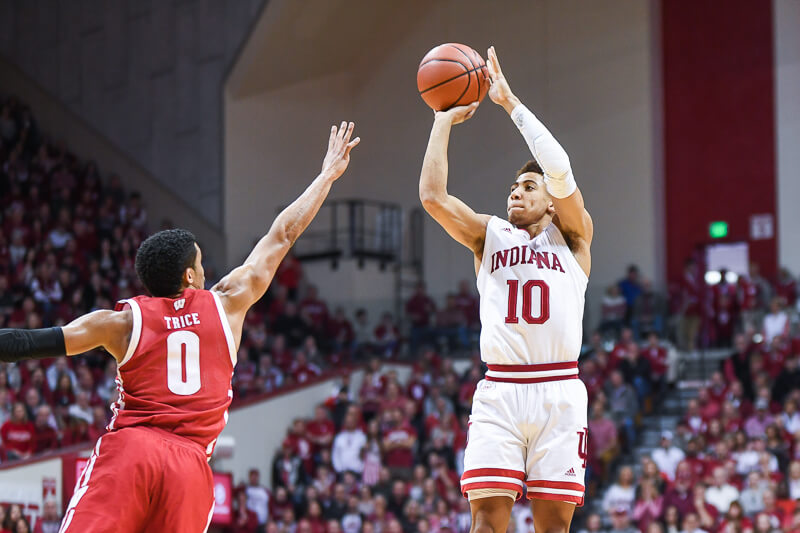 Welcome to offseason storylines, a look into some of the biggest storylines surrounding the 2020-2021 Indiana Hoosiers. Today we conclude the series with a look at IU's potential backcourt rotations.
Previously: IU's breakout candidates for 2020-2021, Where will Trayce Jackson-Davis fit among the Big Ten's best in year two?, Al Durham may have to adapt yet again as a senior, Realistic expectations for Archie Miller and IU basketball, What are realistic expectations for Archie Miller and IU basketball? What will Joey Brunk's role look like next season?
For the first time in his tenure as Indiana's coach, Archie Miller has plenty of options to deploy in his backcourt rotation.
The Hoosiers are returning three stalwarts in Al Durham Jr., Rob Phinisee and Armaan Franklin, a trio that made a combined 57 starts for last season's 20 win team. Durham Jr. started every game last season, Phinisee started when he was healthy and Franklin gained valuable experience as a starter early in the season due to injuries to Phinisee and Devonte Green.
To supplement the quality depth returning, Indiana will welcome a five-star point guard in Khristian Lander and two other freshman who were top 150 recruits in Anthony Leal and Trey Galloway.
Depth has been a consistent issue for Miller in the backcourt over his first three seasons in Bloomington, but might finally be a strength for the 2020-21 season. But with that depth comes questions.
Will Indiana play a three-guard lineup like we often saw during Miller's first two seasons? Or will it be more of the two-guard sets we saw last season? How will Lander and Phinisee co-exist? How will Franklin, Leal and Galloway figure into the rotation?
The departure of Justin Smith leaves Miller with a decision to make on how he'll start games next season. As a sophomore, Smith spent most of his time at the four, but shifted to the three last season in a starting lineup that also featured Trayce Jackson-Davis and Joey Brunk. If Jackson-Davis and Brunk or Race Thompson are assumed starters in the frontcourt, that leaves Miller to answer the following question: Does Jerome Hunter slide in to Smith's spot?
The argument for playing Hunter at the three as the starter is clear. He has unquestioned talent and improved at a rapid pace last season while working back from a year hiatus from the sport following leg surgery. His size and versatility also creates mismatch problems. But he'll need to shoot better from the perimeter – he made only 30.2 percent of his 3-pointers last season – to give Indiana the floor spacing it has desperately needed for Miller's entire tenure.
If the Hoosiers do opt for a smaller lineup, Durham has the size and length to guard some wings in the Big Ten, but could Lander and Phinisee starting together work from a defensive perspective? Even if it did create issues at times, having two primary ball handlers on the court together who can create for themselves and others is intriguing. Phinisee is probably a better shooter than he's shown through his first two seasons and Lander has proven himself as a point guard who can strike a balance between scorer and facilitator.
Regardless of how the lineups and rotations shake out, Durham, Phinisee and Lander will definitely be among Indiana's top seven players.The rest of the backcourt group's spot in the rotation hierarchy is far less certain.
Due to his experience, Franklin should have a leg up on Galloway and Leal entering the season. Franklin proved to be a capable defender as a freshman, but there were clear deficiencies in his offensive game that he'll need to improve upon to hold his position. Franklin was a below average shooter – 61.5 percent on free throws, 45.8 percent on 2s and 26.6 percent on 3s – and had a higher turnover rate (21.9 percent) than assist rate (17.1 percent).
Galloway looks the part of a player who is ready to play as a freshman. He's a gritty defender and is aggressive driving to the rim with the intent to draw contact or finish plays. And Leal, Indiana's Mr. Basketball, has been billed as a shooter with size. If he can make 3-pointers at an above average clip, there will be incentive for Miller to assign him minutes for that reason alone.
The separator in most of these decisions will likely be defense and an ability to make perimeter shots. We've learned much about Miller's demands as a coach over his first three seasons and the most paramount of those demands is defense. Phinisee and Durham are proven in that regard and Lander's talent suggests he will earn minutes from day one even if he needs time to grow defensively.
The other three backcourt pieces – Franklin, Galloway and Leal – all have something different to bring to the table, but will ultimately have their roles sorted out by their capabilities to dig in defensively and knock down timely perimeter shots. Given the depth, it's likely that minutes could ebb and flow for all three players this season. Miller will now have the option to ride the hot hand rather than being forced into less than ideal lineups and rotations in his first three seasons.
Filed to: Aljami Durham, Anthony Leal, Armaan Franklin, Khristian Lander, Robert Phinisee, Trey Galloway