6-Banner Sunday: No positive COVID-19 results during first round of testing for IU athletics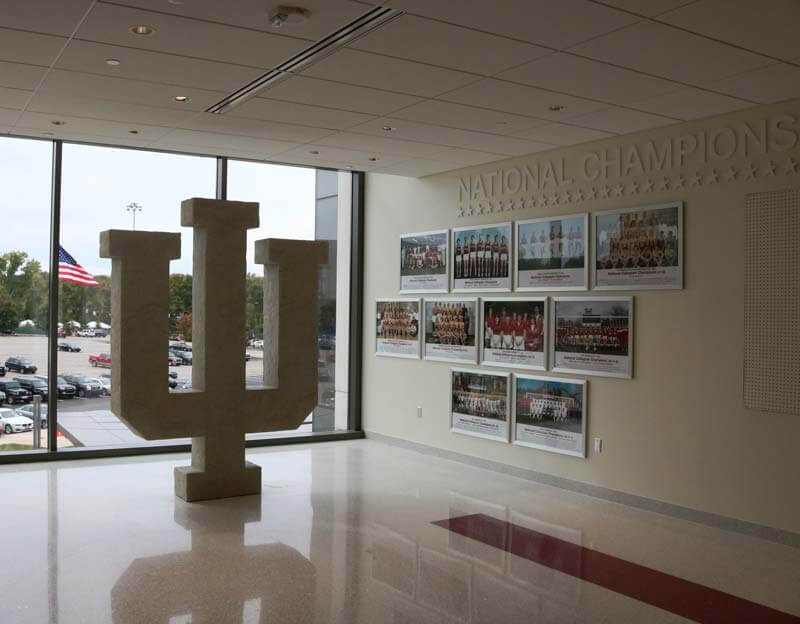 6-Banner Sunday is Inside the Hall's weekly newsletter in partnership with The Assembly Call. More than 7,000 Indiana fans receive the newsletter each week. In addition to appearing each week on the site, you can also opt to receive 6-Banner Sunday by email. A form to subscribe via email is available at the bottom of this week's 6-Banner Sunday.
Welcome to another edition of 6-Banner Sunday, a joint production between The Assembly Call and Inside the Hall where we highlight the five most essential IU basketball stories of the past week, plus take a look at how the other IU sports programs are doing.
After good news surfaced from Bloomington last week about the health results of the coaches and athletes who have returned to campus for workouts, it allowed an ounce of hope that the Hoosiers could be competing in the fall.
With that in mind, there are two players that come to the forefront in terms of potential breakout seasons on the hardwood. That analysis, mixed in with some incoming freshmen, two Indiana targets and a former player round of this week's content.
• IU athletics reports no positive COVID-19 results
• Jerome Hunter looking confident ahead of sophomore season
• Could this be a breakout year for Armaan Franklin?
• Freshmen focus continues with Khristian Lander and Trey Galloway
• Q&A with Kory Barnett, updates on 2022 targets
• Hoosier Sports Roundup
Banner #1
IU athletics reports no positive COVID-19 results
As colleges all over the world start to begin team workouts, mostly for football, many results have been released announcing positive COVID-19 tests.
IU began testing athletes and coaches on June 9 for football. Then men's basketball and women's basketball arrived in the middle of June and tests were done for those programs as well.
On Tuesday, IU athletics released its testing results, announcing that IU has administered 187 COVID-19 for tests of football, men's basketball and women's basketball players, coaches and staff and returned zero positives.
It is a promising start for Indiana, whose programs are currently all preparing to be playing at the time their respective seasons are scheduled to start. More teams will be coming to campus in the first week of July, starting with women's soccer on July 6. Then, volleyball on July 8, men's soccer on July 13, field hockey on July 15 and cross country on Aug. 18.
Banner #2
Jerome Hunter looking confident ahead of sophomore season
With Damezi Anderson and Justin Smith gone, Jerome Hunter is expected to have an increased role during his second playing season with the Hoosiers.
He showed many positive glimpses last season, especially toward the end with his 3-point shooting. For Hunter, all the tools are there to be a standout player on the court, but it's all about his confidence.
Inside the Hall's Dylan Wallace caught up with Zach Fleer of 270Hoops, who watched Hunter workout in Central Ohio at the beginning of June. Fleer was so impressed by Hunter that he started to take videos of his highlights and tweet out that a breakout season is on the horizon for Hunter.
Hunter's ability to knock down shots from the outside is his main strength, but Fleer saw the version of Hunter that reminded him of how he used to play in high school. He said Hunter was scoring off the bounce, posting players up, handling the ball more and making great reads with passing.
If Hunter can add all those skills on the court this season, he will be a vital piece for Indiana's offense.
Banner #3
Could this be a breakout year for Armaan Franklin?
When looking up and down the roster for this upcoming season, there's a lot of players that can catch your eye. The aforementioned story line for Hunter is an intriguing one. You have Trayce Jackson-Davis' sophomore campaign, as well as five-star Khristian Lander's arrival to shake up the back court.
But one player that might fly under the radar heading into this season is Armaan Franklin. With Lander coming in, he will get a lot of immediate attention, alongside senior Al Durham and junior Rob Phinisee. But a sophomore Franklin might be just as worthy as any to have a breakout season.
That was the main topic on this week's edition of Assembly Call Radio. Brian Tonsoni and Ryan Phillips were on the mics to discuss where Franklin fits in an all of sudden crowded back court and if he is an underrated candidate to have a breakout year.
Make sure to tune into this one-hour conversation about one of IU's most intriguing young players.
Banner #4
Freshmen focus continues with Khristian Lander and Trey Galloway
Last week, the 'freshmen focus' series highlighted Anthony Leal and Jordan Geronimo.
This week, it focused on the final two incoming freshmen in Khristian Lander and Trey Galloway.
Inside the Hall's Cameron Drummond knocked both of these out of the park, first talking to Lander's high school coach at Evansville Reitz, who was understandably bitter-sweet about Lander's decision to reclassify, forego his senior season and join the Hoosiers in the fall.
But when it comes to Lander's ability on the court, Michael Adams said Lander "just checks off so many boxes."
As for Galloway, he was the first class of 2020 commit to officially announce he would be joining Indiana. Leal quickly followed him a few weeks later, and then eventually Lander did as well. Three in-state guys, all on Indiana Elite, and Galloway was the first domino to fall.
Archie Miller has previously described Galloway as the "ultimate competitor."
Lander and Galloway will come to Bloomington with completely different expectations and roles, but there's no denying that this class of 2020 is looked at as a quartet of players that will carry the Hoosiers into the future.
Banner #5
Q&A with Kory Barnett, updates on 2022 targets
This offseason has provided Inside the Hall with a lot of opportunities to catch up with former players and produce fun Q&A's out of them.
The most recent installment of these came on Wednesday when Cameron Drummond caught up with Kory Barnett, who played for IU from 2008-2012 and is now an assistant coach at Nevada with Steve Alford.
Barnett talked a lot about his time with Indiana and how the program went from the bottom to the top during the second half of his career. He also talked about what it's like now to coach alongside Alford.
"You get a feel for it just being around, there's no other way to experience it without going through it. Going through those losing seasons obviously talent was a huge piece, but you see every day and every week what can lead to winning and what can lead to losing. That was a huge experience for me."
Transitioning from the past to the future, Dylan Wallace caught up with two potential targets for Indiana in class of 2022.
One is AJ Casey, a five-star forward from Chicago, who received an IU offer two weeks ago. Casey is a do-it-all type player and said he was grateful for the potential of playing at a school like IU. Casey is AAU teammates with Jalen Washington, another five-star forward Indiana offered that is from Northwest Indiana.
Another potential target for Indiana is Julian Norris, a three-star, 6-foot-3 guard out of Evansville Bosse. Norris said he is good friends with Lander.
Although Norris hasn't received an official offer from IU yet, the Hoosiers have shown interest as one of IU's assistants have spoken to Norris' head coach about him. Norris feels like he has a lot to prove, and he's ready to have a breakout junior season.
Banner #6
Hoosier Sports Roundup
While COVID-19 has not hit any current IU athletes, with great sadness it took the life of a former Hoosier legend in IU's most historically successful sport.
• Former IU soccer player Ken Snow passed away this week at the young age of 50. While IU did not officially report it as COVID-19, several other media sources did, including Front Row Soccer.
• Women's Soccer named its captains.
• Cross Country announced an Academic All-American.
• Baseball has 31 athletes playing summer ball.
• Two athletes earned Big Ten Medal of Honor.
Thanks for your continued support for The Assembly Call. We'll be back next weekend with a new roundup.
Now go enjoy yourself a 6-banner Sunday.
Filed to: