Class of 2022 five-star forward AJ Casey talks IU offer and desire to always get better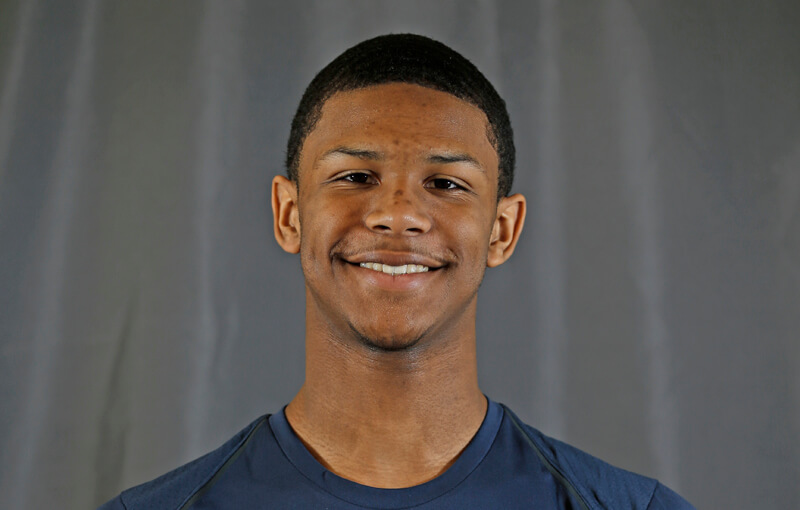 When AJ Casey was in the seventh grade, he was ranked as the No. 1 player in the state of Illinois for his age.
It was at that moment where Casey, who was juggling football and basketball, decided that basketball might be the route to pursue.
So, he dropped football, put all his time into basketball and now four years later, he's a five-star prospect in the class of 2022.
Casey attends Tinley Park High School in Illinois, and his latest offer came from Indiana on June 18.
"I was just blessed," Casey told Inside the Hall about his IU offer. "Grateful for the opportunity that they are willing to give me a scholarship to a big program like them, so I was just really excited at the time."
Indiana is now the fourth Big Ten team to offer Casey, joining Purdue, Illinois and Nebraska. He also has offers from Tulane and DePaul, and schools such as Wisconsin and Kansas have shown interest.
Since the recruiting period opened up on June 15, Casey said Indiana has been in contact with him pretty frequently, but he also said they had been involved and showed interest for about a month or two before now.
Being from Chicago, Bloomington isn't too far from Casey, so he has some knowledge on the program and the players that have come out of it.
"Players like Isiah Thomas, Victor Oladipo, Cody Zeller, just to name a few," Casey said. "They are a big school in the hardest conference. Well-rounded school academically, as well as with basketball."
Casey is ranked as the 18th best player by ESPN in the class of 2022. He's a 6-foot-9 forward, who prides himself on his versatility on both ends of the floor.
His talent and skill took center stage this past season after he transferred from Simeon Career Academy, a storied program that has produced the likes of former NBA MVP Derrick Rose and former first-round NBA draft pick Jabari Parker. Casey took his talents to Tinley Park, where the Titans haven't won a regional title since 2008.
This past winter, Casey and Tinley Park were in the IC Catholic/Westmont Christmas Classic championship game against Eisenhower, and they were trailing by 16 after three quarters.
Casey put the team on his back in the fourth quarter, making seven free throws and leading the Titans to an 80-77 victory. Casey scored 34 points, and he helped give Tinley Park its first Christmas tournament title in program history.
"I would say my defending, my athleticism, my versatility," Casey said on his strengths. "I'm a position-less defender, and I would say my shooting, too."
Casey started out as just a post player with his height, but as the game of basketball continues to evolve, his dad told him he needs to start shooting. So, he formed a smooth-looking outside jump shot, which allows him to stretch the floor.
This past season, Casey averaged 22 points, 10.2 rebounds, 3.2 assists, 3.1 blocks and 2.3 steals per game.
"It comes with a lot of things," Casey said on expanding his game. "It causes havoc for your defender. They don't know what you're going to do next, and you can attack from so many different areas. There's no one-dimensional players in basketball anymore, really."
Casey said he's still working on his ball handling skills, which he added has come a long way since he started working on them.
If sports could be taking place this summer, Casey would be playing with Meanstreets in the Nike EYBL in Chicago. One of his teammates on Meanstreets is Jalen Washington, another five-star prospect who has an offer from Indiana.
"It's good playing with him. We have great chemistry that we built off the court and on the court as well," Casey said on playing with Washington. "We talk to each other a lot. He's a great teammate, great person, we have a great bond. I love playing with him."
Casey said he felt like he was going to have a breakout year over the summer with Meanstreets. Instead, he's been working on his body a lot during quarantine.
As gyms start to open up around Illinois, Casey has gone a few times to workout with more equipment and get shots up.
When it comes to modeling a game around a player, Casey lists Anthony Davis first, another fellow Chicagoan. Casey tries to emulate Davis' post moves and his defensive prowess. He also aims to take pieces from other players' game, such as LeBron James' leadership and Russell Westbrook's passion and intensity.
As a rising junior, and as Casey paves his path into his own special type of player, offers and attention are going to continue to pile on, but on the surface, he will always be focused on one thing.
"I'm just always trying to improve and get better," Casey said.
Filed to: AJ Casey