6-Banner Sunday: IU remains in position for NCAA tournament bid as March begins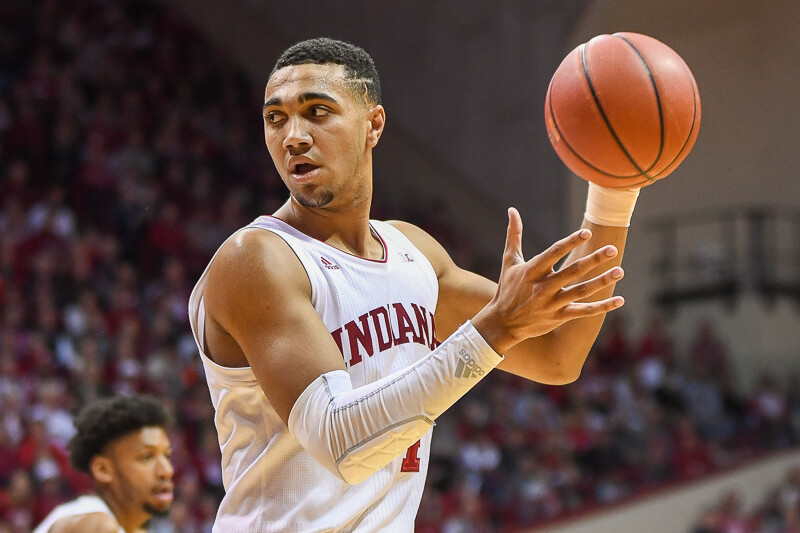 6-Banner Sunday is Inside the Hall's weekly newsletter in partnership with The Assembly Call. More than 7,000 Indiana fans receive the newsletter each week. In addition to appearing each week on the site, you can also opt to receive 6-Banner Sunday by email. A form to subscribe via email is available at the bottom of this week's 6-Banner Sunday.
Welcome to another edition of 6-Banner Sunday, a joint production between The Assembly Call and Inside the Hall where we highlight the five most essential IU basketball stories of the past week, plus take a look at how the other IU sports programs are doing.
As the NCAA Tournament comes into sharper focus, Indiana remains right on the cusp of punching its ticket.
The past week in IU basketball saw a home victory over Penn State, who was ranked inside the AP top 10 at the time of the game. This was followed by yet another loss to the rival Purdue Boilermakers. The result is a Hoosier squad that is right there in terms of feeling good about its NCAA Tournament chances, but Archie Miller's team likely needs at least one more win to truly feel secure about their postseason status.
The result of these games, combined with IU's postseason outlook and the commitment of 5-star point guard Khristian Lander to the Indiana program, highlights the past week in Hoosier hoops.
• Indiana records top-10 win over Penn State, falters again at Purdue
• The Hoosier offense continues to have scoring struggles
• A look at Indiana's bracketology for the 2020 NCAA Tournament
• Khristian Lander commits to IU, scores 34 points in game later in week
• State of Basketball: Part 5 – The Anderson Wigwam
• Hoosier Sports Roundup
Banner #1
Indiana records top-10 win over Penn State, falters again at Purdue
Indiana's Jekyll-and-Hyde persona when it comes to home and road games was on full display last week.
The Hoosiers beat a Nittany Lion squad then-ranked inside the top 10 by eight points last Sunday. IU controlled the game thanks to a massive scoring run during the later part of the first half, but the Hoosiers had to hang on late after a timid start to the second half let Penn State right back in the game.
Inside The Hall's Alex Bozich focused on this ability to outlast the on-court adversity as one of his main takeaways from the game.
Still, it marked consecutive victories for Archie Miller's team and gave the Hoosiers momentum entering the final regular season meeting against Purdue this season. However, Indiana couldn't turn that into a road win in West Lafayette that would have both snapped a lengthy losing streak to Purdue and also likely unofficially punched IU's ticket to the NCAA Tournament.
IU's offense was dreadful in a 57-49 loss to Purdue, posting its worst field goal shooting percentage in years and again struggling to score without contributions from Trayce Jackson-Davis.
It was Purdue's seventh-straight victory in the rivalry series, and it means that barring a Big Ten Tournament or NCAA Tournament meeting with the Boilermakers, IU's two seniors (De'Ron Davis and Devonte Green) will finish their college careers without a win over Purdue.
As Dylan Wallace of ITH noted in his takeaways from the game, the Hoosiers didn't completely fold on the road, a rare occurrence this season, but the lack of other scoring options beyond Jackson-Davis remains a legitimate concern.
Banner #2
The Hoosier offense continues to have scoring struggles
Speaking of those scoring struggles, it was a popular topic to write about after the Purdue loss.
Zach Osterman of The Indianapolis Star connected IU's offensive issues to the slow-paced rebuild of the Indiana program by Archie Miller.
Especially in a week of major recruiting victories, as well as the Penn State triumph, Osterman reminds fans that one of the next tasks on Miller's agenda should be getting more consistent offensive production from his team.
Some of the aforementioned takeaways from Wallace after the Purdue game also touched on this topic, specifically the lengthy scoring droughts Indiana went on during the loss (including a more than 10-minute period of game time without a field goal made) and the lack of scoring offered by Indiana's scholarship guards.
Often times the issue for the Hoosiers when they can't score is that Trayce Jackson-Davis isn't active or involved enough on the offensive end. That was the case again Thursday night, but there wasn't much he could do about it.
As Stefan Krajisnik of The Indianapolis Star noted, Purdue spent the entire game throwing double teams at Jackson-Davis in the post and paint. Purdue coach Matt Painter said that was the entire defensive plan during his postgame comments.
But that left the pressure on IU's guards and wing players to pick up the scoring load, and as has often been the case this season, they weren't up to the task, something discussed on Assembly Call Radio postgame.
Banner #3
A look at Indiana's bracketology for the 2020 NCAA Tournament
So given the juxtaposing results of last week for Indiana, where do the Hoosiers stand in terms of bracketology for the upcoming NCAA Tournament?
Simply put, the Hoosiers are safe, for now.
Plenty of respected sources of bracketology, ranging from Assembly Call and Inside The Hall's Andy Bottoms, to the Delphi Bracketology Club to national publications like ESPN and Fox Sports all have the Hoosiers safely in the field, and avoiding a First Four game in Dayton in the process.
All of this can change at a moment's notice though, especially given the fluid nature of this college basketball season. But the general consensus has long been that if Indiana can win just one of its remaining three regular season games (at Illinois, and at home to Minnesota and Wisconsin), then the Hoosiers should be safe when it comes to making the 68-team field.
Prior to the Purdue game, The Bracket Matrix, which keeps track of all the projected NCAA Tournament brackets, listed IU's best seed projection as a 7-seed and its worst seed projection as a 12-seed.
Something of comfort for Hoosier fans will be the fact IU was listed in all 103 brackets tracked by The Bracket Matrix, and that shouldn't change unless the Hoosiers end their season in a tailspin.
Banner #4
Khristian Lander commits to IU, scores 34 points in game later in week
Whatever the on-court struggles are for this current Indiana team, there's no denying the importance of the off-court news this week.
Class of 2021 5-star point guard Khristian Lander committed to Indiana via social media Tuesday night, marking the latest in-state recruiting win for Archie Miller. Lander is now the eighth in-state player to commit to Indiana under Archie Miller, and this week's episode of Podcast on the Brink was spent discussing the commitment with Kyle Neddenriep of The Indianapolis Star.
An AAU teammate of two Indiana Class of 2020 signees, Anthony Leal and Trey Galloway, Lander, who is rated as the number one point guard in the country in his current class, is strongly considering reclassifying to the Class of 2020.
I went to speak with him, along with fellow Inside The Hall writer Dylan Wallace, to learn more about why.
Dylan and I watched Lander play in one of the most important high school games of his career: A winner-take-all showdown between Lander and Evansville Reitz and the host Evansville Bosse Bulldogs to determine the Southern Indiana Athletic Conference title on Friday night.
While Lander and Reitz came up just short, losing the game 71-70, it was through no fault of the star point guard.
He was sensational, scoring what is believed to be a career-high 34 points during the game and proving to be near unstoppable on offense from the second quarter onward.
Lander spoke to us exclusively after the game and discussed why Indiana won the recruiting battle for him, and he also explained his reasoning for wanting to reclassify to 2020. It turns out that his desire to play with Trayce Jackson-Davis is a big part of it.
"I feel like if I get a hold of Trayce, we can dominate the Big Ten," Lander told us.
Banner #5
State of Basketball: Part 5 – The Anderson Wigwam
The latest part in my 'State of Basketball' series was published last week as well, and this time I told the story of one of the most well-known high school gyms in the state of Indiana.
Almost everyone has head of The Wigwam in Anderson. From the iconic pregame rituals to the sheer size of the gym, it hosted plenty of memorable players and games during its run as the second-largest high school gym in the country.
But, as you can read about here, times have changed in Anderson. The economic downturn of the city rubbed off on the gym, which hosted its final game in 2011.
Now, nine years removed from that February night, The Wigwam is getting ready for its second act. It's part of a redevelopment effort in Anderson to lift the city out of the doldrums, and it seems fitting that a building so integral to Anderson's identity is again finding use as the city looks to reinvent itself after losing its base of factory jobs.
Banner #6
Hoosier Sports Roundup by Aaron Shifron
• I caught up with former Hoosier Cody Zeller this week after the Pacer's game against the Hornets.
• IU Baseball headed down to Mobile, Alabama last weekend and is in North Carolina this weekend and are winners of six straight. I made the trip down to Mobile and wrote a season preview that can viewed here. In terms of the games, IU has won six straight beating Sienna, East Carolina and High Point this week. Due to IU's strong on field performance outfielder Elijah Dunham was named Big Ten Player of the Week.
• Men's Track and Field won a Big Ten Championship.
• Women's Basketball beat Nebraska on senior night.
• Soccer lost an exhibition game against the Indy Eleven 4-2. I caught up with Coach Todd Yeagley after the match.
• Swimming and Diving hosted the Big Ten Championships for the men and finished third.
• Softball beat St. Joseph's to close out their tournament in Raleigh, NC. This led to pitcher Emily Goodin being named Big Ten Co-Pitcher of the Week.
• Women's Tennis knocked off Ball St. and Cincinnati but lost to Northwestern.
• Men's Tennis swept Drake and beat Dartmouth.
• Women's Golf competed in Arizona.
• Men's Golf was at a rain shortened event in Puerto Rico.
• Water Polo knocked off four opponents this weekend.
Thanks for your continued support for The Assembly Call. We'll be back next weekend with a new roundup.
Now go enjoy yourself a 6-banner Sunday.
Filed to: