Bracketology: NCAA tournament projection as of February 25, 2020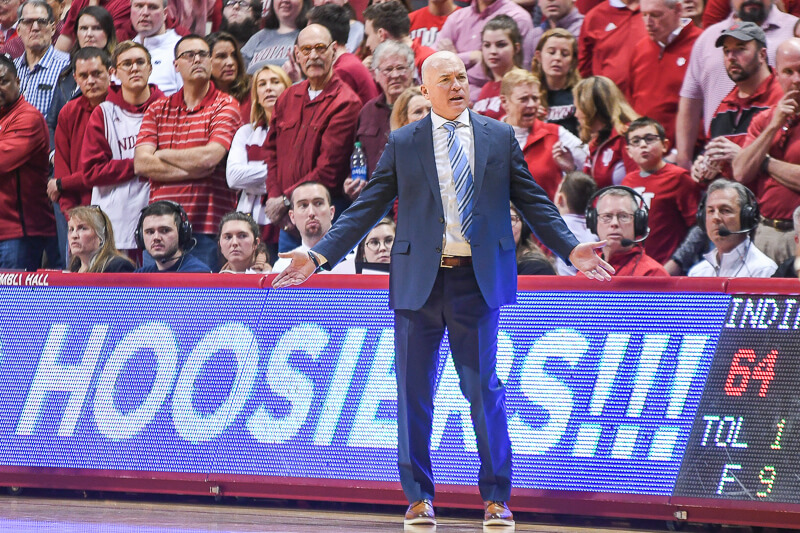 With less than three weeks until Selection Sunday, a pair of teams have completely turned their seasons around and are in the at-large discussion despite significant early season struggles. It's worth noting that the committee no longer places additional emphasis on the last 10 or 12 games, so the ugly losses they took early are still weighing them down. Still, with a weak bubble, Providence and UCLA are squarely in the mix.
The Friars lost at Northwestern in their third game of the season and proceeded to lose to Penn, Long Beach State, and Charleston over the course of seven days in November. All four of those defeats fall in Quad 3 or Quad 4 and are actually Providence's only non-Quad 1 losses. To offset that poor performance, the Friars have compiled seven Quad 1 wins, headlined by home wins over Creighton and Seton Hall, a sweep of Marquette, and a road win at Butler.
As for UCLA, the Bruins took an early home loss against Hofstra and lost six of seven games at one point, including defeats at home to Cal St. Fullerton and on the road at Washington State. Following that stretch, UCLA sat at just 8-9 on the season. Mick Cronin's club has rallied to win nine of its last 11 games, including a road victory at Arizona and a sweep of Colorado. A NET ranking in the mid-70s shows there is still work to do, but all three of UCLA's remaining games come against tournament contenders as the Bruins will host the Arizona schools before playing at USC to close out the regular season.
The bubble is starting to thin out a bit, but these are the definitely two of the more interesting profiles I can recall as we head into the final weeks of the season.
Before looking at the one seeds, I wanted to give a quick reminder about how the NCAA selection committee classifies wins based on the NET Rating.
A breakdown of the four tiers:
· Tier 1: Home vs. teams ranked 1-30 / Neutral vs. teams ranked 1-50 / Road vs. teams ranked 1-75
· Tier 2: Home vs. teams ranked 31-75 / Neutral vs. teams ranked 51-100 / Road vs. teams ranked 76-135
· Tier 3: Home vs. teams ranked 76-160 / Neutral vs. teams ranked 101-200 / Road vs. teams ranked 136-240
· Tier 4: Home vs. teams ranked 161-351 / Neutral vs. teams ranked 201-351 / Road vs. teams ranked 241-351
One Seeds
Saturday saw three of last week's one seeds drop games, but given the separation they'd already created and Maryland's loss at Ohio State on Sunday, things remain unchanged with the exception of Kansas assuming the top overall seed.
It's worth noting that San Diego State's home loss to UNLV falls in Quad 3, which caused me to take a closer look at Dayton for the final one seed. For now, I left the Aztecs on the top line, as their four Quad 1 wins (neutral court vs. Creighton and Iowa, road at BYU and Utah State) are far better than Dayton's (neutral court vs. Saint Mary's, road at Richmond, VCU, and Saint Louis). That said, Dayton's only losses came in overtime against Kansas and Colorado on neutral courts, both of which are "better" than SDSU's home loss to the Rebels. Dayton's trip to Rhode Island on March 4th is the Flyers' toughest remaining test and could provide another Quad 1 victory, while the Aztecs have just two games left (home vs. Colorado State, at Nevada) before the Mountain West Tournament.
The Bracket
The projections below are based on all games played through February 24th, 2020.
| | | |
| --- | --- | --- |
| MIDWEST (INDIANAPOLIS) | | SOUTH (HOUSTON) |
| Omaha – March 20/22 | | St. Louis – March 19/21 |
| 1) Kansas | | 1) Baylor |
| 16) Siena / North Carolina A&T | | 16) St. Francis PA / Prairie View A&M |
| 8) Houston | | 8) LSU |
| 9) St. Mary's | | 9) Virginia |
| | | |
| Omaha – March 20/22 | | Sacramento – March 20/22 |
| 5) Michigan | | 5) Michigan St. |
| 12) Providence / Oklahoma | | 12) Liberty |
| 4) Louisville | | 4) Auburn |
| 13) Yale | | 13) North Texas |
| | | |
| Albany – March 19/21 | | St. Louis – March 19/21 |
| 6) BYU | | 6) Ohio St. |
| 11) USC / Cincinnati | | 11) Wichita St. |
| 3) Seton Hall | | 3) Creighton |
| 14) Hofstra | | 14) New Mexico St. |
| | | |
| Greensboro – March 20/22 | | Tampa – March 19/21 |
| 7) Marquette | | 7) Illinois |
| 10) Rhode Island | | 10) Xavier |
| 2) Maryland | | 2) Florida St. |
| 15) Little Rock | | 15) UC Irvine |
| | | |
| EAST (NEW YORK CITY) | | WEST (LOS ANGELES) |
| Sacramento – March 20/22 | | Spokane – March 19/21 |
| 1) San Diego St. | | 1) Gonzaga |
| 16) Radford | | 16) Montana |
| 8) Arizona St. | | 8) Texas Tech |
| 9) Indiana | | 9) Florida |
| | | |
| Tampa – March 19/21 | | Spokane – March 19/21 |
| 5) Colorado | | 5) Iowa |
| 12) Stephen F. Austin | | 12) Northern Iowa |
| 4) Penn St. | | 4) Oregon |
| 13) Akron | | 13) Vermont |
| | | |
| Albany – March 19/21 | | Cleveland – March 20/22 |
| 6) West Virginia | | 6) Butler |
| 11) North Carolina St. | | 11) Utah St. |
| 3) Villanova | | 3) Kentucky |
| 14) Colgate | | 14) Wright St. |
| | | |
| Cleveland – March 20/22 | | Greensboro – March 20/22 |
| 7) Wisconsin | | 7) Arizona |
| 10) ETSU | | 10) Rutgers |
| 2) Dayton | | 2) Duke |
| 15) South Dakota St. | | 15) Belmont |
Last Four In:
USC – The Trojans dropped both games on the mountain road trip to Colorado and Utah, leaving them perilously close to the cutline. They have a solid neutral court win over LSU and eight road/neutral victories, but a home loss to Temple and a general lack of wins against top-end teams are cause for concern. All three of USC's remaining games are at home, as the Trojans welcome the Arizona schools this week and close out the season by hosting UCLA. Going 2-1 in those games feels like a must.
Providence – I touched on the Friars earlier, and I ultimately gave them the nod due to their quantity of quality wins compared to other bubble teams. They are off until Saturday when they travel to Villanova, and then they close the season with home games against Xavier and DePaul.
Cincinnati – The Bearcats' penchant for overtime games came back to bite them last week, as they fell at home to UCF in double-OT, which was Cincinnati's fourth straight overtime game. They bounced back to beat Wichita State on Sunday, but the UCF defeat saddled UC with a fourth Quad 3 loss. Oddly enough, the Bearcats are 6-0 in Quad 2 contests and also have a home win over Houston, who they face on the road this weekend.
Oklahoma – Saturday's blowout road loss at Oklahoma State pushed the Sooners into the Last Four In, as they've gone just 5-8 after a 11-3 start. As I mentioned above, the committee doesn't put additional weight on those games, but it definitely signals a team headed in the wrong direction. A home victory over West Virginia is OU's only win over a team safely in the field, with the next best wins coming on a neutral court against Minnesota and on the road at Texas. The Sooners do have eight wins against the top two quadrants, and they have no losses in Quad 3 or Quad 4. A tough week awaits with a mid-week date with Texas Tech followed by a trip to Morgantown.
First Four Out:
Stanford – The Cardinal bounced back to sweep their trip to the Washington schools. Stanford's two most notable victories have come at home against Oregon and on a neutral court against Oklahoma, while the road win at UCLA is looking better. A road loss at Cal doesn't help matters though, which means the Cardinal need to keep winning as they welcome Utah and Colorado to Palo Alto this week.
Richmond – The Spiders have just one loss outside of the top two quadrants, which came against Radford on a neutral floor. Their top wins came at Rhode Island and on a neutral court against Wisconsin, but those are the only victories over teams anywhere near the at-large discussion. A 7-3 mark in true road games adds to their case, but the unbalanced schedule has limited Richmond's opportunities to get additional quality wins since the Spiders drew Dayton and Rhode Island just once in A-10 play. Last week's loss at St. Bonaventure kept them from entering this week's projected field, and the Spiders can ill afford to lose either of their games this week (at George Washington, home vs. Massachusetts).
UCLA – As mentioned above, it just feels like UCLA's NET ranking is too high right now, but in contrast to a number of other bubble teams, the Bruins are certainly moving in the right direction. This week's home games with the Arizona schools will go along way toward determining UCLA's fate.
Memphis – The Tigers halted a three-game losing streak with home wins over East Carolina and Houston, with the latter giving Memphis a much-needed Quad 1 victory. A neutral court win over NC State helps for bubble purposes, but Memphis also has a trio of Quad 3 losses. Throw in the loss of James Wiseman and the injury to DJ Jeffries, and this is a tough profile to sort out. The Tigers close with three of their final four games on the road, including this week's road trips to SMU and Tulane.
Conference Breakdown:
Big Ten (10): Illinois, Indiana, Iowa, Maryland, Michigan, Michigan State, Ohio State, Penn State, Rutgers, Wisconsin
Big East (7): Butler, Creighton, Marquette, Providence, Seton Hall, Villanova, Xavier
ACC (5): Duke, Florida State, Louisville, North Carolina State, Virginia
Big 12 (5): Baylor, Kansas, Oklahoma, Texas Tech, West Virginia
Pac-12 (5): Arizona, Arizona State, Colorado, Oregon, USC
SEC (4): Auburn, Florida, Kentucky, LSU
American (3): Cincinnati, Houston, Wichita State
West Coast (3): BYU, Gonzaga, Saint Mary's
Atlantic 10 (2): Dayton, Rhode Island
Mountain West (2): San Diego State, Utah State
America East: Vermont
Atlantic Sun: Liberty
Big Sky: Montana
Big South: Radford
Big West: UC Irvine
Colonial: Hofstra
Conference USA: North Texas
Horizon: Wright State
Ivy: Yale
MAAC: Siena
MAC: Akron
MEAC: North Carolina A&T
Missouri Valley: Northern Iowa
Northeast: St. Francis (PA)
Ohio Valley: Belmont
Patriot: Colgate
Southern: ETSU
Southland: Stephen F. Austin
SWAC: Prairie View A&M
Summit: South Dakota State
Sun Belt: Little Rock
WAC: New Mexico State
Follow Andy on Twitter (@andybottoms) for more thoughts on college hoops and to receive an update whenever new brackets are posted.
Filed to: 2019-2020 bracketology