6-Banner Sunday: The return of Bob Knight sends Assembly Hall to a craze despite loss to Purdue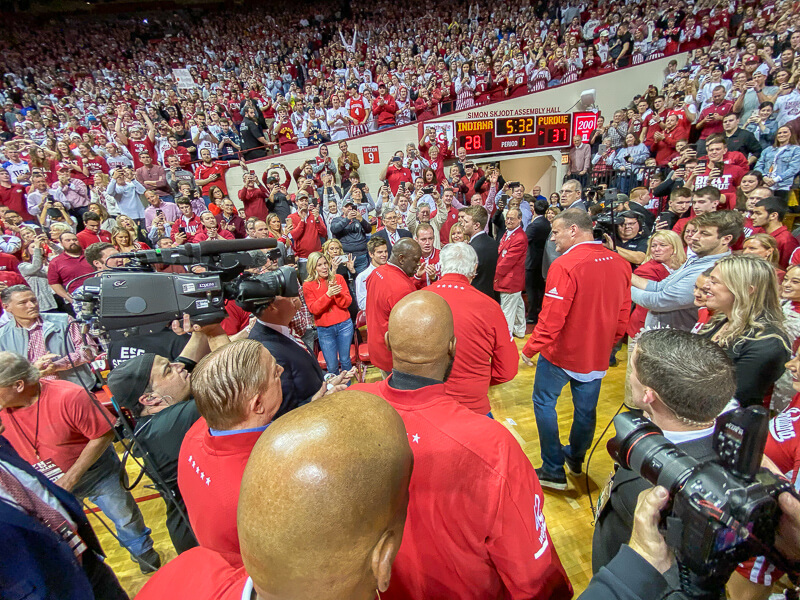 6-Banner Sunday is Inside the Hall's weekly newsletter in partnership with The Assembly Call. More than 7,000 Indiana fans receive the newsletter each week. In addition to appearing each week on the site, you can also opt to receive 6-Banner Sunday by email. A form to subscribe via email is available at the bottom of this week's 6-Banner Sunday.
Welcome to another edition of 6-Banner Sunday, a joint production between The Assembly Call and Inside the Hall where we highlight the five most essential IU basketball stories of the past week, plus take a look at how the other IU sports programs are doing.
There was only one game this week for Indiana basketball, but that one game was enough to send ripples through Bloomington.
Not just because it was in-state rival Purdue, but because Bob Knight finally returned to the arena where he is responsible for three of the banners hanging from the rafters.
His legendary return, mixed with a tough loss and a celebration of the state's basketball lineage, caps off an exciting week for Hoosier fans.
In this week's edition:
• Bob Knight returns to Assembly Hall
• Indiana struggles against Purdue in eventual defeat
• Indiana clings to future opportunities after loss
• The State of Basketball series
• Armaan Franklin establishes himself as reliable freshman
• Hoosier Sports Roundup
Banner #1
Bob Knight returns to Assembly Hall
Indiana was scheduled to honor the 1980 Big Ten Champions at halftime of the Purdue game, but it became a little more than that after rumors swirled that Bob Knight might be back.
Players from the 1970's, '80's and '90's all took the floor at halftime and watched as Bob Knight made his long-awaited return to Assembly Hall.
Knight was clearly emotional on the floor and all the players were extremely happy to seem him back. Chants of "bobby" broke out from the crowd and Knight was able to have some fun, getting the students to chant "defense" as he exited the floor.
It's a moment that will never be forgotten in Indiana basketball history and it feels like the program can be more united after everything that happened with Knight in 2000.
Knight's return was also discussed in-depth on Assembly Call's Postgame Show.
Banner #2
Indiana struggles against Purdue in eventual defeat
Despite the iconic moment that did occur on Saturday, there was still a big basketball game that was played and the Hoosiers failed to produce as they lost to Purdue 74-62.
The Hoosiers had a week off to prepare for this game, hoping to bounce back after two-straight lifeless performances on the road a week ago.
But Indiana once again underachieved on both ends of the floor as Purdue continues to dominant Indiana, winning its sixth-straight game over the Hoosiers.
Trayce Jackson-Davis had a good game, battling hard on the inside with Matt Haarms and Trevion Williams. Jackson-Davis finished with a team-high 16 points and eight rebounds.
However, Jackson-Davis didn't have enough help on the offensive end and Indiana struggled to string together good defensive possessions. Now, Indiana has lost four in a row and the season is on the brink of collapsing.
Banner #3
Indiana clings to future opportunities after loss
Indiana has eight games remaining on its schedule at 15-8 and 5-7 in the Big Ten. Four games are at home. Four games are on the road. None will come easy.
Archie Miller talked about opportunity following the Purdue loss and that's all Indiana has to lean on right now after four-straight losses and their NCAA Tournament hopes weighing in the balance.
"It gets miserable when you're losing," Miller said. "Got to find another way to get right up off that mat and respond. We need some guys to respond on Thursday."
Iowa is the next opponent for Indiana and after dismantling Nebraska by double digits Saturday night, the Hawkeyes will remain in the AP top 25 when they come to Bloomington.
If the Hoosiers pull it out, it will be their fourth win over a ranked opponent this season and will certainly help their resume.
Banner #4
The State of Basketball series
For those who haven't been to an Indiana basketball this year, the Hoosiers' introduction video features shots of old gyms around the state of Indiana, capturing the aura that Indiana is in fact the state of basketball.
Inside the Hall writer Cameron Drummond has started a series that takes you into the back story of each of the gyms featured in the video. So far this week, there has been an introduction, Pleasantville Gym and the Harrison Center.
The goal of the series is simple: To highlight the importance of basketball, at all levels, in the state of Indiana and to explain the importance that being featured in the introduction video for the state's flagship team has on the communities these gyms are a part of.
Make sure to tune in this upcoming week for more parts of the series to be released.
Banner #5
Armaan Franklin establishes himself as reliable freshman
Armaan Franklin has been thrust into big and important minutes in his first year and he's proven to be a reliable piece that Archie Miller trusts to be on the court.
Two weeks ago, Franklin played at Penn State, which brought back some old memories since his aunt, Coquese Washington was the head coach of Penn State Women's Basketball for 12 years between 2007 and 2019.
I spoke on the phone with Washington and wrote an article highlighting Franklin's upbringing to show his growth as a player and person.
Franklin grew up idolizing Washington, but now as he emerges as a solid collegiate player at Indiana this year and for years to come, he is now a role model for his younger cousins.
Banner #6
Hoosier Sports Roundup
This content was contributed by Aaron Shifron.
While Hoosier Nation was focused on Bob Knight's return, other games took place among IU's Olympic Sports Teams to mixed results.
• Women's basketball beat archrival Purdue before falling to Maryland. Also, red-shirt junior Ali Patberg was named a top 20 candidate for the Wooden Award and senior Brenna Wise was named a finalist for the Senior CLASS award.
• Softball opened their season by falling to UCF. They then came up short twice more before turning it around with two wins on the final day of their season opening tournament.
• Wrestling lost to Minnesota.
Track and Field competed at the Meyo Invitational and had two players secure weekly awards.
• Women's Tennis beat Xavier and Western Michigan before also topping Navy.
• Men's Tennis lost to Middle Tennessee State
Men's Golf took part in Big Ten Match Play.
• Water Polo split their games this week.
• Football added two more players to their 2020 class and announced the date for the spring game.
• Soccer signed another top rated class.
• Swimming and Diving won awards on both the Men's and Women's side.
Thanks for your continued support for The Assembly Call. We'll be back next weekend with a new roundup.
Now go enjoy yourself a 6-banner Sunday.
Filed to: