The Minute After: Purdue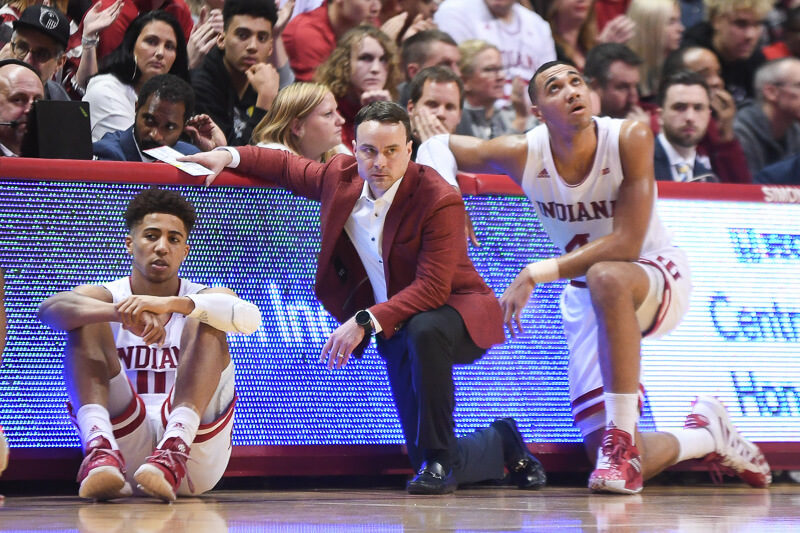 Thoughts on a 74-62 loss to the Boilermakers:
As the stars of IU's past, and the biggest figure in Indiana basketball history graced the floor at halftime, the program's present continued to unravel around them.
The Hoosiers are now losers of four straight. Things are beginning to slip away down the stretch of this Big Ten season, as Indiana's hold on an NCAA tournament spot grows weaker by the day. It's now fair to activate the panic button.
The Hoosiers coughed up the ball too much in the first half with a turnover percentage of 32. And after getting Purdue to six team fouls early in the half, didn't capitalize much the rest of the way over the first 20 minutes of action. Still, Indiana held a lead at 28-25 with 3:47 to go before the half. From there, though, the Boilermakers put up a 12-0 run, carrying a nine-point lead of 37-28 into the break.
And that was about it. Because Indiana, despite a week to prepare, didn't show much resistance or fight in the second half.
The Hoosiers trailed by as many as 16 points before taking their 12-point loss, though a brief lead cut down to six with 9:03 gave some hope. Purdue's hot shooting against Iowa a couple nights ago transferred over into this one. Aaron Wheeler hit 3-of-3 from deep. Isaiah Thompson made 2-of-2. Eric Hunter splashed in 2-of-4. The Boilermakers shot 50 percent from deep overall (8-of-16) and looked comfortable there across 40 minutes of action. Purdue also won the battle at the line with a free throw rate of 46 percent to Indiana's 27 percent, allowing it 10 more trips (24 vs. 14) and five more makes overall. The Boilermakers scored more points in the paint (28 to 20) and racked up 17 points off Indiana's turnovers. They held the Hoosiers to under a point per possession (.95).
Purdue was simply better than Indiana today in a number of key facets.
Indiana's guard play continues to be a concern. Devonte Green had three points on 1-of-7 shooting and was -15 on the afternoon. Green has had his moments this year, but remains an inconsistent scorer who makes questionable decision on the court. Al Durham turned the ball over three times and scored just five points on 2-of-6 shooting. Durham has failed to score in double figures during IU's four-game losing streak. Rob Phinisee took just four shots in 28 minutes, scoring only five points and dishing out just two assists. Phinisee's maturation in his sophomore season was projected to be a reason for Indiana taking a step forward this season. But injury seems to have slowed his progress this year. He's yet to truly put this team on his back game after game and rise to the occasion when it's been needed.
Indiana's season certainly isn't done. The Hoosiers have eight total Big Ten games left, four each at home and on the road. But if IU continues to have these kind of slip ups at home coupled with their usual penciled-in losses on the road, it might be the program's fourth straight year of missing the NCAA tournament.
Filed to: Purdue Boilermakers