From rookie to role model, Armaan Franklin is making the most of his freshman season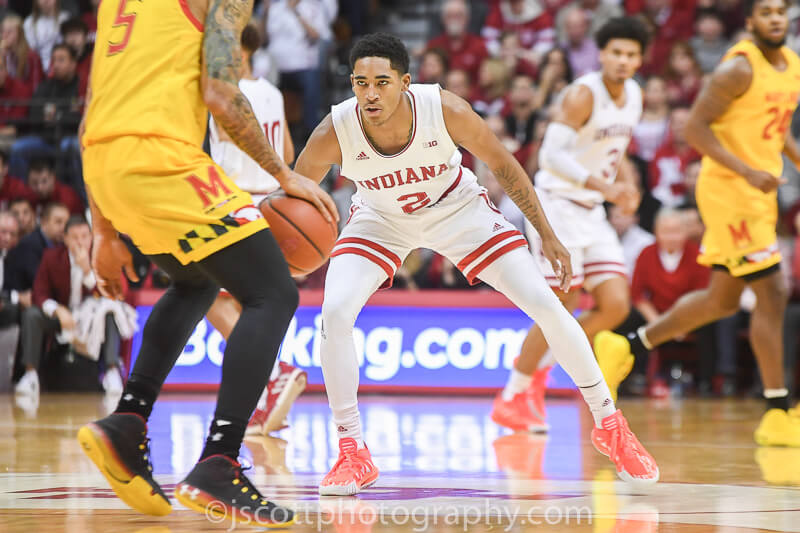 When Armaan Franklin walked into the Bryce Jordan Center last Wednesday, one memory popped up in his head.
Franklin's aunt, Coquese Washington, used to be the head coach of Penn State's women's team, so on one visit Franklin played her one-on-one inside the arena.
He was in sixth grade, and he lost to Washington, who played in the WNBA for seven years. Franklin claims his aunt cheated in the victory, calling too many fouls and not giving him enough calls, and he begged for a rematch.
"I had to tell him, 'Never cheated, never cheated. I'm undefeated he's never beaten me, so he's just got to live with that for the rest of his life.'" Washington said.
It's a funny memory for the two now, and it had Franklin feeling comfortable as the Hoosiers faced a daunting road task at the then-No. 24 Nittany Lions.
It turned out to be one of Indiana's poorest offensive performances, especially from the backcourt, who went a combined 3-26 from the field in a 15-point loss.
The backcourt, which features Devonte Green, Al Durham and Rob Phinisee alongside Franklin, has been under heavy scrutiny this season for inconsistent performances. That type of negativity from the outside has been something Washington has made sure to talk to Franklin about throughout his freshman campaign.
"Everybody's a critic. Everybody knows what you should be doing or what the coach should be doing," Washington said. "I said at the end of the day, the people that matter are the people on the floor and the people in that locker room. We always talk about blocking out the noise. People don't know basketball even though they comment on it all the time. Finding ways to be the best player he can be is his job and not to figure out how to please everybody on Twitter."
As a former player and current coach (she is now an assistant at Oklahoma), Washington's words resonate deep with Franklin. On the Monday before the Penn State game, Franklin was the player guest on Inside IU Basketball with Archie Miller, and he told Don Fischer his aunt was his hero growing up.
"She was my biggest inspiration just to see her play in the WNBA and go coach, it was a real inspiration for me getting into basketball," Franklin said.
Washington has seen her nephew grow over the years, establishing a determined work ethic to emerge as Cathedral's best player in high school to earning a scholarship to play for one the most storied programs in the country.
With early season injuries to Green and Phinisee, Franklin was quickly thrusted into big minutes, starting alongside Durham in Indiana's first nine games. In his very first collegiate game against Western Illinois, Franklin finished with five points and an impressive eight assists with zero turnovers.
He said he was little nervous before that first game, but his poise proved pivotal.
"For me it's just playing basketball, making the simple plays," Franklin said. "You know, find the open man. If I have a shot, I'll shoot it, but mostly just looking for the open man. Just playing basketball."
Franklin's shot has struggled over the course of the season, shooting just 23 percent from 3-point range. His best shooting game came against Notre Dame in the Crossroads Classic where he hit 4-5 from beyond the arc, including the game-winner with 15 seconds left en route to scoring a career-high 17 points.
Despite the shooting woes, Washington believes Franklin's defense has really stood out this season over anything.
"He's established himself defensively, and it seems like he's built a level of trust with coach (Archie) Miller that he's able to go out there and play," Washington said. "That's pretty big, some freshmen aren't able to get out there and play their first year, so the fact he's out there and in the rotation I'm very happy for him."
The defense is something Miller has noticed too, pointing out that Franklin has drawn close to 10 charges this season, which is "probably 10 more than anybody else on our team has."
The confidence of Franklin has clearly grown as February approaches, even though the team as a whole has hit a rough patch. On the radio show with Fischer, Franklin complimented Indiana's upperclassmen as a reason why he and Trayce Jackson-Davis have learned so much so quickly.
"I've seen him grow a lot," said Phinisee, who played big minutes as a freshman just a year ago. "The season is really long, so there's always going to be adversity in everything. Really just tell him keep a level head and really just work hard in practice, and I feel like it'll translate in the game."
As IU fights to get its season back on track this month, an uptick in minutes for Franklin, who is averaging 16.7 per game, isn't out of the question.
"I think the month of February will play a big role for him as he continues to grow, and I anticipate him playing a big role for our team coming down, which should pay dividends for a young player to be able to play this much as a freshman," Miller said.
His on-court success has turned him into a player to look up to for some of his relatives, and his quiet, shy demeanor on the hardwood isn't something that reflects his personality off the court.
"He's really fun, and he's got a really good sense of humor," Washington said. "He's a great cousin. He's kind of a big brother to my children, and they love cheering him on."
This past summer, Franklin went to the gym with Washington's kids — her son is a freshman in high school and her daughter is 10-years-old — and he "smashed them" while playing one-on-one. His 10-year-old cousin was distraught and thought she should have won, much like Franklin did when he was that age and took on Washington.
"He's a good role model," she said.
Filed to: Armaan Franklin