Jackson-Davis, Franklin show potential in exhibition win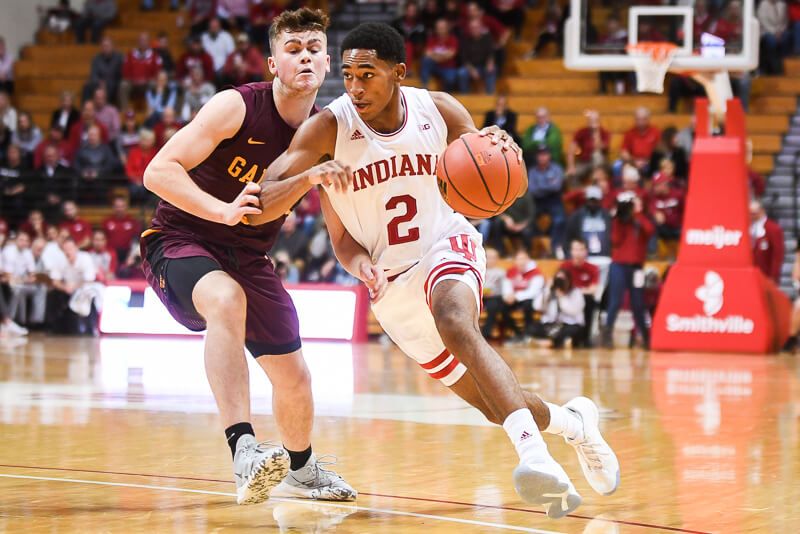 On a night where Indiana was without its captains, it was the freshmen that ignited the Hoosiers to an 84-54 victory over Gannon Tuesday night.
Armaan Franklin got the start at point guard with Devonte Green and Al Durham sidelined. Rob Phinisee wasn't expected to play but served as someone to relieve Franklin throughout the game.
So, with Franklin running the offense, the true freshman showed poise similar to the type Phinisee displayed last season in his freshman campaign.
At Monday's press conference, Archie Miller said Franklin would be an important piece for Indiana this season. His value was only known from a box score prior to Tuesday, having 14 points and three assists in the secret scrimmage against Marquette.
Against Gannon, the public got to see what the 6-foot-4 guard can bring the table. Franklin scored 12 points on 5-for-10 shooting, grabbed eight rebounds and dished out four assists. He also got after it on the defensive end, pressuring Gannon's guards to force three steals.
"They played hard today for their first time out there," Damezi Anderson said on Jackson-Davis and Franklin. "I feel like they did everything they were supposed to do out there."
Miller said postgame Franklin hadn't learned one play at point guard before this game and had to run through some in the morning shootaround, so he was surprised at Franklin's poise in his 34 minutes at the position.
Going forward, Miller said Franklin is better off with another guard on the floor with him, but considering the injuries they have in the backcourt, Franklin might have to continue to run the point.
"I'm proud of him because I think at the end of the day, he'll do what you ask him to do and he works at it," Miller said.
Also producing on both ends of the floor was forward Trayce Jackson-Davis. He finished with 12 points on 5-for-9 shooting and also grabbed nine rebounds. Jackson-Davis had two massive blocks, one in the first half when he glassed Chris Clancy, and one in the second half when he stuffed Deante Cisero, who tried to dunk on him.
After the block on Cisero, Jackson-Davis capped it off on the offensive end with a two-handed slam in which he got fouled and completed the 3-point play.
"They played confident," Justin Smith said on the freshmen. "They were aggressive, and they really didn't shy away from the competition or really try and be a little bit passive, so they really went at it."
Indiana played big all night long, so Jackson-Davis found himself playing the three, four and five positions throughout the game. He's one of the more athletic forwards Indiana has, so his versatility to stretch from a three to a five is something Miller will be able to take advantage of this season.
"You have to be able to win certain ways and one of the ways we have to be able to win is with Trayce on the floor," Miller said.
Miller said the freshmen have been good ever since they arrived on campus up until this first game. The depth of the team is something Miller has emphasized in the preseason, and Jackson-Davis and Franklin will continue to be looked at to produce for this team as the season goes on.
"It's, like, you thrust those guys in there, they get their feet wet and next thing you know they grow up right before your eyes," Miller said. "I think both of those guys are competitive, they're winners, they're good teammates and they're two really, really important pieces to what we have been trying to do and they're going to play a big role on this team."
Filed to: Armaan Franklin, Gannon Golden Knights, Trayce Jackson-Davis