Evaluating Indiana's individual 3-point shooting this season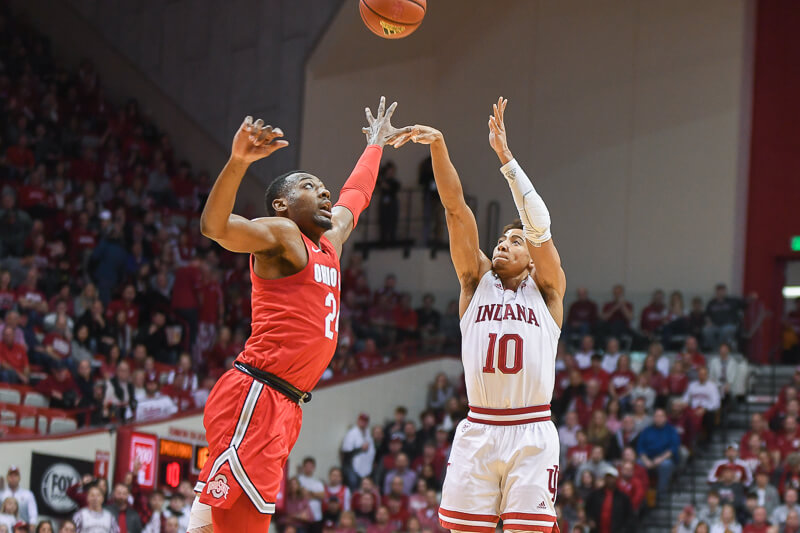 In Archie Miller's third season in charge of the Indiana men's basketball program, trends have developed.
One of the most concerning ones involves bad 3-point shooting.
The 2017-18 season saw the Hoosiers shoot 32.2 percent on 3s. That number dropped to 31.2 percent last season, and currently Indiana is shooting just 29.7 percent on 3s in the 2019-20 season.
An Indiana team that is 13-4 overall and 3-3 in conference play following Wednesday night's loss at Rutgers still has a clear path back to college basketball's premier postseason event. But a trip to the NCAA tournament will only be realized if the Hoosiers snap out of their 3-point shooting woes.
Indiana's inability to make shots from 3-point range has been a clear and obvious weakness during all three of Miller's seasons as coach. So, it's time to offer a player-by-player look at the evolution of the current Indiana roster when it comes to shooting 3-pointers under Miller's direction.
CRITERIA
In order to focus on the players who matter the most when it comes to 3-point shooting, any Indiana player who hasn't attempted at least seven 3-pointers this season won't be evaluated. This eliminates Indiana's main frontcourt options, as well as all non-scholarship players.
The eliminated players are: Joey Brunk, Cooper Bybee, Adrian Chapman, Nathan Childress, De'Ron Davis, Jacquez Henderson, Trayce Jackson-Davis and Michael Shipp.
RACE THOMPSON
2017-18 (freshman) – Redshirted entire season. No game action.
2018-19 (redshirt freshman) – 0-3 on 3-pointers (0%)
2019-20 (redshirt sophomore) – 3-7 on 3-pointers (42.9%)
Among players who have shot at least seven 3-pointers this season, Race Thompson is easily the most efficient shooter from distance for Indiana. Now, this doesn't mean he should or will take more 3-pointers, but rather this statistic is reflective of how wide open Thompson is often left on the perimeter.
Miller has described Thompson as a player who can "get in there and bang," and that remains his role on this Hoosier team: To provide energy and effort around the rim. That won't change, but a nice development, even if it isn't one the Hoosiers can rely on, is Thompson's ability to hit the occasional 3-pointer when left blatantly open.
JUSTIN SMITH
2017-18 (freshman) – 3-10 on 3-pointers (30%)
2018-19 (sophomore) – 7-32 on 3-pointers (21.9%)
2019-20 (junior) – 6-25 on 3-pointers (24%)
Smith's habit of taking 3-pointers can, in some ways, be compared to what would happen if Thompson decided to significantly increase the number of uncontested 3s he took from distance.
Smith is on track to set a new collegiate high for himself in 3-point attempts this season, and while his shooting percentage has increased from last season, his 3-point attempts usually come at the start or end of possessions.
When Indiana's offense is flowing well, it comes with Smith in one of two roles.
He's either at the 3, stretching opponents with his speed to quickly move toward the rim, or he's at the 4, with the energy and positioning to secure rebounds and provide second-chance points.
Neither scenario includes Smith standing around the perimeter, shooting a 3-pointer early in a halfcourt set or launching a shot as the shot clock ticks toward its expiration.
JEROME HUNTER
2018-19 (freshman) – Redshirted entire season. No game action.
2019-20 (redshirt freshman) – 4-28 on 3-pointers (14.3%)
Hunter presents the most interesting 3-point shooting case among current IU players. The still unspecified leg injury which forced him to have surgery in November 2018 kept him out of all on-court basketball activities until last summer.
He's had to basically reteach himself the game of basketball over the last few months. Hunter's high-school stats from his career at Pickerington North in Ohio reflect a player with the ability to make shots from deep, and his recruiting profile emphasized his ability to be a consistent shooting threat from a stationary spot.
As such, the thought entering both his freshman and redshirt freshman seasons was that Hunter could provide a scoring threat off the Hoosier bench.
That hasn't gone to plan, but Hunter's shooting form remains solid. It's a smooth motion, and from a distance it appears Hunter's shooting struggles are currently more a mental issue than a physical one.
ROB PHINISEE
2018-19 (freshman) – 27-87 on 3-pointers (31%)
2019-20 (sophomore) – 10-28 on 3-pointers (35.7%)
Phinisee has battled through injuries seemingly all of his Indiana career, but when healthy and playing at full speed, he has been perhaps the most reliable 3-pointer shooter of the Archie Miller era.
This comes from both a statistical perspective, as Phinisee has improved his distance shooting by nearly five percent this season compared to last, but also because of the quality and significance of the 3-point shots Phinisee takes (and has made).
The profile of this Indiana team remains heavily skewed toward tossing the ball inside, which Phinisee often looks to do, but when a 3-pointer is needed, Phinisee is one of the most likely candidates to take a quality look, and to make it.
DAMEZI ANDERSON
2018-19 (freshman) – 7-30 on 3-pointers (23.3%)
2019-20 (sophomore) – 8-33 on 3-pointers (24.2%)
In the case of Anderson, it's the way he shoots and the volume of shots he takes from behind the 3-point arc that pose the biggest problems.
Anderson's offensive role entering the last two seasons was largely the same as Hunter's.
But once Anderson failed to consistently make 3s last season, his minutes drastically decreased because he lacks the athleticism and skill that Hunter offers in other areas.
Entering this season, Miller praised Anderson for his offseason development as a shooter. While statistically Anderson has been marginally better, he's also launching 3-pointers at a much higher rate this season, an increased rate not justified by the slight shooting improvement.
His shooting form remains flat, and at times it appears Anderson is launching a flat line drive toward the basket.
Anderson hasn't made a 3-pointer since the early December loss at Wisconsin, and his 0-4 effort on 3s against Rutgers, reflected his current struggles.
ARMAAN FRANKLIN
2019-20 (freshman) – 8-42 on 3-pointers (19%)
In terms of the number of 3-point shots taken, Indiana's top-three distance shooters are all guards, starting with Franklin.
His high school numbers reflected a player who could shoot from the perimeter, as Franklin was a 35 percent 3-point shooter as a junior and a 39 percent 3-point shooter as a senior at Cathedral High School in Indianapolis.
He was thrust into significant playing time right away this season, starting Indiana's first nine games and missing at least two 3-pointers in eight of those contests. His lone bright spot from behind the arc came when he sank four 3s, including the winning one, in the Crossroads Classic against Notre Dame.
Otherwise, Franklin has looked the part of a freshman forcing his shot (he's 0-12 from 3-point range in Big Ten play). The fact he's third on the team with 42 attempts is a reflection of both his tendency to let it fly from deep as well as the way Indiana's halfcourt offense stalls when the ball doesn't enter the post.
AL DURHAM
2017-18 (freshman) – 14-49 on 3-pointers (28.6%)
2018-19 (sophomore) – 40-115 on 3-pointers (34.8%)
2019-20 (junior) – 18-50 on 3-pointers (36%)
Durham represents the best example of Miller "molding" a shooter at Indiana. He's improved his 3-point percentage each year so far, and the growth has come as Durham has also taken on more leadership responsibilities and minutes on the court.
He's fluctuated between the point guard and a shooting guard role this season, and at both positions he's been a steady shooter from 3-point range, although the majority of his makes have come against lesser nonconference opponents. Of Durham's 18 made 3s this season, 11 came before the month of December.
DEVONTE GREEN
2016-17 (freshman) – 24-55 on 3-pointers (43.6%)
2017-18 (sophomore) – 33-98 on 3-pointers (33.7%)
2018-19 (junior) – 48-117 on 3-pointers (41%)
2019-20 (senior) – 27-72 on 3-pointers (37.5%)
Green is going to take bad shots. This is a fact of life, as much as the sun rising in the morning and the moon appearing at night.
Bad shots can be categorized in a multitude of ways, from rushed attempts early in the shot clock, to contested shots from well behind the 3-point arc. Green feeds off the positive energy when these shots go in, leading to prolific scoring nights like the one he had against Florida State.
The opposite happens when the shots don't fall, as displayed against Northwestern and Rutgers. Frankly, there is little Miller can do when it comes to Green's 3-point shooting habits, beyond simply altering the amount of time Green plays.
Indiana needs Green's scoring, which can come in buckets, but that pursuit comes with the peril of having offense-killing possessions as Green tries to get hot from the field.
It's an unenviable position for Miller to be in, but one he must navigate nonetheless.
CONCLUSION
Miller has a track record when it comes to generating successful 3-point shooting. In three of his six seasons at Dayton, the Flyers shot better than 37 percent from 3-point range.
The same success has not yet appeared at Indiana. Reasons for this range from the type of players Miller has coached at Indiana (Green and Robert Johnson come to mind as high volume 3-point shooters) as well as the differing offensive styles of play (Miller's Dayton teams were smaller and less dependent on post players).
But the consensus concern for Indiana fans is that this is the new normal, that Archie Miller-led Indiana teams will always struggle for 3-point production, even if the Hoosiers don't place an overwhelming importance on the 3-point shot.
It's a fear that arrives at a transitional time for the sport, as the 3-point shot has gone from being an equalizer between teams to something separating great teams from good teams.
Miller's job, and that of the entire coaching staff, is to develop players into shooters. It's a process that requires year round work and development, but for the third straight regular season, it appears to have not worked.
The ability of Miller and his staff to turn around the program's 3-point shooting will have a significant impact on the success of his tenure in Bloomington.
Filed to: Al Durham, Archie Miller, Armaan Franklin, Damezi Anderson, Devonte Green, Jerome Hunter, Justin Smith, Race Thompson, Robert Phinisee