Five takeaways from Indiana's loss at Rutgers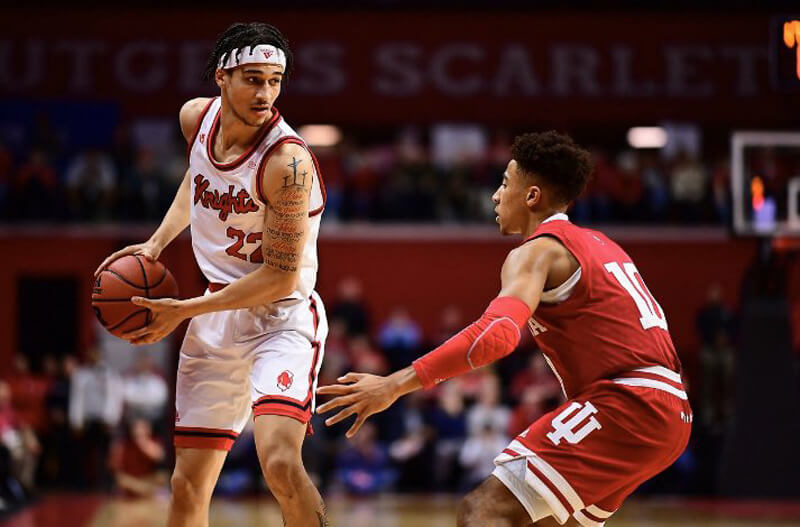 Indiana fell to 0-3 in true road games this season with a 59-50 loss to Rutgers on Wednesday night in Piscataway.
Here are five take takeaways from the loss to the Scarlet Knights:
· Indiana's abysmal perimeter shooting returns: After a one-game reprieve in which it connected on six of its 12 attempts from behind the 3-point line against Ohio State, Indiana returned to its usual shooting form from distance on Wednesday.
Indiana was just 2-of-19 on 3s in the 59-50 loss at Rutgers and didn't make a 3-pointer until late in the second half. Through six conference games, the Hoosiers are shooting a dismal 24.5 percent from deep, which is 13th in the league. Only Illinois, which is shooting 22.5 percent on 3s but has the second best defense in the conference, is worse.
Whether from a lack of emphasis on shooting in recruiting or an inability to develop it inside the walls of Cook Hall, Indiana is on track for another historically bad year from the perimeter by program standards. After shooting 32.2 percent (307th nationally) on 3s in Miller's first season and 31.2 percent (311th nationally) last season, Indiana currently sits at 29.7 percent and 301st nationally through 17 games.
· Seniors no show in Piscataway: After being benched late against Northwestern and then making a major impact in Saturday's win over Ohio State, Devonte Green turned in his least productive game of the season from a statistical standpoint in Wednesday's loss.
In 15 minutes, Green did not score as he missed all four of his field goal attempts and committed two turnovers. De'Ron Davis, IU's other senior, played just five minutes and also went scoreless.
As Indiana continues to struggle away from home, it becomes harder to ignore the fact that this team's seniors have provided Miller with no baseline of production that he can expect on a nightly basis.
Green often morphs from being Indiana's most productive player to one that does more harm than good and Davis has been too foul prone to stay on the floor with any consistency all season. In a league that is as unforgiving as any on the road, it would benefit Indiana greatly to have strong leadership from its senior class. Right now, it isn't happening.
· Defense continues to make strides: Despite the poor shooting in Wednesday's loss, Indiana was down just seven late in large part due to a defense that appears to be moving in the right direction.
After holding Rutgers to 59 points, a season-low at home for the Scarlet Knights, the Hoosiers are allowing just 1.012 points per possession in conference play. That ranks seventh in the league.
Indiana now has the nation's 33rd best defensive according to Ken Pomeroy's adjusted defensive efficiency metric after finishing 32nd nationally a season ago.
· Rutgers turns IU's mishaps into points: Indiana's 16 turnovers in Wednesday's loss produced a turnover percentage of 23.5, its worst mark so far through six league games.
The Scarlet Knights turned those 16 turnovers into 18 points, a major factor in the outcome given that Rutgers was also struggling to make shots from the field.
"Throughout the course of the game, I thought our guys really continued to stay with it," Miller said postgame. "They played hard. And climbed their way back into it, but you have 16 turnovers on the road. It's a huge problem tonight. It's a big problem moving forward. Our team's got to do a better job of taking care of the ball, especially in tough situations where you can control it. There's some sped-up turnovers out there."
As Miller mentioned, turnovers are a big problem moving forward for Indiana. The Hoosiers are turning it over on 20 percent of their possessions in league play, which ranks 13th in the conference.
· Hoosiers fail to get to the line: Indiana's free throw rate (FTA/FGA) entering Wednesday's game was the nation's highest, but the Hoosiers struggled to get to the line at the RAC.
Indiana attempted just 12 free throws in the loss and Rutgers coach Steve Pikiell acknowledged that defending without fouling was a huge emphasis for his team.
"We had to defend without fouling against some really good, elite front court players," he said. "We were locked into the game plan. Everyone jumped in and did their thing. It was great. We were connected."
On a night in which it hit just 2 of its 19 3-points attempts and only 4 of its 36 shots not classified as layups, Indiana's lack of free throw attempts was a glaring problem.
"For the first time in a long time, 12 free throw attempts in the game," he said. "We just didn't get to the line, and probably has a lot to do with our inability on offense to run clean stuff. And then when we did get around the basket, you know, it was one of those games when you have to finish through it."
Photo credit: Rutgers Athletics
Filed to: Deron Davis, Devonte Green, Rutgers Scarlet Knights