News and notes from Archie Miller's radio show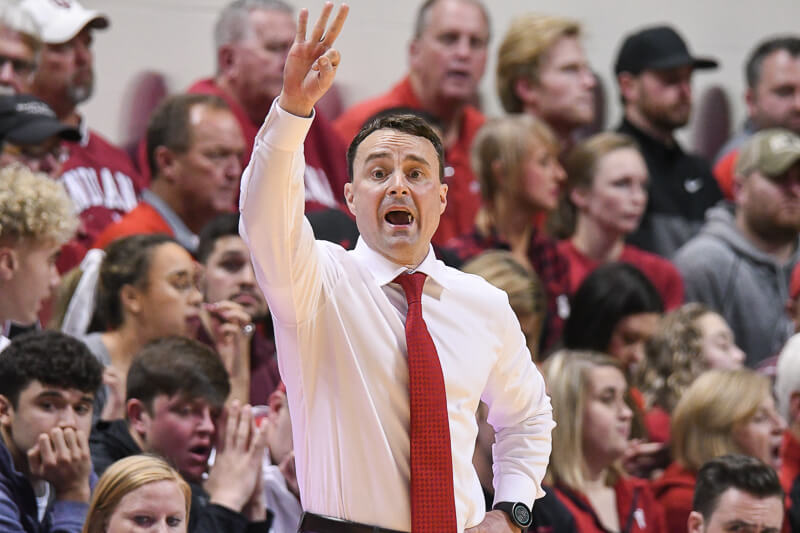 "Inside IU Basketball with Archie Miller" returned Monday night for the final time in December (the next episode will be Jan. 6) with Archie Miller and redshirt junior forward Joey Brunk spending a combined hour with host Don Fischer to discuss recent wins against UConn and Nebraska, Monday's announcement that Indiana AD Fred Glass will retire at the end of the academic year and more.
Here are the highlights from Miller and Brunk's evening with Fischer.
– Fischer began by referencing Indiana's win against Florida State on Dec. 3, since the show hasn't been on for the past few weeks. Miller praised the environment inside Simon Skjodt Assembly Hall that night, as well as the "killer game" that Devonte Green had to spark Indiana to its best win of the season. Miller called the game Indiana's "best performance of the season," crediting the high effort level and defensive intensity the Hoosiers displayed.
– Discussing the Wisconsin loss, Miller talked about the tough start and poor defensive showing the Hoosiers had. "They got going, they got confident and we let both ends of the floor kind of steamroll us in that game," Miller said, further explaining that Indiana failed to respond or rally when adversity hit. "We just, all the way from the top to the bottom, couldn't get it done that day."
– Conversely, Miller said Indiana had a good attention to detail and focus in New York City for the win against UConn in the Jimmy V Classic. He acknowledged that UConn came out and hit Indiana in the mouth in a good environment, "a tournament-type feel," for the game, before crediting Rob Phinisee and Joey Brunk for helping steer Indiana through what became a "rock fight" of a game. "That was a war…that was a wrestling match out there…I think that was a great trip for our guys."
– Monday brought news that freshman forward Trayce Jackson-Davis earned his third Big Ten Freshman of the Week award, sharing this week's honor with Illinois freshman center Kofi Cockburn. Jackson-Davis averaged 16.5 points and 11 rebounds per game during the wins against UConn and Nebraska, with his stat line of 25 points and 15 rebounds against the Cornhuskers both being career bests.
"When he rebounds and he's getting fouled, you kind of know right away he's engaged," Miller said of Jackson-Davis. Miller went on the say the coaching staff would like to see Jackson-Davis assert himself more in the post, around three to four more times per game. "He's so powerful and he's so explosive that he plays through contact," Miller said. "He's exceeded I think what we've all expected from him."
– When speaking about the win over Nebraska, Miller explained the growing pains the Cornhuskers went through initially as they adjust to new coach Fred Hoiberg's system. Miller said Indiana substituted really early in the first half out of concern for fatigue following the NYC trip, but Indiana's inability to contain the dribble defensively was what allowed Nebraska (specifically sophomore guard Cam Mack) to have so much success. The rebounding advantage (54-31) and free-throws attempts disparity (38-18) enjoyed by Indiana though went according to script and allowed Miller's team to eventually win, although Miller admitted that he wasn't at his best coaching in the game.
– Rob Phinisee returned to game action for the Hoosiers since the last radio show took place, and Miller said that he isn't afraid of the big moments in games, and he showed that against UConn and Nebraska. "He stabilized us in the UConn game, then against Nebraska when we needed things the most he stepped up to the plate and made the plays." Miller also said Phinisee's conditioning will improve and allow him to get better defensively in short order, and recent practices and workouts have gone well for Phinisee.
– After Fischer introduced the topic of Fred Glass' retirement announcement, Miller recounted some of his initial meetings with Glass, in which he encountered a man who was enthusiastic and prideful about Indiana. "As we've been here through our time, he has never deviated. He's been the same guy every day that he was when we first got here, so supportive of our staff and players. He cares very deeply about not just our success, but about our progression and where things are going to go," Miller said.
– "Kind of like I told him, we're going to get this thing done, whether he's in the building present or not, he's always going to be attached to what we're doing," Miller said.
– Miller on Damezi Anderson's overtime showing against Nebraska: "We've been pleading with Damezi to rebound better…he got some huge offensive rebounds…made key free throws…he was in there in key moments and was ready to deliver."
– An audience question to Miller mentioned the 13-0 start that home teams have had in Big Ten play this season, and Miller didn't mince words when discussing the conference. "The Big Ten is the hardest league in America to win on the road," he said. "It is going to be really, really difficult this year to go through the grind without getting some serious, serious fight back." Among the factors Miller described as contributing to this were the changing time zones for different road trips, the cold weather during those trips and the loud crowd environments.
– An audience question about Indiana's end-of-regulation strategy against Nebraska asked Miller what his strategy is for late-game situations where Indiana leads by a slim margin. "We are 110 percent all in on fouling," Miller said, explaining that the 11-second mark is the cutoff for when Indiana wants to foul opponents with a 3-point lead. Miller then said Indiana messed up against Nebraska, and the Hoosiers should have called a timeout and the organized a plan to foul the Cornhuskers, but they didn't. "Right then and there as a coach you say to yourself 'I lost the game for my team.'"
– Miller updated the status of senior guard Devonte Green, who exited the second half of Friday's home win against Nebraska. Miller described the injury postgame as an Achilles' problem for Green, and barely expanded on that diagnosis Monday night, saying Green has a sore Achilles' and a sore lower body in general after hamstring and leg injuries this season.
– Making his first appearance on the show this season, Joey Brunk said his first-half showing against UConn didn't go well, and he came out for the second half "ready to play his butt off and let the chips fall where they may."
– Brunk on his leadership role with this IU team: "I've learned from a lot of really good people to lead by example and with my work ethic…it's something I want to continue to do for the rest of the year."
– Talking about his basketball journey to this point, Brunk said he's had a pretty good run from his high school career to now in terms of the venues he's played in. Brunk has called Southport Fieldhouse in Indianapolis, Hinkle Fieldhouse (also in Indianapolis) and now Simon Skjodt Assembly Hall home.
– Academically, Brunk is working toward a degree (his second) in Recreation Administration at Indiana and wants to go to law school once his basketball-playing days come to an end.
Filed to: Archie Miller