Fred Glass offers opinion on state of men's basketball in wake of retirement announcement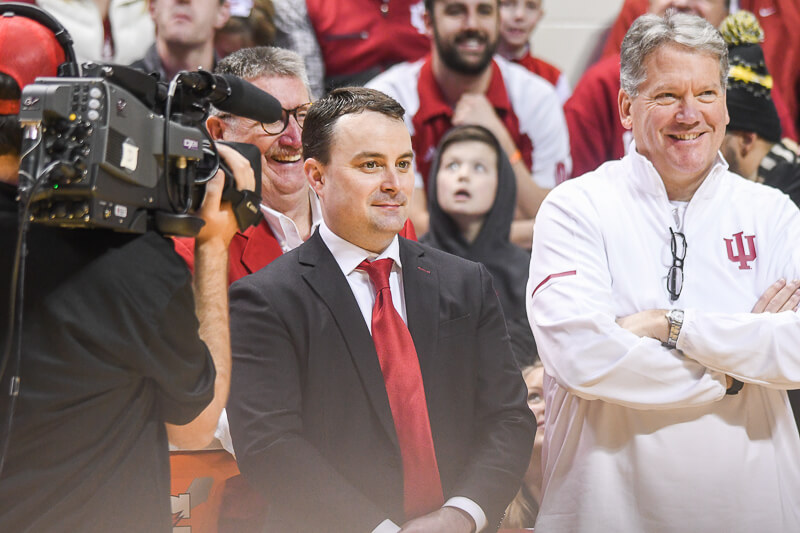 When Fred Glass took the job as Indiana athletic director in 2009, the men's basketball program was taking outfielders off the baseball team to dress for games and practices.
Now 10 years later, on Monday afternoon, as Glass sat in the Henke Hall of Champions inside Memorial Stadium announcing his retirement for May 2020, he reflected on the progress the team has made since he arrived.
"As we sit here today, it's hard to think about how bad it was when I got here," Glass said.
It's no secret to him or anyone that taking the AD job at a school like Indiana, no matter how much the "24 sports 1 team" mantra is preached, the flagship program in Bloomington is men's basketball.
Although Glass has made tremendous strides across the board of Indiana athletics, many fans determine his success based on what Indiana basketball is doing.
Two years into his tenure, Christian Watford rose up for a 3-pointer to send Assembly Hall into a frenzy after knocking off No. 1 Kentucky. It was "a moment in time" for Glass and the Hoosiers and still to this day remains one of his favorite memories.
"The Wat-shot was just an instantaneous phenomenon that galvanized the whole campus," Glass said. "Even though it didn't reflect us being all the way back to where we wanted to go, it really reflected Indiana University basketball being relevant again."
The fifteen game win improvement in that 2011-12 season compared to the year prior was the largest single turnaround in the NCAA that season.
Since that shot, Indiana won two outright Big Ten championships and went to two Sweet Sixteen's with Tom Crean at the helm.
"I give Tom Crean tremendous credit through his will and perseverance to bring us back to I think being relevant again," Glass said. "He deservers immense credit for that."
But Crean missed out on the tournament in five of his nine seasons. After being ranked No. 3 in the country at the beginning of the 2016-17 season, the Hoosiers finished 18-16 and lost in the first round of the NIT to Georgia Tech.
It was after that year where Glass made the decision to move on from Crean and bring in Archie Miller in 2017 to try and turn things around. Miller's first year was an adjustment period, but his second year he had a solid recruiting class, including the likes of Romeo Langford and Rob Phinisee.
Last year's collapse of losing 12 out of 13 games, missing the tournament for the third-straight year, had fans in an uproar once again about the direction of the program.
This season, Miller's squad sits at 10-1 with just two nonconference games remaining and the Hoosiers received 23 votes in the latest Associated Press top 25 poll. Glass said Monday he is pleased with the job Miller has done.
"I think he's going to be a very, very successful coach here for a very, very long time," Glass said.
Glass commended Miller's recruiting ability, sticking to his inside-out philosophy. Glass also believes the way Miller develops players is a strength, pointing out the likes of Phinisee and Trayce Jackson-Davis as examples.
Glass thinks the way Indiana is playing is becoming a mirror image of Miller's personality. He made sure to point out to fans that they shouldn't be worried about the Hoosiers' performances against UConn and Nebraska.
"I always saw those games as the glass half full because, yeah, maybe he could have done better and I hate seeing the back cuts where guys do layups, but when push came to shove, our guys are tough," Glass said. "They're mentally tough. They make the plays you need to make to win, and that's Archie. That's why I'm super optimistic about the men's basketball program, and I think the sky's the limit there."
No matter what happens this season, whether the Hoosiers fail to reach the Big Dance in March for a fourth-straight year or get back to where fans want to see them, Glass will be out as athletic director before the following season begins.
The reason for Glass' retirement is solely because he realized it's time.
"Like I said in the comments in the release, it's just time, and being time doesn't mean that I don't love it anymore because I do still love it, and it doesn't mean that there's nothing left to be accomplished because there's plenty left to be accomplished," Glass said. "It just means that it's time. It will have been almost 12 years for me, and it's an all-in, all consuming, every day, all the time job, which is part of the reason I really love it, but now I'm ready to step back and do something a little more flexible, spend a little more time with my four granddaughters and another grandchild on the way in January."
When Glass met with Miller privately to break the news of his retirement, he said Miller was "very even" but then was happy for him and congratulated him. They've gotten to know each other well, and Glass said he enjoys being around Miller.
"Personally, this is bittersweet, but I am happy for Fred to be able to enjoy his family and he will always be a part of our program," Miller said in a statement. "Fred is as passionate about Indiana University as anyone you will ever meet and his impact on the University over the last 12 years is profound. Our family certainly owes him a debt of gratitude and his loyalty from Day 1 has never wavered. We wish Fred, Barb and his children and grandchildren all the best as they move on."
Since he was appointed athletic director on Jan. 1, 2009, Indiana basketball has a record of 206-160 up to today. There were bright spots in those seasons like the Big Ten titles and deep postseason runs, but most of it was filled with Indiana basketball struggling to return to what it once was.
Glass understands that no matter who his successor is, men's basketball will continue to be a measuring stick for their success.
"It's undeniably our premier program and a source of great attention, and I think we've respected that by the investments that we've made," Glass said. "…I think people in my job need to be the steady hand, the adult supervision, don't swing with the highs and the lows. I haven't walked away from tough decisions that have to be made. I don't think I'm Pollyanna about that, but I think giving things time in all of our programs, doing it the right way, not getting impatient — like (Rudyard) Kipling said, 'treating success and failures as the imposters that they are day to day', and sort of keeping your eye on the horizon, I think is a good quality for all of our sports."
Filed to: Fred Glass