6-Banner Sunday: Garcia makes official visit to Bloomington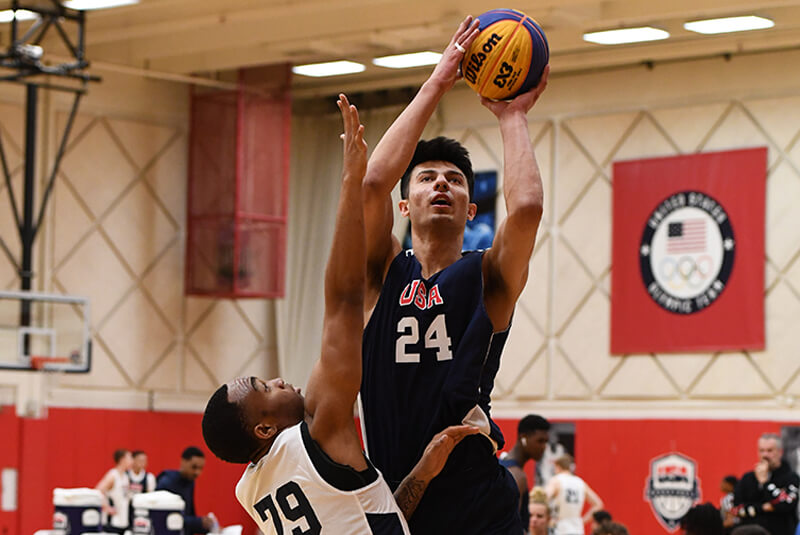 6-Banner Sunday is Inside the Hall's weekly newsletter in partnership with The Assembly Call. More than 6,500 Indiana fans receive the newsletter each week. In addition to appearing each week on the site, you can also opt to receive 6-Banner Sunday by email. A form to subscribe via email is available at the bottom of this week's 6-Banner Sunday.
Welcome to another edition of 6-Banner Sunday, a joint production between The Assembly Call and Inside the Hall where we highlight the five most essential IU basketball stories of the past week, plus take a look at how the other IU sports programs are doing.
Dawson Garcia no longer has to wait.
The Class of 2020 five-star recruit, as rated by 247Sports, made a trip to Bloomington over the weekend while on his official visit to Indiana. It was a moment for Hoosier fans to be swept away with the thought of adding one more commitment before the 2019-20 season begins.
For Indiana, the season starts with a Tuesday night exhibition at home against Gannon University. This provides a couple days to finish reading up on player previews and team projections before the lights once again shine on the court and players inside Assembly Hall.
In this week's edition:
• Dawson Garcia makes his official visit to Indiana
• Inside The Hall completes player profiles
• Indiana's secret scrimmage results against Marquette
• What does the new college basketball three-point line mean for Indiana?
• Former Hoosiers start new NBA season
• Hoosier Sports Roundup
Banner #1
Dawson Garcia makes his official visit to Indiana
Indiana's Class of 2020 recruiting group already includes guard Trey Galloway (Culver Academies), guard Anthony Leal (Bloomington South) and forward Jordan Geronimo (St. Paul's School (NH), and the Hoosiers are making a strong push for Dawson Garcia to join that group.
The 6-11, 225-pound recruit from Prior Lake High School in Savage, Minnesota was on the IU campus this weekend for his official visit. Leal tweeted this photo of he, Garcia, and Galloway together at the Adidas All-America Tournament. Fans spotted him at BuffaLouie's on Friday and then having breakfast on Saturday.
Many believe Garcia is between Marquette and Indiana for his college decision, with IU assistant coach Tom Ostrom, a University of Minnesota alum, taking the lead on his recruitment. Garcia has expressed a desire to sign during the November early signing period, with IU being one of the last schools he intends to visit before making his college choice.
Assuming no current IU players leave school early or transfer out of the program before the 2020-21 season, the Hoosiers have only one scholarship left to use, with Garcia the clear target for it.
Banner #2
Inside The Hall completes player profiles
With the unofficial curtain raising for the Indiana season coming in just two nights against Gannon, Inside The Hall completed its extensive preview of each IU scholarship player last week.
Rounding out the player previews were three of Indiana's more experienced players — Joey Brunk, Devonte Green, and De'Ron Davis.
Davis and Green figure to enter the new season with a specific chip on their shoulder, as they will try to avoid becoming the first four-year senior class at IU since 1972 to fail to make the NCAA Tournament.
This week's edition of Assembly Call Radio focused on Davis and what role he will adopt in his final season with Indiana.
Banner #3
Indiana's secret scrimmage results against Marquette
Even before Tuesday's exhibition, we already have a rough idea of how Archie Miller plans to deploy his team this season.
Indiana played Marquette in a "secret scrimmage" last Sunday afternoon at Bankers Life Fieldhouse in Indianapolis, losing to the Golden Eagles, 72-69.
Devonte Green and Rob Phinisee, the projected starting backcourt for Indiana, both didn't play in the scrimmage, which featured a starting lineup of Al Durham, Damezi Anderson, Justin Smith, Trayce Jackson-Davis, and Joey Brunk for the Hoosiers.
For as much as can be gleaned from a "closed-door" scrimmage (skewed highlights were posted online by the Marquette team Twitter account), the performance of freshman guard Armaan Franklin proved a standout moment. Franklin led all IU players with more than 29 minutes played and 14 points scored, perhaps signaling his ability to play important bench minutes to start his college career.
Banner #4
What does the new college basketball 3-point line mean for Indiana?
In its quest to shoot better on three-point shots this season, Indiana will have to shoot from just a bit further out.
The 3-point line was moved back this offseason from 20 feet, 9 inches to the international basketball distance of 22 feet, 1 3/4 inches. Indiana played three games with the line at this new distance at the end of last season, as the NIT adopted this rule change as part of the testing process for it.
The increased distance received mixed reviews from Big Ten coaches at this year's conference Media Day, with Iowa's Fran McCaffery saying teams may resort to playing more pack line and zone defense as a result (those looking to learn more about Iowa basketball should check out this week's edition of Podcast on the Brink with The Athletic's Scott Dochterman, who previews the Hawkeyes with Jerod Morris and Alex Bozich).
Most teams will use early-season non-conference games to adjust to the new 3-point distance, but Archie Miller doesn't expect it to factor much into the Hoosiers' gameplan. He said before the NIT last season that most shooters launch their attempts from well behind the 3-point line anyway.
Banner #5
Former Hoosiers start new NBA season
Eight former Indiana players are on NBA rosters to begin the 2019-20 season, which started earlier this week.
Eric Gordon (Houston Rockets), Thomas Bryant (Washington Wizards), Yogi Ferrell (Sacramento Kings), OG Anunoby (Toronto Raptors), Romeo Langford (Boston Celtics), Noah Vonleh (Minnesota Timberwolves), Victor Oladipo (Indiana Pacers) and Cody Zeller (Charlotte Hornets) will be the players to watch out for as the season progresses.
Bryant and Zeller both had opening-night double-doubles for their respective teams, while Anunoby already has a thunderous dunk to his name.
Banner #6
Hoosier Sports Roundup
This content was contributed by Aaron Shifron.
Men's Soccer is closing in on a Big Ten title while several other sports also saw competition this week. Assembly Call will continue to have coverage of Men' Soccer and IU's other Olympic sports this fall in the Assembly Call Community for those with a subscription under the 'Men's Soccer' and "Other Sports" topic.
• The football team notched a huge road win at Nebraska with Peyton Ramsey filling in for injured QB Michael Penix. The Hoosier hung on late to secure a sixth win and bowl eligibility … in October.
• Men's Soccer dominated Evansville and beat Rutgers this week to close in on Big Ten title. The Hoosiers control their own destiny and can clinch their second straight conference championship next game with a win over Ohio State and a Penn State loss or tie against Maryland.  
• Women's Soccer lost a heartbreaker in overtime to Rutgers.
• Volleyball fell to Iowa and Nebraska. They also announced some schedule changes down the road due to other IU athletic events.
• Field Hockey was defeated in a really close match to Ohio before defeating Central Michigan.
• Men's Golf sent two individuals to the Musketeer Classic.
• Cross Country ran at the Butler Bulldog Invitational. Both the Men's and Women's teams are ranked in the top 25 now.
• Women's Tennis competed at the ITA Regional Championships.
• Women's Basketball was picked to finish third in the Big Ten by the coaches with Ali Patberg a preseason All-Big Ten selection. Patberg was also selected to the Nancy Lieberman Preseason Award Watch list.  
• Baseball announced their 2020 schedule.
Thanks for your continued support for The Assembly Call. We'll be back next weekend with a new roundup.
Now go enjoy yourself a 6-banner Sunday.
Filed to: