Big Ten teams envision change with new 3-point line distance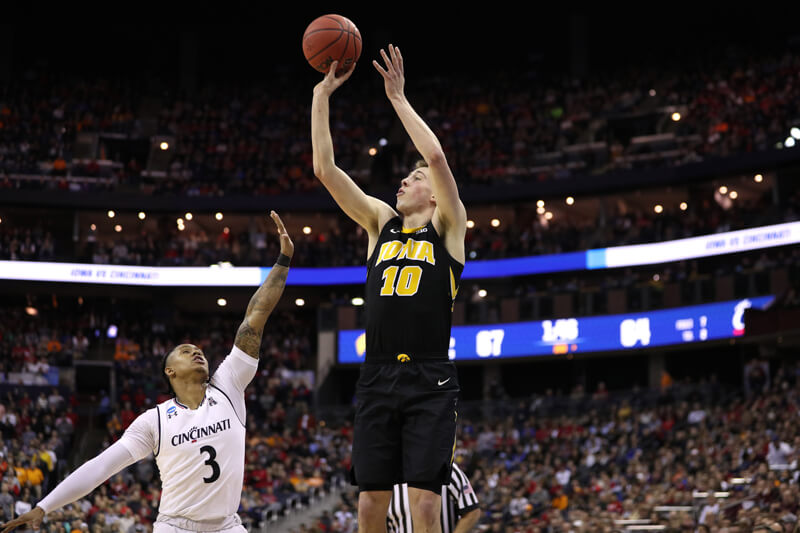 Indiana was part of an experiment during last season's NIT.
For three games inside Assembly Hall the Hoosiers and their opponents played with the 3-point line extended to the international basketball distance (22 feet, 1 ¾ inches) instead of the normal men's college distance of 20 feet, 9 inches.
Now, that further distance is the new norm.
In early June the NCAA Playing Rules Oversight Panel approved a proposal to permanently extend the 3-point line to the international distance, forcing college shooters to put a bit more loft and power on their shots.
The new distance was tested in both the 2018 and 2019 NITs, with negligible results compared to the regular season.
3-point shot attempts between the regular season and postseason for NIT teams varied by less than one, and 3-pointers in the NIT were made 33 percent of the time compared to 35.2 percent in the regular season.
Statistically it may not seem to change much, but to big-time college basketball coaches who have seen inches decide games, the new rule represents an unknown.
This quickly became evident at Big Ten Media Day earlier this month, where coaches from around the conference weighed in on the subject.
"I think it'll be different for each team," Purdue's Matt Painter said. "I think the guys that can make threes, it's probably not going to bother much, and the guys that are trying to be 3-point shooters, it's really going to bother."
"We don't know what it's going to look like in the short run," Iowa's Fran McCaffery explained. "We might see more pack line and more zone defense as a result."
"Our players have seemed to adapt to it really easily," Wisconsin's Greg Gard observed. "I don't think it's going to be maybe as big of an adjustment as what it's perceived to be."
From an Indiana perspective, Painter's words ring the truest.
Prior to last season's NIT opener against Saint Francis (Pa.), coach Archie Miller said players wouldn't even notice the 3-point line change since they usually shoot from behind that distance anyway.
The Hoosiers made 18 of their 61 3-point shots in last season's NIT (29.5 percent) and 193 of their 615 attempts from distance in all other games (31.4 percent) during the 2018-19 season.
Both metrics remain unquestionably poor.
Sub-30 percent three-point shooting seasons from Romeo Langford (27.2), Juwan Morgan (29.5), Justin Smith (21.9) and Damezi Anderson (23.3) all contributed to this. But beyond the simple act of making or missing a 3-pointer lies the deeper implications of moving the line further back.
The panel cited making the lane more open for dribble-drive plays and helping offensive floor spacing as reasons for the distance change.
Indiana wasn't supposed to be a team which took a ton of 3-pointers last season, but did so anyway, launching an average of 19 attempts per game.
Stagnant half-court offensive sets, a lack of off-ball movement and frequent isolation plays for Langford (who led the team with 125 3-point attempts) also didn't do the Hoosiers any favors when shooting from deep.
This season Miller has again stated his desire for Indiana to play inside-out, with frontcourt depth a projected strength for this season's Hoosiers.
The backcourt trio of Al Durham, Devonte Green and Rob Phinisee return as the only IU players who shot 31 percent or better from deep last season, and Miller hopes Anderson and Jerome Hunter can also provide a boost with distance shooting.
"The quality of shots you get is the key," Miller said at IU's media day. "The guys that are shooting the ball and where they are shooting it from, how they're getting them, those are the good ones. If that's the case, we have confidence in making them."
What remains to be seen is how moving back the 3-point line affects the way teams defend.
Gard and McCaffery both foresee more pack line and zone defenses to combat the newfound space near the lane.
Whatever the tactic, moving the line back will affect frontcourt players, and Indiana's in particular, to a significant extent given Miller's preferred playing style with this roster.
The last time the line was changed came before the 2008-09 season when it was moved back a foot. Successful 3-point shot percentages dropped from 35.2 the season before to 34.4 percent, although the numbers quickly rebounded.
The Hoosiers may have a bit more experience than most with the new dimensions, but that limited familiarity is only as good as their response to opposing defensive adjustments.
"I think it's one of those wait-and-see things," Painter said. "But it's going to be interesting. I think it'll fluctuate from team to team."
Filed to: