Year in review: The most read Inside the Hall stories of 2018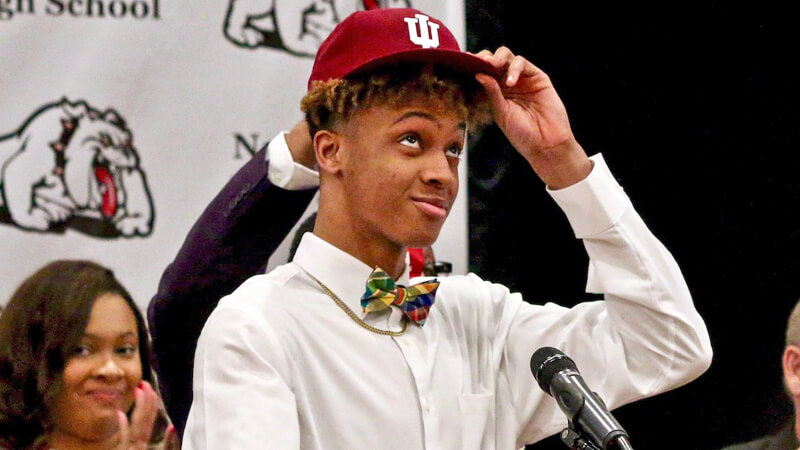 2018 is coming to a close and it was another year of growth for Inside the Hall. Here's a look back at the ten most read stories from 2018:
10. Study: IU basketball is nation's second most valuable program
Although its overall value declined, Indiana basketball is the nation's second most valuable program, according to a study published by The Wall Street Journal.

After coming in fourth in the study released 2016 (2015 data) and third in 2017 (with 2016 data) in Ryan Brewer's annual rankings of the country's most valuable college basketball program's, IU moved up to second in this year's study, which includes 2017 data.
9. Q & A: New Albany coach Jim Shannon on Romeo Langford the player and the person
ITH: Things changed after that state championship. Everybody started to talk about him. Not only here, but nationally. You had schools like Indiana offering him a scholarship, but also Louisville, Duke … pretty much everybody. How did he react to that attention when it first started to come? What has allowed him to remain so even keeled throughout the process? It's not that way for a lot of kids.

Shannon: He's well grounded at home. They talk about life, talk about his responsibilities and how to be accountable given the fact that he is getting so much attention. Again, they've just kept him well grounded and I think it's in his nature. He's pretty shy. He's not shy around his friends, but he's shy around the public and adults. He's very intelligent, but he's very shy. It's just not in his nature to dunk the ball and look around and see who he can trash talk to. It's not in his nature to beat on his chest or flash a 3. It never has been in his nature.
8. Langford preparing for next step in basketball career
One question that Romeo Langford no longer has to field is where he's going to college. He said things have been "pretty chill" since his announcement, a sentiment that his father agreed with.

"It never was a problem or overwhelming," Tim Langford said. "But at the same time, it's a relief because we know what school he is going to and we're looking forward to that."
7. Q & A: Evan Fitzner talks commitment to Indiana
Inside the Hall: Your dad, Mark, mentioned that when you began this process you had a list of schools that you wanted to look at it and first you saw UC-Santa Barbara. What was it about the visit to Indiana that gave you the comfort and the confidence to go ahead and commit?

Evan Fitzner: A big part of it was just getting to know the staff and coach (Archie) Miller. Coach (Ed) Schilling recruited me and in getting to know them better and gaining some trust, I liked everything they had to say. It seems like they want to see me do well. Then obviously, Indiana basketball speaks for itself. All of the facilities and the resources that the program has are pretty impressive. That's pretty much it.
6. All four IU signees ranked in final Rivals 150
The final Rivals.com rankings were revealed on Monday afternoon for the class of 2018 and all four of Indiana's signees are included.

The highest ranked of the four signees is Pickerington North (Ohio) forward Jerome Hunter. The 6-foot-7 forward is a four-star prospect and the No. 49 player nationally.

McCutcheon's Robert Phinisee, a 6-foot-1 point guard, is No. 99 in the final rankings and is also a four-star prospect.

South Bend Riley's Damezi Anderson (No. 114) and Jake Forrest (No. 127) of the Westtown School (Pa.) are also considered four-star prospects by Rivals.
5. A look at where IU's 2018 recruiting class stacks up nationally and in the Big Ten
With half of the league in the top 30 nationally, the Big Ten has produced a strong recruiting cycle according to the Rivals rankings. Given the dearth of talent in the league in recent seasons, this is good news for a league seeking its first national championship since 2000. Still, there is work to do. Only two McDonald's All-Americans (Romeo Langford, Jalen Smith) signed with Big Ten programs.

247Sports, which also includes the staff formerly of Scout.com, also has the Hoosiers in the top ten nationally. But 247Sports gives Maryland the slight nod over Indiana. The Terps are No. 7 nationally in the 247Sports rankings and Indiana comes in at No. 9.
4. Q & A: Tim Langford updates five-star guard Romeo Langford's recruitment
Inside the Hall: Is there anything new right now in terms of recruiting?

Tim Langford: Right now it's still the process. It's still the three schools. He watches them on TV and he got a chance to go see IU. I think we're going to make a visit to Vanderbilt. Probably won't see a game, but just get down on campus and probably watch them practice because it's in our range. As far as Kansas, we won't make it out there. We just pretty much watch them on TV. But as far as anything getting close, I don't tell him who's coming in or anything like that. And that ESPN game we had, I told him if he'd made a decision, it would have been a good time to announce it. And I've also mentioned the McDonald's All-American game coming up. If you know where you want to go then, that would be a good time to do it. If not, we will still wait until April.
3. Saint Mary's graduate transfer Evan Fitzner commits to Indiana
Mark Fitnzer, who played basketball at Stanford and professionally in Australia, said the family identified several schools that would be potential fits. Indiana's need for perimeter shooting and the packline defensive style helped make the school attractive initially.

But it was Evan's visit to Bloomington that made the Hoosiers stand out above his other suitors.

"Indiana checks off a lot of boxes, especially with the guys they have coming in," Mark Fitzner said. "He wants to get back to the NCAA tournament, he got a taste of that a little bit. He sees Indiana as a huge opportunity to do all of that. And after visiting with the coaches, really it comes down to trust. Who is he going to trust? He wants to go out and have an even playing field so that he can go out and earn his spot on the team."
2. Five-star guard Romeo Langford commits to Indiana
Langford is the clear centerpiece of next season's backcourt rotation and should slide into the starting lineup from day one. There are many who believe he has a chance to be the nation's top freshman scorer next season and he won't have an issue getting the opportunities to make that happen. With his size, he will be able to play the two in big lineups and also slide over to the three if Indiana wants to play two of its other guards alongside him.

He's very likely a one-and-done player, but isn't the type of kid who will have one foot out the door before the season ends. Expect Langford to buy into the team, the program and being a part of Indiana basketball while he's on the roster. Even as a local legend for the past several years in New Albany, Langford has always been a team-first player who didn't seek out the spotlight.

It's no overstatement to say that Langford is a potential program changer for Archie Miller and the IU coaching staff as they attempt to bring the Hoosiers back to national prominence.
1. Announcement primer: 2018 five-star guard Romeo Langford
The timing

Langford stayed with his original plan for a spring decision. He's the highest rated recruit in the class of 2018 still on the board. There was some talk initially of an announcement at the McDonald's All-American game, but Langford opted to announce in his hometown in front of the fans who have supported him for the last four years during his incredible run at New Albany.

How he fits

· At Indiana: The Hoosiers need a perimeter shooter and scorer and Langford can do both of those things and much, much more. He's already a legend in the state after finishing with more than 3,000 career points and selling out gyms across the state, but going to Indiana would solidify that status even more. If Langford comes to Bloomington, the timeline for Miller's retooling of the program accelerates. With Langford, Juwan Morgan (assuming he returns), Justin Smith and a very strong supporting cast, the Hoosiers could contend in the Big Ten next season and might even have a chance at a preseason top 25 ranking.
Filed to: