Q & A: Tim Langford updates five-star guard Romeo Langford's recruitment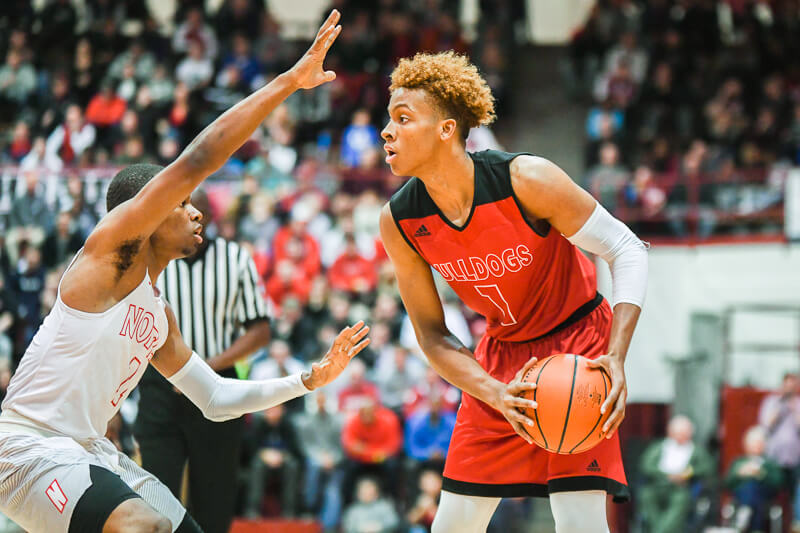 NEW ALBANY, Ind. – Class of 2018 five-star guard Romeo Langford scored 38 points on Friday night as New Albany crushed Evansville North, 112-43, to improve to 14-1. The Bulldogs are ranked No. 3 in Class 4A.
After the win, Inside the Hall caught up with Romeo's father, Tim, for an update on his recruitment. Langford is down to three schools: Indiana, Kansas and Vanderbilt. A transcript of our Q & A is available below:
Inside the Hall: Is there anything new right now in terms of recruiting?
Tim Langford: Right now it's still the process. It's still the three schools. He watches them on TV and he got a chance to go see IU. I think we're going to make a visit to Vanderbilt. Probably won't see a game, but just get down on campus and probably watch them practice because it's in our range. As far as Kansas, we won't make it out there. We just pretty much watch them on TV. But as far as anything getting close, I don't tell him who's coming in or anything like that. And that ESPN game we had, I told him if he'd made a decision, it would have been a good time to announce it. And I've also mentioned the McDonald's All-American game coming up. If you know where you want to go then, that would be a good time to do it. If not, we will still wait until April.
ITH: I know you've got family down in the Atlanta area, would that be a time that he might want to announce?
TL: That's what I'm thinking. That would be pretty nice. Not just my family, but everybody is talking about coming down there and making it a trip. That would be pretty special. My family and my wife's family coming from all over. Everybody is going to try to be down there for that event.
ITH: What did it mean to you for Romeo to be named to the McDonald's All-American team?
TL: It's pretty special. I'm very proud of him. For him to be in the same category as some of the great ones. (Michael) Jordan, Kobe (Bryant), LeBron (James) … just by being in that game. I'm very proud of him.
ITH: He was up at IU recently, what do you think he got out of that experience?
TL: He said that he sat pretty close to the floor and he got a chance to watch coach (Archie) Miller and how he actually coaches. He said he thinks coach Miller gets the best out of his kids. He really liked what he did for the kids to bring the best out of them. Once again, he liked the offense. He did say that the first half of that game, he felt IU had some shots that they weren't taking. And in the second half, they just started taking the shots they should have been taking in the first. He analyzes games pretty well. He enjoyed it.
ITH: Are there certain things you look for when you watch these teams on TV? Obviously, the season Kansas is having isn't comparable to IU or Vanderbilt. They're at different stages. What are you looking for when watching these teams?
TL: I always watch to see how the coach does in critical situations. Like when they call a timeout, how do they come out of the timeout? What kind of play do they design? And I always check out the defense. How are the kids finishing the games? Looking at Vanderbilt sometimes and looking at Indiana sometimes and even Kansas, looking at the defensive part of it. Trying to see how a coach stops certain players on the other team that's really been playing a major role in the game. Those are the kind of things I look at.
ITH: New Albany's season, and I'm not sure what you can learn from a big win like tonight, but how do you think things are progressing?
TL: I think as a team, they're getting better as they go. A game like tonight, I always say to my son to put it in his mind no matter who you play, I don't care if it is a middle school. You're at a level, you stay at that level. And that's one of the reasons he actually stayed at New Albany. He always got better each year. We can't control the competition. But I want him to play his best no matter who is on the other side of the floor. But as far as the team, I think that the team is gelling at the right time and coming together and getting ready for the sectional.
ITH: Any thoughts specifically on how IU has progressed this year? They had some tough losses early, but have had some good wins lately.
TL: I can see the improvement. One player that really impressed me is Juwan Morgan. I've watched him since he got to IU. But on that visit, he didn't look too improved in practice. But once the games started, you could see the improvement on the court. I've been impressed that he's taken his game to another level. Also, (Robert) Johnson, I think he can do a little bit more leadership wise. He's been there four years and he's played with a lot of great players before him. All in all, I'm impressed with how they're playing.
ITH: One thing that always comes up is Darius Garland going to Vanderbilt and he wants Romeo to come with him. Quentin Grimes is going to Kansas and he wants Romeo to come with him. Robert Phinisee is going to IU and he wants Romeo to come. There's always talk of package deals. How much are these guys actually talking to Romeo and trying to recruit him? Is this stuff fabricated or are there actually conversations?
TL: I don't know about often, but he communicates with Darius. And I know he communicates with Grimes because of the summer that we had and they got close. As far as Phinisee, I don't know what the communication is with him. As far as package deal, it's not about that. It's about who is coming back, who is coming in and we pretty much like all three coaches and their coaching styles. That's the main part. It's not going to be a package deal.
Filed to: Romeo Langford