Langford preparing for next step in his basketball career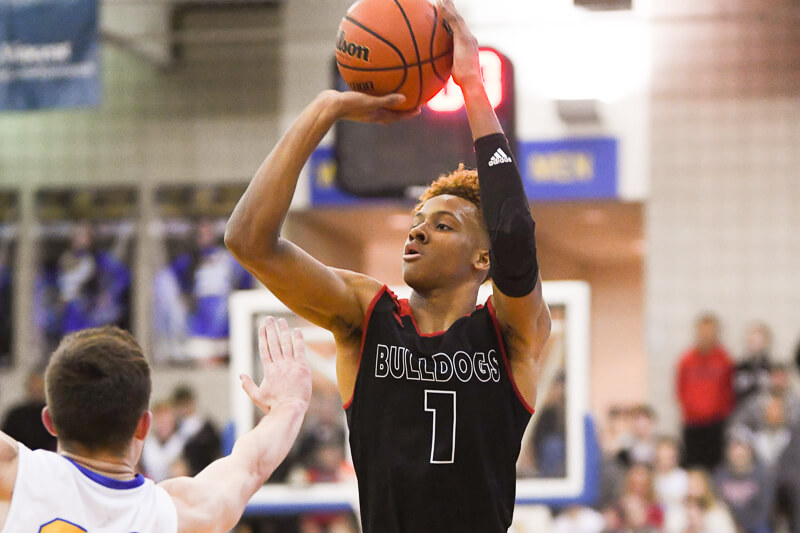 NEW ALBANY, Ind. – Friday, May 11 was a special day for Romeo Langford and his family.
In a ceremony at the new Kevin Hammersmith Park off of Charlestown Road, the Floyd County Parks and Recreation department unveiled plans for a court that will be named in honor of Langford.
The park and the court court are scheduled to open on July 14.
"It's a great, great honor," Tim Langford, Romeo's father, told Inside the Hall. "This doesn't happen every day. This is a very, very special moment and I'm a very proud father."
Langford, who only recently learned of the decision by Parks and Recreation department to name the court after him, is Mr. Basketball for 2018 and is the state's fourth all-time leading scorer.
"It makes me feel good because I remember going to (Sam Peden) Community Park and playing on that court," Langford told Inside the Hall. "And now kids can come play on this court, it's pretty cool."
With his high school career complete, the five-star shooting guard has taken some time off in recent weeks after suffering a head injury in the Jordan Brand Classic last month.
That injury forced Langford to miss the Nike Hoop Summit at the Moda Center in Portland. Langford is scheduled to play in the Indiana All-Star games against Kentucky next month in Louisville and Indianapolis. The Indiana All-Stars will also scrimmage the junior All-Stars at New Albany in early June.
"The last three weeks – counting the Portland trip – he's just been taking it easy," Tim Langford said. "He just started really working out this week. Monday (on court), Tuesday (off court), Wednesday (on court) and Thursday (on court). And the other three days are just stretching and relaxing. We've got a little system going."
Langford continues to work with his longtime trainer, Dion Lee, as well as another trainer who helps him with off court training.
Part of the off court focus, according to Langford, is putting on some muscle before taking off for college next month. With Lee, Langford is focused on drills that will benefit him once he arrives in Bloomington.
"He (Dion) watched some film of IU to see how the offense works," Langford said. "And he has me doing drills to fit that."
Langford said that he's remained in regular contact with the coaching staff and is planning to talk with them this week to finalize plans for his arrival on campus. He's also stayed in regular contact with one of his future teammates, Robert Phinisee.
While he hasn't set specifics on goals or expectations for next season, Langford said that work ethic is his top priority.
"I just want to be the hardest worker when I get there," he explained. "One of the hardest workers out there in practice. I don't want to get out worked."
Beyond his work on the court, Langford continues to make an impact in the community. On Friday morning, both Tim and Romeo Langford were at Grant Line Elementary speaking to students.
"This morning, we went to an elementary school and they called it 'Pro-Fathers.' We just went and spoke about how important it is to have a father in the house," Tim Langford said. "We'd already done it for Mt. Tabor and we did it for Grant Line this morning.
"There are a lot of requests and it's hard to fill all of them especially when it is during school hours. This is his last month of school and we don't want to interrupt that. One that we're going to do is at his elementary school. They're having graduation and we're going to make sure he's there for that."
One question that Romeo Langford no longer has to field is where he's going to college. He said things have been "pretty chill" since his announcement, a sentiment that his father agreed with.
"It never was a problem or overwhelming," Tim Langford said. "But at the same time, it's a relief because we know what school he is going to and we're looking forward to that."
Filed to: Romeo Langford