Q & A: Evan Fitzner talks commitment to Indiana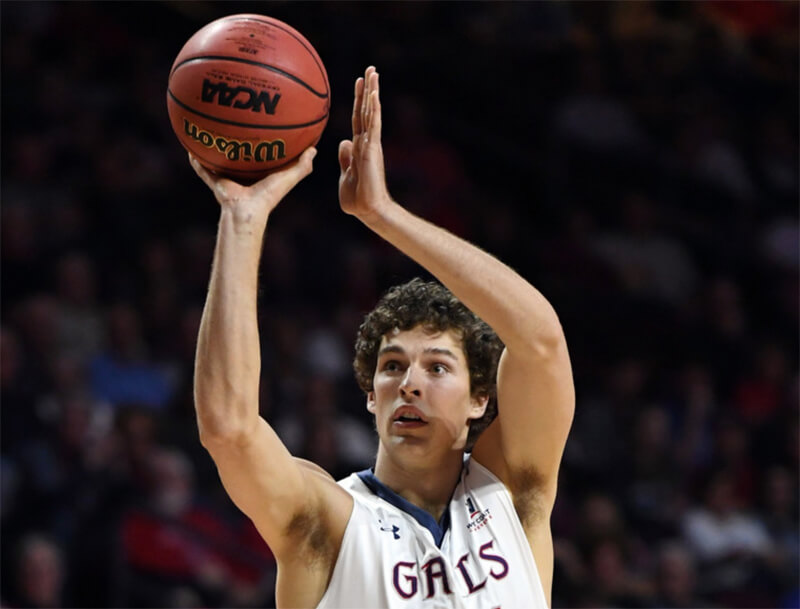 Indiana added more frontcourt help for next season on Thursday as St. Mary's graduate transfer Evan Fitzner gave his pledge to the Hoosiers.
Fitzner, who averaged 6.5 points and 3.5 rebounds over three seasons for the Gaels, will suit up next season for Indiana and has just one year of eligibility remaining.
Inside the Hall spoke with Fitzner on Thursday night about his commitment, how he fits on the IU roster and much more. Our full Q & A is available below:
Inside the Hall: Your dad, Mark, mentioned that when you began this process you had a list of schools that you wanted to look at it and first you saw UC-Santa Barbara. What was it about the visit to Indiana that gave you the comfort and the confidence to go ahead and commit?
Evan Fitzner: A big part of it was just getting to know the staff and coach (Archie) Miller. Coach (Ed) Schilling recruited me and in getting to know them better and gaining some trust, I liked everything they had to say. It seems like they want to see me do well. Then obviously, Indiana basketball speaks for itself. All of the facilities and the resources that the program has are pretty impressive. That's pretty much it.
ITH: When you visited, it was at the same time that Romeo Langford made his commitment. Did you get a sense for the excitement on campus for that and was that at all impactful in giving you a sense of just how important basketball is in Indiana?
Fitzner: I definitely got a glimpse being out there while he was going through his commitment. I watched a little bit of it while I was there. It was cool to see that. At the end of the day, it's a basketball decision for me. I was more excited to have the opportunity to play with a great player than I was about the excitement over the decision.
ITH: I know getting back to the NCAA tournament is important to you. What was it about Indiana that made you feel it was the spot for you to do that next season?
Fitzner: Coach Miller seems really passionate about turning the program around. Obviously it's been a great recruiting class this year. I've got some good experience just from being in the tournament and winning a lot of games (at St. Mary's), so I feel like I can play a big role on the team bringing that leadership and that experience to a talented young group.
ITH: The style of play is different than at St. Mary's. How big of a factor was that in your decision?
Fitzner: Coach Miller wants to play fast. That's something that I did a lot of in high school and it's something that I'd like to get back to. I feel like it suits my game well. Just being able to stretch the floor and getting out in transition. I think the style of play fits well.
ITH: The first thing that stands out when looking at your stats is the 3-point shooting. What are some other things in your game that maybe you don't get enough credit for?
Fitzner: If you watch the film throughout my career, I put the ball on the floor a lot and got to the basket off of pump fakes. Guys are flying at me because they know I can shoot. And then one of the things I'd like to show more of is a back to the basket game and being able to post up. Those would be the two main things.
ITH: When did you know that you were going to commit?
Fitzner: I definitely wanted to come back (from the visit) and take a few days to think things over. Because I had a great visit to Santa Barbara and I was excited about that afterwards. So I just wanted to make sure I wasn't involving any emotion. So I wanted to come back and run things past my parents and some of the other people who have helped me throughout my basketball career and just make sure it was the right decision. I slept on it a couple of nights and my feelings never really changed, so I went for it.
ITH: What's next for you in terms of finishing up school at St. Mary's and then getting to Bloomington?
Fitzner: I'm going to graduate at the end of this month and then I think I'm going to head out there … I haven't really finalized everything. We're still working on dates.
ITH: When you get there and start working with the staff and your new teammates, what are some of the things that you want to focus on this summer and this offseason?
Fitzner: I think one of the big ones is just improving my body and being more physical, putting on a little weight. That was one of the other big parts of my decision. Coach Clif (Marshall), the strength coach, seems like a big asset to the program and just for me really. I'm looking forward to coming in there and getting right to work with him. I've already been in communication with him. Just trying to get in the weight room and put on some size. I think that's one of the biggest things.
ITH: What are you studying at St. Mary's and what do you plan to study at IU?
Fitzner: I'm studying business administration and I'm going to do educational leadership when I get out there to IU.
(Photo credit: Ethan Miller/Getty Images North America)
Filed to: Evan Fitzner