6-Banner Sunday: IU just outside KenPom's preseason top 25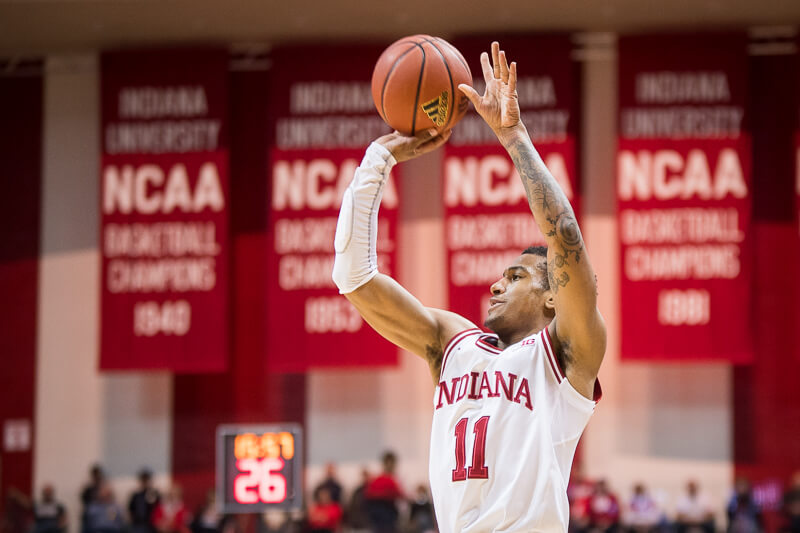 6-Banner Sunday is Inside the Hall's weekly newsletter in partnership with The Assembly Call. More than 6,000 Indiana fans receive the newsletter each week. In addition to appearing each week on the site, you can also opt to receive 6-Banner Sunday by email. A form to subscribe via email is available at the bottom of this week's 6-Banner Sunday.
Welcome to another edition of 6-Banner Sunday, a joint production between The Assembly Call and Inside the Hall where we highlight the six most essential IU basketball stories of the past week.
IU tips off against Southern Indiana in just 12 days, and while it's merely an exhibition, it is Indiana basketball nonetheless. Until then, we have season previews, rankings, and stories to parse through before the real basketball starts.
In this week's edition:
• IU ranked 28th in KenPom rankings
• Morgan and Langford named to preseason watch lists
• Inside the Hall player previews
• John Gasaway attempts to quantify player development … and uncovers an incredible stat about Victor Oladipo
• Rick Bozich joins Podcast on the Brink
• Six Hoosiers kick off NBA seasons
Banner #1
IU ranked 28th in KenPom rankings
KenPom.com released its first team rankings of the 2018-19 season on Saturday, with Indiana checking in at #28 on the initial list. That mark ranks fifth among Big Ten teams, trailing Michigan State (12), Purdue (18), Wisconsin (20), and Michigan (24).
Kansas claimed the top spot on the list, with Duke, North Carolina, Virginia, and Villanova rounding out the top five. The ACC led all conferences with eight teams in the top 25.
IU will face nine of the top 35 teams on the KenPom list, including Marquette, who ranks just behind Indiana at #29 and should be the Hoosiers' first real test of the season on November 14.
Wyandotte Safety Solutions is your one-stop shop for safety training and safety products. WSS offers CPR & First Aid training, fall protection, and lift training. We also sell PPE, AEDs, and First Aid supplies.
We are an Indiana company serving Indiana and all of North America. Check out our website for more information: ptsarcflash.com.
Banner #2
Morgan and Langford named to preseason watch lists
Juwan Morgan and Romeo Langford were both named to the watch lists for their respective national position awards this week.
Morgan is one of 20 identified candidates for the Karl Malone award, which recognizes college basketball's best power forward, while Langford appears on the list for the Jerry West award, which goes to the nation's top shooting guard.
Morgan will have the chance to square off against co-candidates Zion Williamson and Jordan Murphy this season, while Langford will face Duke's RJ Barrett and Nebraska's James Palmer Jr., who were also named to the West watch list.
Additionally, Morgan was voted into the final four of the NCAA's Twitter poll for preseason National Player of the Year. Ethan Happ and Carsen Edwards also made the selection, with Tennessee's Grant Williams the only non-Big Ten player in the foursome.
Banner #3
Inside the Hall player previews
Inside the Hall has commenced its player preview series for the upcoming year, which will continue every day until the start of the season.
In the books so far: Jerome Hunter, Robert Phinisee, Damezi Anderson, Jake Forrester, and Romeo Langford.
The player preview for Jake includes this encouraging comment from his high school coach:
"Jake's a constant high energy guy. And playing hard is a skill," Westtown coach Seth Berger told Inside the Hall over the summer. "And that's a skill that Jake has every day. He gets in the gym and he's going to give you everything he's got."

The energy Forrester brings will be valuable on and off the floor for the Hoosiers.
Up next will be Race Thompson, whose preview will be published Monday.
Banner #4
John Gasaway attempts to quantify player development … and uncovers an incredible stat about Victor Oladipo
ESPN's John Gasaway published an article this week that takes a look at Victor Oladipo's massive leap in production from his sophomore to junior seasons at IU and attempts to identify what drives such drastic player development in college programs (need ESPN+ subscription).
Oladipo's increase in adjusted box plus-minus over those two seasons, Gasaway found, was the largest among over 2,000 player seasons Gasaway analyzed, making Oladipo an outlier among outliers. Gasaway explores that and more cases like Oladipo's in a fascinating deep dive.
Banner #5
Rick Bozich joins Podcast on the Brink
WDRB.com's Rick Bozich joined Podcast on the Brink this week to talk with Alex Bozich and Jerod Morris about the upcoming IU basketball season and the ongoing FBI investigation into college basketball.
Bozich also wrote a column taking Roy Williams and Mike Krzyzewski to task for feigning ignorance when asked about the influence of shoe companies and under-the-table payments in big-time college recruiting. Their comments are quite hypocritical when you know their history.
Jerod, Andy, and Ryan discussed Coach K's comments on the latest episode of Assembly Call Radio. They also discussed the NBA's new "Select Contract" option for elite high school seniors through the G-League, and they debated whether Indiana will be better this year or next year.
Banner #6
Six Hoosiers kick off NBA seasons
The NBA season finally tipped off Tuesday! Here's how the six IU alumni in the association fared this week:
Victor Oladipo has led the Pacers to a 2-1 start, with a win over the Memphis Grizzlies on opening night, and a victory over Brooklyn last night in which Oladipo led all scorers with 25 points.
After coming off the bench in the Raptors' first two games, OG Anunoby got his first start of the season last night. He played a season-high in minutes and scored in double figures. Raptors coach Nick Nurse has suggested that he will tinker with the starting lineup depending on the opponent, and Anunoby figures to factor prominently into the rotation either way.
Eric Gordon and the Rockets have only played one game thus far, but Gordon had a strong opening performance, scoring 21 points on 7-of-14 shooting off the bench. Rumblings about the IU product moving into the starting lineup appear to have quelled for now, though he'll be among Houston's most important players all season long.
Cody Zeller is back in the starting lineup and playing his signature role as Charlotte's gritty, low-profile anchor. His pick-and-roll chemistry with Kemba Walker was a major contributor to the Hornets' success in past years, and Zeller appears to have extended his range over the offseason. Oh, and he did this.
Yogi Ferrell spurned the Mavs in the offseason for a chance to play a bigger role for the Kings. Thus far, Ferrell has a starting spot in Sacramento as part of a miniature backcourt with De'Aaron Fox. The Kings are 0-2, but Ferrell has averaged a respectable 9.5 points in over 25 minutes per game.
Noah Vonleh begins the season as a real piece of the Knicks' rotation. Vonleh, whose size, rebounding, and athleticism make for an intriguing fit in the modern NBA, was buried in Portland's rotation last season before being traded to the Bulls. Perhaps he can carve out a more definitive role on a bad Knicks team. He notched a double-double last night.
And with that, the joy of hanging Banner #6 is now one week closer.
Thanks for your continued support for The Assembly Call and Inside the Hall. We'll be back next weekend with a new roundup.
Now go enjoy yourself a 6-banner Sunday. If you'd like to receive this newsletter in your inbox each Sunday, please enter your email address below:
Filed to: